Auckland, New Zealand: Raising Awareness in Front of the Chinese Embassy
October 26, 2015 | By Minghui correspondent Zhang Qin
(Minghui.org) Yu Jingfang arrived at the Chinese Embassy on October 18, 2015, to participate in a protest against the persecution of Falun Gong. Mr. Yu is a Falun Gong practitioner from southwest China who immigrated to New Zealand in 2002.
Ever since the Chinese Communist Party (CCP) initiated the persecution 16 years ago, Falun Gong practitioners have staged a peaceful protest in front of the embassy every Sunday. Over the last 16 years, the CCP has attempted to eliminate this traditional cultivation practice by all means, including large-scale forced live organ harvesting from practitioners.
"I come to the embassy to protest the persecution, no matter whether it is rainy or windy," said Yu. "We will continue the protest until the CCP stops the persecution." He has taken part in the weekly protests for the past 13 years.
Like previous Sundays, the practitioners held banners reading, "Falun Dafa is Great," "Stop the Persecution of Falun Gong," and "Stop Live Organ Harvesting from Falun Gong Practitioners."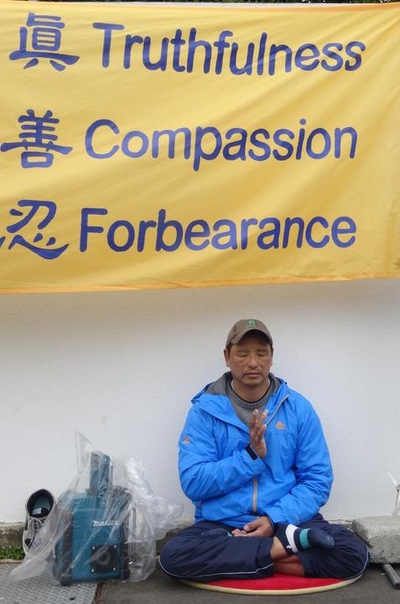 Falun Gong practitioner Mr. Yu protests the persecution in front of the Chinese Embassy in Auckland.
Old Sports Injuries Cured
In China, Yu was a professional athlete on his provincial bicycle team, which he joined after high school. Hard training with the team led to injuries. Later he was admitted to a teacher's training college and became a physical education teacher. However, he often had painful joints and muscles due the old sport injuries. Mr. Yu sought many ways to alleviate his pain, but nothing worked long-term.
He started practicing Falun Gong in 1997, and all his pain disappeared just over a month later. He stopped smoking and drinking alcohol and overcame his quick temper. He paid attention to improving his personal character by following Falun Gong's principles of Truthfulness-Compassion-Forbearance. Over time, Yu became energetic and appeared younger.
Yu Jingfang works in building renovation to make a living in New Zealand. He can lift heavy items over 200 pounds, like he could do in his twenties. "This is because I practice Falun Dafa. It's extraordinary," said Yu gratefully.
He mentioned that more and more people have come to know about the persecution of Falun Gong in China as a result of practitioners' continual efforts to raise awareness. Over time, more and more Chinese people have become supporters of Falun Gong.
"I met with a Mr. Zhou and his daughter from Changchun, Jilin, China while I was working," said Yu. "The daughter is here to study in high school, and her father was able to accompany her. I explained the facts of the persecution to them. Zhou said, 'One should follow Truthfulness-Compassion-Forbearance and be kind towards others.'
"Zhou said he had quit the CCP and its affiliated organizations with the help of Falun Gong practitioners at a tourist site. So I helped his daughter quit the Communist Youth League and the Young Pioneers. Before we parted she expressed her gratitude by pressing her hands in front of her chest and saying 'Thank you.'"
Mr. Yu continued, "We will maintain our protest here and continue to raise awareness of the persecution to everyone we meet in the course of our daily lives and work."
When he spoke about fellow practitioners being persecuted in China, Mr. Yu had tears in eyes. "Falun Gong practitioners follow Truthfulness-Compassion-Forbearance. They are good people. But the CCP brutally persecutes them and even carries out live organ harvesting. We condemn the CCP's atrocity and call for an end to the persecution."
Many cars pass by on the road in front of the Chinese Embassy. Many people are moved by the peaceful 16-year protest, and motorists often honk their horns to show their support.