Gold Coast, Australia Welcomes Art of Zhen Shan Ren Exhibition
(Minghui.org) The Art of Zhen Shan Ren (Truth-Compassion-Forbearance) art exhibition opened at Watling Galleries on the Gold Coast, Australia on the evening of September 25, 2015, for a nine-day showing of works from internationally acclaimed artists.
This exhibition, which travels the world, features works that give a unique insight into the spiritual practice of Falun Gong (also known as Falun Dafa) and tells the story of the persecution of those who practice it in China. Falun Gong is an ancient practice that benefits the body, mind, and spirit.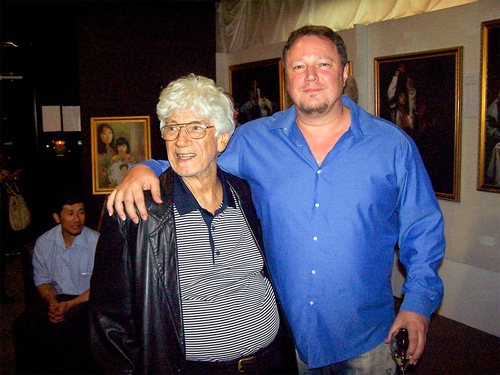 Bruce and Anthony Watling, father and son owners of Watling Galleries
Anthony Watling of Watling Galleries, when approached by the Falun Dafa Association of Australia to hold the exhibition, remarked, "We have an opportunity to do something about this, to bring some awareness to their situation. How lucky are we!"
"And we can do this without fear or favor, whereas others can't," Anthony added.
"The great thing about art is, it introduces you to a subject matter in a gentle way. We're not just here to listen to speeches; we're here to appreciate the art. We can see the stories behind the art and be introduced to Falun Gong and to understand more about the persecution. As they say, 'A picture tells a thousand words.'"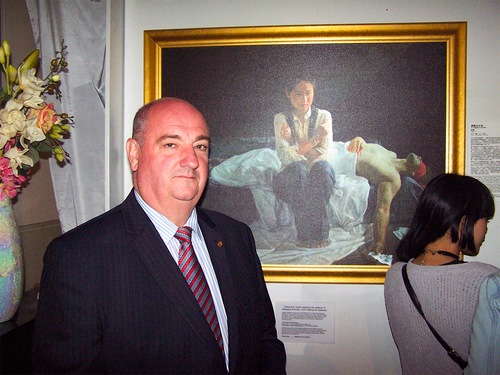 Michael Hart, MP, State Member for Burleigh, attended the opening of The Art of Zhen Shan Ren exhibition at Watling Galleries. Michael stands next to "A Tragedy in China," oil on canvas, by Yuan Li.
Michael Hart, MP, attends many events in his electorate and said that this exhibition is an important event for the people of the area.
Mr. Hart said, "I honestly had no idea that some of this was happening in China, so I think it's been a very enlightening night for me to see exactly what's going on, especially about the organ harvesting of living practitioners. I find that astonishing."
Mr. Hart said he would put some thought into how he can be more supportive. "If I thought otherwise, I wouldn't be doing my job. That's the way you've got to look at it."
During the opening ceremony, MC Louise Stevanovic read greetings from two Gold Coast City Councillors.
Councillor Rex Bell wrote, "The story of Falun Gong merits constant telling. The practitioners in our city have long done their exercises in a peaceful and non-political way. They are model citizens. I extend my very good wishes for a most successful exhibition."
Councillor Jan Grew expressed, "This exhibition plays a significant role in the promotion of traditional culture, reminding us of the core values that our multicultural community is built upon. Truthfulness, Compassion, and Tolerance are the basic universal principles of human society. I wish the Art of Zhen Shan Ren every success in its important mission."
Practitioner Recalls Own Persecution in China
David, a Falun Gong practitioner, spoke about being persecuted in China simply for refusing to give up his belief in Falun Gong. "Everything shown in the paintings are based upon true events, but the reality of the persecution is even worse. My personal experience in China is just one example."
"I was forced to have frequent blood tests along with other Falun Gong prisoners. This didn't happen to other prisoners, although we didn't know at the time that the blood tests were for the Communist Party to build a blood donor base for organ harvesting teams," David said.
Latest figures show that 170,000 people across China are now suing the former Communist Party leader Jiang Zemin, who ordered the suppression of Falun Gong in 1999.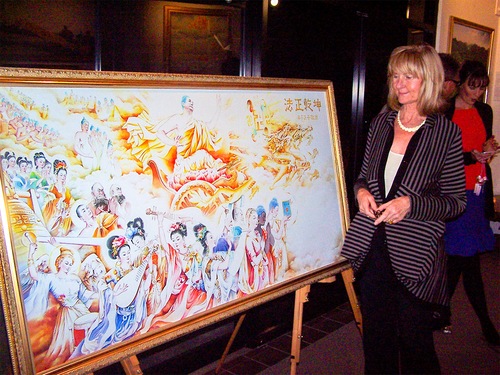 Linda Lyons views the painting "Mending the Cosmos" by Zhengping Chen at the Art of Zhen Shan Ren exhibition at Watling Galleries.
Artist Linda Lyons has a couple of her own paintings in this art gallery.Viewing the Zhen Shan Ren exhibition, she noted that it was "very representational, so finely done; I can see great patience. It's almost photorealism. Very well done!"
"What fascinates me is the five amazing exercises [of Falun Dafa] that improve your health and unblock your energy channels. I'm going to do it. I'm very enthusiastic, so I'll be joining them [Falun Dafa practitioners] next Sunday, that's for sure.. I'm very pleased that I came."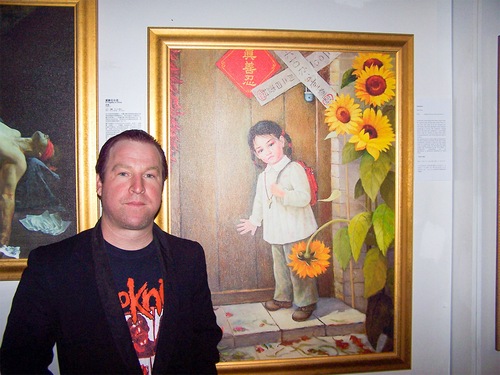 James Holly at Watling Galleries is an artist, songwriter, and owner of Holly Gallery, in Miami, Gold Coast. Although his gallery handles more contemporary, avant-garde works, he really appreciated the Art of Zhen, Shan, Ren.
James Holly, an artist and gallery owner, said that he "would be more than happy to have this" Zhen Shan Ren Art Exhibition at Holly Gallery in Miami on the Gold Coast. "I saw Shen Yun Performing Arts, so I'm all for it. I appreciate people who want to share their story of what they went through; I appreciate that they're speaking up about it," says James.
"I think [the paintings] are great. I think they're amazing. The Chinese are very developed in the arts, it's just that they haven't been able to express it as they would like to. There's a new China outside of China, so we'll see where it leads."
Gary Leo said, "I worked in China in 2007-2008, and I saw firsthand how strong the Party is. Falun Gong was being persecuted, and in Australia they were being portrayed as an evil organization rather than a spiritual one, so this representation of what's actually happening in China is very, very valid and quite harrowing. I didn't realize it was this bad."
Gary said of the artworks, "It's impressive, beautiful. They are in the renaissance style, very emotive, very realistic."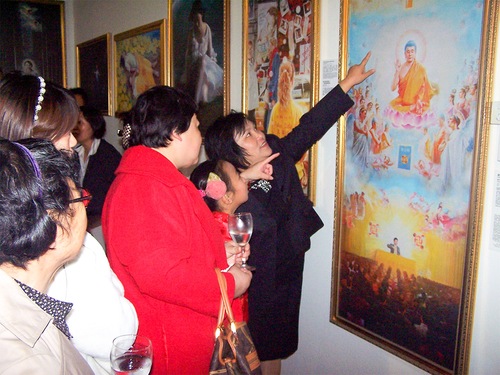 Art enthusiasts at the opening ceremony of The Art of Zhen, Shan, Ren, September 25, 2015.