Divine Land Marching Band Performs at R16 Korea Celebration
October 16, 2015 | By a Falun Gong Practitioner in Korea
(Minghui.org) The Tian Guo (Divine Land) Marching Band participated in a R16 Korea celebration in Seoul from October 10 to 11, 2015. The band's magnificent music touched the hearts of the audience. As described by Korean media, watching Tian Guo Marching Band is like a "dream."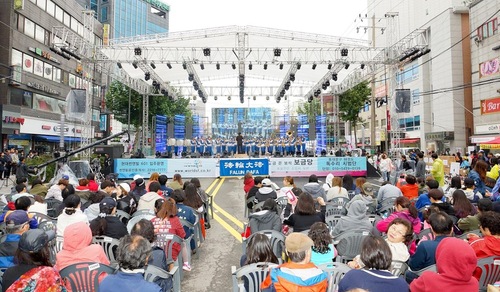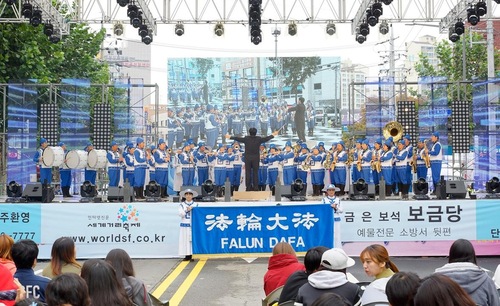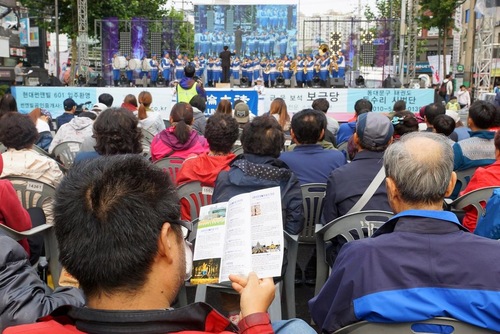 The Tian Guo Marching Band gives the first performance on stage at the opening ceremony.
Sponsored primarily by the Korea Tourism Organization and the South Korean Ministry of Culture, Sports and Tourism, the two-day cultural celebration attracted many visitors to the center of the capital.
The Tian Guo Marching Band started the opening ceremony with "Falun Dafa Is Good," "Holy Song," and other pieces. The audience rewarded their performance with warm applause and cheers.
The host of the event introduced the band: "The Tian Guo Marching Band is formed by practitioners of Falun Dafa, a mind-body-spirit cultivation group. They are from all walks of life. Falun Dafa, following the universal principles of Truthfulness, Compassion and Forbearance, is a cultivation system of long history." The host also listed the awards the band had won in Korea.
After the band's performance, the host praised, "Maybe because the Falun Dafa cultivation group played it, the music became so comforting!"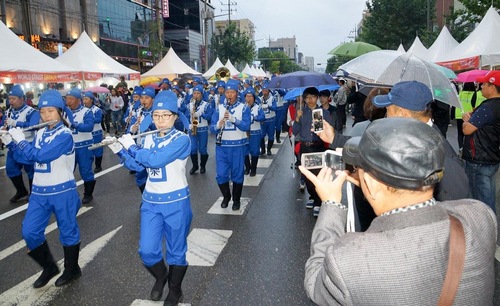 The Tian Guo Marching Band leads a parade in Seoul.
The band led a parade in the afternoon, attracting spectators who eagerly took photos and Falun Dafa flyers.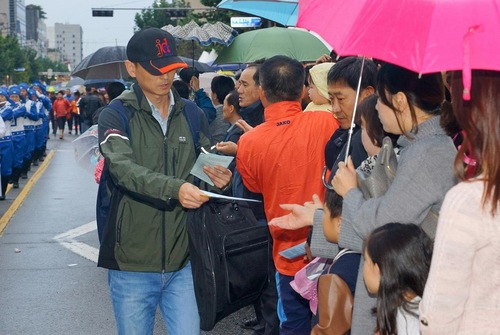 Parade spectators receive Falun Dafa introduction flyers.
Korean media News1 published nine pictures titled "Tian Guo Marching Band's Dream Parade," "Enthusiastic Performance and Parade," etc. The report was reprinted by the two largest Korean portal sites, NAVER and DAUM.