Taiwan: Divine Land Marching Band Invited to Participate in National Day Parade in Yun Chang
October 12, 2015 | By a Falun Gong practitioner in Taiwan
(Minghui.org) The Divine Land Marching Band, composed entirely of Falun Gong practitioners, participated in Taiwan's National Day/Double Tenth Day Parade on October 10, 2015. "Besides several school bands, we specifically invited the Divine Land Marching Band to participate in the parade. We are touched to see such a splendid procession and performance by this band for our citizens," said Yun Chang County Head Wei Ming-gu.
County Head Wei led the procession of township leaders and council members in the parade. Middle school and high school bands also took part in the parade. Spectators were excited to see the large Divine Land Marching Band and their stirring performance. Many people took photos.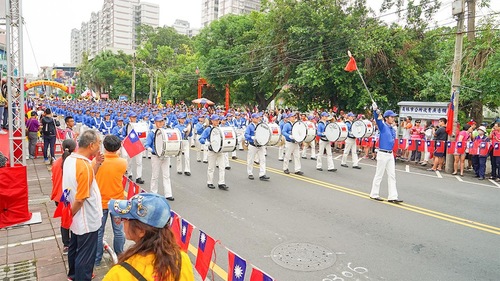 The Divine Land Marching Band participates in the National Day Parade in Yun Chang, Taiwan.
A spectator exclaimed, "This is the most magnificent procession!"
The band premiered two new pieces of music, Plum and Green High Mountain.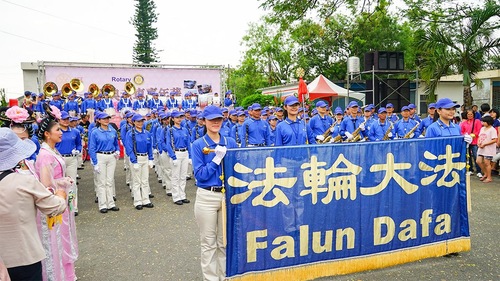 The Divine Land Marching Band performs in the Beigang Township Antique Mercedes Car event.
Music and Classic Cars Highlight Local Charity Event
The band was also invited to perform in the Beigang Township Antique Mercedes Car Event in Yun Lin County on the afternoon of October 10. The event was sponsored by the Beigang Rotary Club to raise funds for multiple charities including the Yunlin Family Support Center. The Classic Car Rescue Welfare Club and other clubs participated in the event at the Beigang Sugar Plant. In addition to a vintage car show, a farmer's market was held.
The event concluded with a parade, with the Divine Land Marching Band leading the antique cars in the procession. The musical performance and classic automobiles drew the attention of numerous spectators. Many tourists paused to watch and take photos.
"The mission of this event is to raise awareness of the importance of caring for vulnerable people. And through our music, we wish to spread the grace of Falun Dafa to each county in Taiwan," said band director Mr. Chong.