Thailand Tourism Festival: "Where Can I Learn These Exercises?"
January 27, 2015 | By Falun Gong practitioners in Thailand
(Minghui.org) Thailand Tourism Festival, a major event for international tourists, was held in Bangkok January 14 to 18. Usually held in June, the annual event was held earlier this year to coincide with other events to celebrate the "Year of Thainess" declared by the Thailand government.
Over 600,000 people attended the festival at Lumpini Park, which featured a vast array of Thai arts and culture.
Falun Gong practitioners attended the festival and handed out flyers about the ancient spiritual practice to interested festival-goers.
One person said, "I know Falun Gong—it is very good." "Where can I learn these exercises?"
With many people in Thailand following Buddhist teachings, some gestured respect by pressing their palms together and offering kind words of thanks.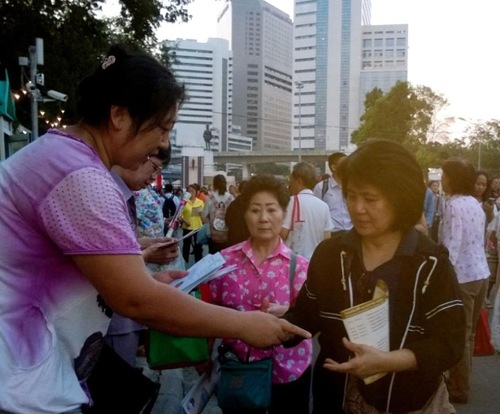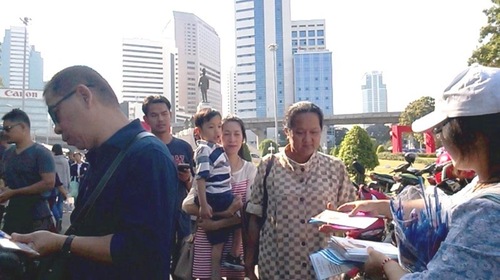 Distributing Falun Gong materials at Thailand Tourism Festival in Bangkok
Seeing visitors reading the materials in the park, one practitioner said he had come to distribute flyers for several days and was a little tired. "But it's worth it. I am glad to share it with so many people, because people need to know what is right and what is wrong before taking a stance." She said.
Many showed up at a local group Falun Gong practice site afterward, saying they would like to the learn the exercises. One of them said both she and her children wanted to give a try.
"I have been waiting for this for a long time," another person said, "Thank you for being here."