Cobourg, Canada: Artists Praise Falun Gong Artwork for Its Positive Impact
(Minghui.org) A two-week "Art of Zhen, Shan, Ren (Truthfulness, Compassion, Forbearance) International Exhibition" opened on January 10, 2015, at the Art Gallery of Northumberland (AGN) in Cobourg, Canada. Many renowned artists and officials attended the opening ceremony. They praised the paintings—all created by Falun Gong practitioners—for their high artistic and spiritual value.
Over 30 paintings were on display during the exhibition, and covered broad topics, including the harmony of heaven and earth, compassion from divine beings, and Falun Gong practitioners' perseverance amid the suppression.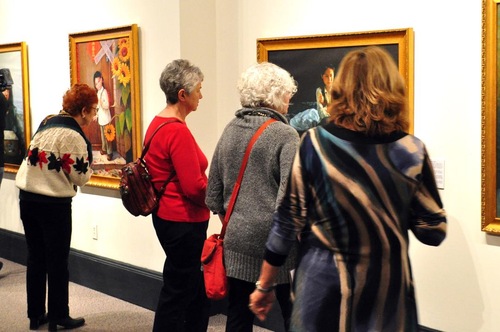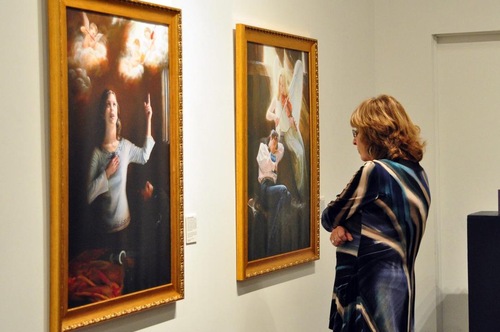 Many people attended a two-week Art of Zhen, Shan, Ren International Exhibition, which opened on January 10, 2015 at the Art Gallery of Northumberland (AGN)
"The Energy in the Universe, For All of Us"
Jillian Roos-Markowitz, painter and art gallery curator, said that she felt the paintings exhibited an outstanding artistic level. She said it was not an easy task to embody ideological elements in a realistic painting, which these works of art had achieved very successfully. "They [the paintings] moved me and made me cry, because I saw what the characters had been through."
For example, she said in the painting "My Son,"in which a mother is holding her son's body, after he died due to the severe suppression in China, she could sense the feelings in the mother's face. Another one was "Shock," which depicted a practitioner being mistreated in prison. Ms. Roos-Markowitz said from the painting one could see terror from those who tortured the innocent practitioners.
"And yes, there is hope. You want to call it an angel, because it is an energy and it is there. It is between us all. We all have it [this energy] and it is all connected." She explained, "[It is] the energy in the universe, for all of us. That connects us and gives us hope, compassion, and tolerance."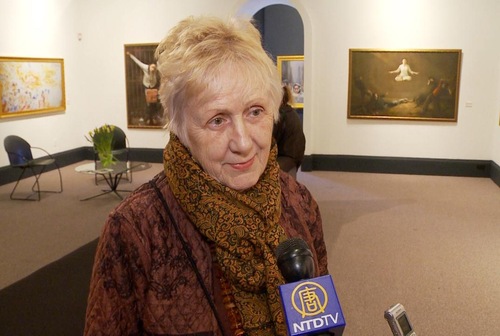 Jillian Roos-Markowitz, painter and art gallery curator, praised the paintings.
Frances Clancy, a fine artist and board member of AGN, said this exhibition was one of the best in AGN's history. She said that these artists have extraordinary talents, because the paintings were exquisite and very touching, and looking at the characters in the artworks was like listening to their stories.
Artist Judith Kreps Hawkins felt the same thing, "I think they are excellent. I really do. It just hits me right inside." "Every single painting there is telling a story, a powerful story. It was done in ways that the artists are masters of these mediums."
Upon hearing that some of these artists had been mistreated for their beliefs, similar to the characters in the drawings, Hawkins said she was deeply moved. "When I see these artists have to do these kind of things, and the sacrifice they have to make, it makes me very humble. I think my little trials and tribulations are so small compared to them."
She was in tears, and deeply disturbed by the suppression, because it seemed too vicious. "It's moving enough to make me think that I will walk out of this place [becoming] a different person today." said Hawkins.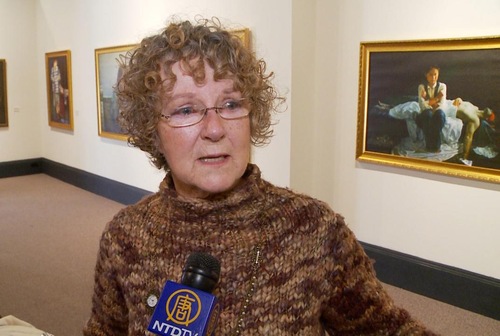 Artist Judith Kreps Hawkins said she was deeply moved by the paintings.
"This Requires Great Courage"
Lou Rinaldi, a Member of Provincial Parliament in Ontario, said the exhibition had deep meaning because the topics were about something that is currently happening. He said the exhibition brought a lot of information that was valuable to everyone. He also expressed hope that the situation in China would change.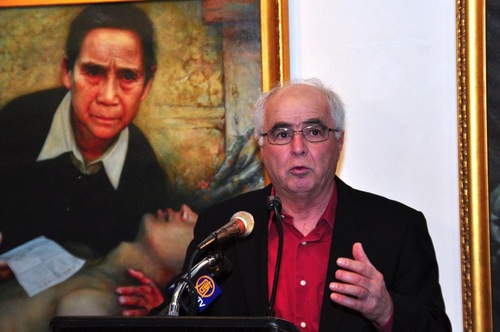 Lou Rinaldi, a Member of Provincial Parliament in Ontario, said the exhibition had deep meaning.
John Henderson, deputy mayor of Cobourg, also attended the exhibition. He said he was touched by the paintings, because they reflected real and strong messages. His previous exposure to Chinese history, including yin and yang as well as serenity in the Buddha school, helped him better understand the paintings.
Cobourg City Councilor, Debra McCarthy, is in charge of art. Speaking about the paintings depicting the persecution against Falun Gong in China, she said it was something people should pay attention to. She felt that the practice of Falun Gong itself had helped people overcome the suppression.
She said that the colors were outstanding, "as if it could draw you into the paintings." "From these artworks," she commented, "one can feel the pain, perseverance in belief, and hope, because these artists have done a great job relaying these messages."
Ms. McCarthy said, from these paintings, she could tell that the artists cherished their belief very much, making her believe the principles of Truthfulness-Compassion-Forbearance are guidance for everyone. She said although this had not been realized yet, it could at least be a goal because these principles are something we should all embrace.
She said the exhibition was visually breathtaking, and it reminded people that not every place has the freedom enjoyed by the people of Canada. "There is a clear message from the exhibition. Despite the persecution, we still need to speak out the truth," she commented, "and that requires courage."