China's Military Plays a Key Role in the Persecution of Falun Gong
January 14, 2015 | By He Yu and Mu Wenqing
(Minghui.org) In China, unlike other countries, the military operates under the direct command of top Party officials, not the state itself. That is why the military played a crucial role when Jiang Zemin, then-Party-leader, decided to persecute Falun Gong in 1999.
He took advantage of his power as the head of the military to implement his tripartite persecution policy: defaming practitioners' reputations, bankrupting them financially, and destroying them physically.
Military involvement made the persecution more brutal and secretive than it would likely have been otherwise. As described in the report below, Chinese military forces were heavily involved in clearing out a path for the persecution, intensifying the suppression, and carrying out terrorism and cyber attacks outside China.
Critical Role of Military in Launching the Persecution
Falun Gong became popular in China soon after its introduction in 1992. As the number of people practicing it began to surpass communist Party membership, then-President Jiang Zemin and Luo Gan, then-Secretary of Political and Legal Affairs Committee, began several rounds of secret investigations between 1997 and 1998, attempting to find sufficient evidence to ban the increasingly popular Falun Gong.
However, the investigations could not find any illegal conduct among Falun Gong practitioners. Rather, the reports concluded that Falun Gong was "strengthening health, helping people keeping fit, and capable of curing illnesses."
An illegal arrest was made of dozens of practitioners in Tianjin—a "directly governed" city about 100 miles from Beijing—on April 23, 1999. To silently protest the wrongful arrest, over 10,000 Falun Gong practitioners went to the State Council's Appeal Office in Beijing on April 25.
Zhu Rongji, Premier at the time, met with their representatives and told the Tianjin government to immediately release the detained practitioners. Afterwards, the practitioners left the scene calmly. This peaceful resolution was documented in a memo issued by the Appeal Office on June 14.
Surprised by the peaceful and self-disciplinary manner of practitioners, Jiang nevertheless wrote a letter to the Politburo Standing Committee on the night of April 25 effectively declaring Falun Gong an enemy of the state. He ordered Zhang Wannian, the vice chairman of Central Military Commission (CMC), to immediately prepare the nation's military and armed police forces for a campaign against Falun Gong.
Under the directives of Zhang, the General Staff Department and General Political Department issued an urgent order banning active service staff, retired military personnel and their families from practicing Falun Gong. Zhang also repeatedly emphasized the order of eradicating Falun Gong within the PLA (People's Liberation Army) system.
But most top Party officials were aware of the peaceful, non-political nature of Falun Gong. When Jiang spoke with six other Politburo standing members about his proposed persecution of Falun Gong, all of them disagreed.
Jiang then turned to Liao Xilong, the Commander of the Chengdu Military Region and the Deputy Secretary of the Party Commission. Liao worked with the Intelligence Division in the Chengdu Military Region and fabricated information claiming Falun Gong would overthrow the CCP. Jiang took this information and pressured all the standing members of the Politburo to support him in his suppression of Falun Gong.
Mobilizing Military during the Suppression
It is estimated that millions of practitioners went to Beijing every month after the persecution began in July 1999. They went to appeal for justice for Falun Gong, the practice that had brought renewed health and fitness to countless millions of Chinese citizens.
They went to Tiananmen Square to bravely unfurl Falun Gong banners and to cry out that "Falun Dafa is good!" and "Truthfulness-Compassion-Forbearance (the most essential teaching of Falun Gong) is good". Yet police and military officers were standing everywhere in Tiananmen, and their mission was to take down any Falun Gong practitioners just as soon as possible, to round them up, and in most cases, ship them back off to their hometowns to be dealt with by local authorities, usually quite harshly, and often quite brutally.
Both military forces and armed police were dispatched to block and arrest practitioners coming to Beijing. Fully armed soldiers were dispatched not only to Tiananmen Square, but also to government complexes in major cities, and on all major roads leading to Beijing.
The persecution soon intensified. First came the Tiananmen Square self-immolation hoax that was staged to turn public opinion against Falun Gong in January 2001.
The following year, in March 2002, practitioners in Changchun City, Jilin Province, intercepted local cable television programming. Why? To allow them to broadcast documentaries that debunk the Party's pervasive hate propaganda demonizing Falun Gong. The broadcast was live over 8 cable television channels for about 45 minutes before enraged and embarrassed authorities were able to shut it down.
Jiang Zemin was furious and ordered the Shenyang Military Area Command to be at second-degree combat readiness. Both the Changchun Military Sub-command and Jilin Armed Police were ordered to be in first-degree combat readiness, searching desperately for practitioners who had anything to do with the television signal interception.
Jiang and Luo Gan demanded that police from both Changchun City and Jilin Province solve the case in one week.
"Otherwise, police chiefs at all levels in Changchun City, as well as the Party Secretary of the area will be removed from their posts," read one of their communications.
They authorized all police officers to open fire and kill any practitioners who they suspect had been involved in the interception—"You can simply kill them," read their orders.
Liu Jing, 610 Office chief and China's Vice Minister of Public Security, went to Changchun to oversee the case in person. About 5000 practitioners were arrested within several days and 7 of them were tortured to death.
Purging Falun Gong from the Military System
Several days after the persecution was launched, a policy statement was sent out nationwide by the PLA General Political Department. It told all military staff as well as armed police forces to be clear that, "the struggle with Falun Gong is a war to defend the basic belief in communism and the Party's leadership."
A large number of brainwashing materials, including audio-visual products, were forced upon all staff members. Every staff member was required to denounce Falun Gong, or else.
"Anyone who follows Falun Gong will be removed from the military and forced to retire," the policy read, "If a person or his family members practice Falun Gong, this person will be prohibited from the military service or military academies. Those who insist on practicing Falun Gong will be tried in military court."
The 610 Office is an agency launched on June 10, 1999 that specifically directs the suppression of Falun Gong. 610 Offices were set up across the entire military system, including in the General Political Department, army, navy, air force, missile troops, and armed police forces.
Core teams were formed at the levels of army, division, and regiment. Confidential departments had officers on duty 24 hours a day and any communication regarding Falun Gong had to be dealt with immediately. Those who failed to do so were reprimanded, or worse.
"If those who have been removed from the military system and assigned to other professions still believe in Falun Gong within two years, his or her former supervisors in the military will be held responsible," decreed an order issued to the PLA.
Mr. Yu Changxin was an army-level professor of the Air Force Command College and a renowned expert who authored several major aviation textbooks. He also practiced Falun Gong. Jiang Zemin specifically ordered the persecution of Mr. Yu in May 1999, two months before the suppression officially started,.
Mr. Yu told investigators, "As a 74-year-old man, I used to be a first generation pilot and have written several aviation textbooks. How can I blindly follow something without critical thinking?"
He said he learned the benefits of the spiritual practice from his own experience.
After several trials in military court, Mr. Yu was sentenced to 17 years of imprisonment. His wife, also in her 70s, was banned from the air force residential area and later secretly sentenced to 10 years of imprisonment.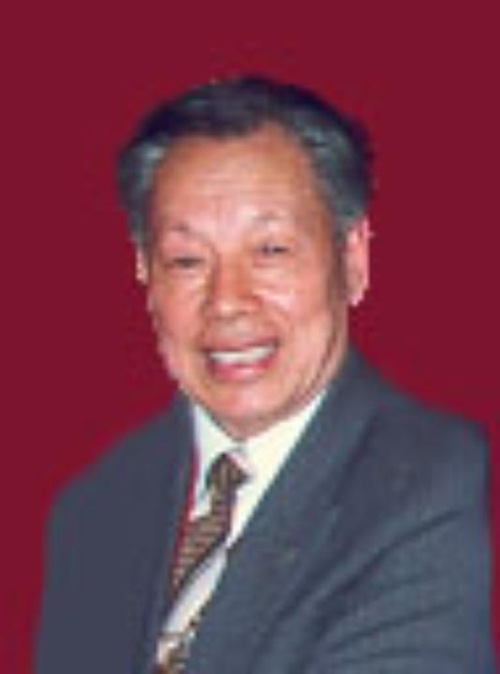 Mr. Yu Changxin, an army-level professor of the Air Force Command College, was sentenced to 17 years of imprisonment for practicing Falun Gong
Assassination Attempts Outside China
Various agencies were involved in collecting Falun Gong information, including the military, State Security Bureau, foreign affairs, and united front system. In particular, Division II of the General Staff Department was responsible for personnel dispatch and military escorts.
After an attempt failed to extradite Mr. Li Hongzhi, founder of Falun Gong, from the United States in exchange for a large amount of trade surplus reduction, Jiang ordered an assassination of Mr. Li. Led by Zeng Qinghong, the Director of CCP's General Office. Both the State Security Bureau and PLA General Staff Department worked together to execute the assassination through a joint special operations group.
After learning Mr. Li was planning to attend a Falun Dafa Experience-Sharing Conference in Taiwan in December 2000, the group sent agents to Taiwan who worked with local mafia for the assassination. Mr. Li canceled his trip and the attempt thus failed.
Another attempt was made after Jiang heard that Mr. Li would come to the Hong Kong Experience-Sharing Conference on January 14, 2001. "Project 114" was organized with the help of the PLA General Staff Department, State Security Bureau, and Public Security Ministry.
The CCP's intelligence agencies in both Southeast Asia and North America were on alert because of this. Since Hong Kong was under the authority of Beijing, mafia groups in Hong Kong and Macau were directly ordered to execute the assassination. But this well-planned action failed again when the conference host announced that Mr. Li had sent a greeting to the conference instead of attending in person.
Another assassination attempt was planned in 2002 in Canada, but it also ended in vain.
Violence was targeted against others as well.
David Liang and Li Qizhong, two Australian practitioners, went to South Africa to appeal when Zeng Qinghong and Bo Xilai visited there in June 2004.
On their way to the Presidential Palace to sue Zeng and Bo, they were attacked on the highway from the rear by AK47 rifles. Mr. Liang, who was driving, was shot in the feet, which led to a comminuted fracture. The shooting also damaged their car tires, almost causing the two practitioners to lose their lives on the highway.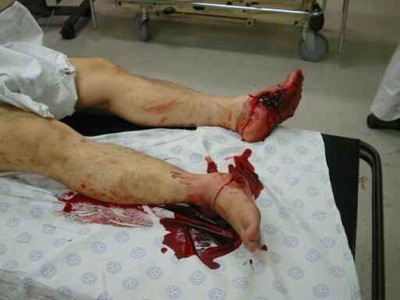 Australian practitioner David Liang was shot in feet in South Africa in June 2004
Even practitioners in the United States were not safe. Mr. Li Yuan, Chief Technical Officer of the Epoch Times, was attacked on February 8, 2006, after Forbes published news on some practitioners' success of breaking through China's Internet blockade.
Three Asian men broke into his home in Atlanta, covered his eyes with tape, and beat him. They also took away two laptop computers and some documents in a file cabinet. After Mr. Li Yuan was sent to hospital, a surgeon had to sew fifteen stitches on his head.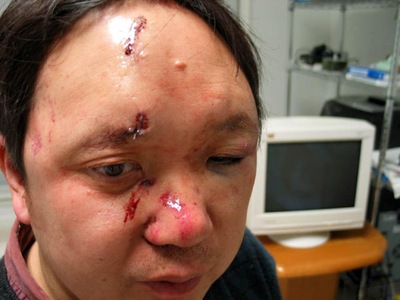 Mr. Li Yuan, Chief Technical Office of the Epoch Times, was attacked and injured at home in February 2006
According to Chen Yonglin, the former First Secretary of the Chinese Consulate in Australia who defected in 2005, the CCP had close to 1000 spies in Australia alone. This information was later confirmed by Hao Fengjun, a former 610 Office who escaped to Australia in the same year.
Internet Spying and Cyber Attack Outside China
While Division II of the General Staff Department is Responsible for personnel dispatch, Divisions III and IV of the agency have been applying the latest military spying technologies on targets overseas.
For example, the No. 54 Research Institute of Division IV developed a voice recognition system in order to identify Falun Gong practitioners' voices. Division III has been responsible for information collection, monitoring, and processing. It dispatched about 100,000 staff members to international phone call monitoring and information processing related to Falun Gong.
Such technologies were usually shared with the domestic suppression of Falun Gong. According to information received by Minghui in November 2006, PLA's East Sea Fleet launched an intelligence system that monitored nationwide cell phone conversations.
By scanning through the conversation contents, this system could pick up information related to sensitive topics—especially Falun Gong––and then follow through by locating and tracking the targeted individuals.
According to a program broadcast on CCTV (China Central Television), the PLA's Electronic Engineering Institute had been launching cyber attacks to Minghui.org, Falundafa.org, and other Falun Gong-related websites.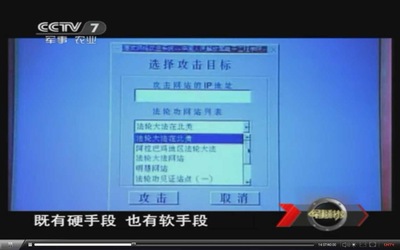 A program broadcast on CCTV in July 2011 showed PLA's cyber attack of Falun Gong-related websites such as Minghui.org
Even websites that provided independent, uncensored reports on China, such as the Epochtimes.com, have been attacked. For example, the Epoch Times website was attacked in August 2012 when it exposed the CCP's live organ harvesting operation which took organs from practitioners.
The website was targeted again in May 2013 when it covered the brutality against practitioners at the Masanjia Labor Camp.