Practitioner Arrested for Displaying Poems Celebrating the New Year
January 10, 2015 | By a Minghui correspondent from Guangdong Province, China
(Minghui.org) It is a New Year tradition in China for people to hang duilian (poems) on their doors as a holiday decoration and as an expression of joy and hope for the coming year.
However, Mr. Jiang Hanquan was arrested for hanging duilian with information about Falun Gong on his own door. Mr. Jiang, in his 60s, is a farmer from Puning City, Guangdong Province. Mr. Jiang is also known for his skill in Chinese calligraphy.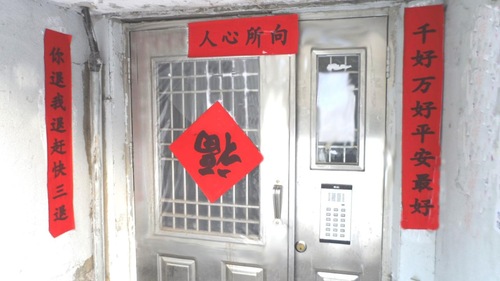 A house decorated with duilian with information about Falun Gong in a northeastern city in China
Mr. Jiang was arrested on December 1, 2014, and is being held in the Puning Detention Center. At this time, he is exhibiting symptoms of high blood pressure, which has soared to over 200 mm Hg.
On December 1, plainclothes officers broke into Mr. Jiang's house. Without showing any identification or a search warrant, they ransacked his personal belongings including Falun Gong books, the founder of Falun Gong's portrait, and other Falun Gong related materials.
The officers also summoned Mr. Jiang's son to the Shangtang Village office and threatened him.
Because he practices Falun Gong, Mr. Jiang has been persecuted relentlessly by the Chinese Communist Party over the last 15 years. His family members have also been harassed and threatened.
For example, when Mr. Jiang was forced to leave his home to avoid being arrested, the police arrested his two daughters and sent them to the Sanshui Brainwashing Center.
Mr. Jiang's wife was detained in a forced labor camp for two years. Shortly after she was released, she was arrested again and taken to a detention center. She was force-fed when she held a hunger strike in protest.
Mr. Jiang's youngest son was expelled from school at the age of 15. He was also detained at the Puning Detention Center, where he was verbally abused and beaten.