New York: Exposing the Persecution of Falun Gong during United Nations Climate Summit
(Minghui.org) On September 23, the first day of the United Nations Climate Summit 2014, Falun Gong practitioners from the New York area held activities in front of the UN headquarters and the Waldorf Astoria, where the Chinese representatives are staying, to protest the 15-year persecution of Falun Gong in China.
A major focus of the activities was to expose the crimes of Zhang Gaoli, the head of the Chinese representatives to the summit. Zhang has been an active participant in the persecution of Falun Gong.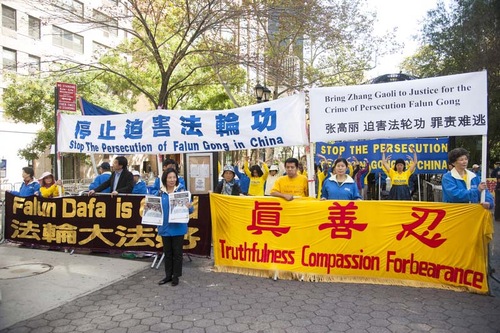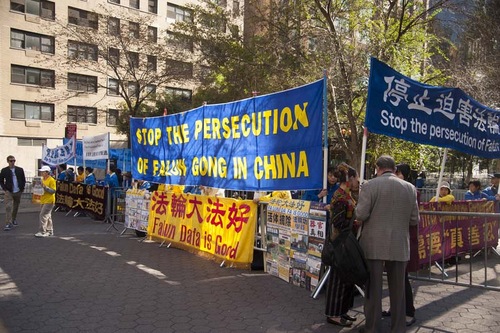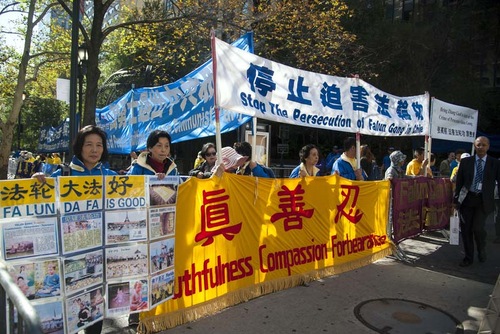 According to David Tompkins, one of the event organizers, who has been practicing Falun Gong for 13 years, Zhang Gaoli is a major culprit in the persecution, responsible for the deaths of many practitioners.
Zhang Gaoli is a member of the Chinese Communist Party (CCP) Politburo Standing Committee and the Chinese deputy prime minister. Zhang is known to be a close follower of Jiang Zemin, former head of the CCP and the one who singlehandedly launched the persecution of Falun Gong.
Zhang held head posts in Guangdong, Shenzhen, Shandong, and Tianjin before his current position. He actively planned and directed the persecution in these areas, causing tens of thousands of Falun Gong practitioners to be illegally arrested, detained, and sentenced. Many of these practitioners were tortured in detention, resulting in disability and death.
According to a notice announcing the investigation of Zhang Gaoli, published on August 25 by the World Organization to Investigate the Persecution of Falun Gong, "Zhang is suspected of committing the Crime of Genocide, the Crime of Torture and Crimes against Humanity."
It is also believed that Zhang is actively involved in the harvesting of organs from imprisoned Falun Gong practitioners in Shandong and Tianjin.
Practitioners held banners worded "Falun Dafa is good," "Stop the persecution of Falun Gong," and "The world needs Truthfulness-Compassion-Tolerance." They also called for Zhang Gaoli to be brought to justice.
Among the materials distributed by practitioners during the event, was information exposing the Chinese Communist Party's forced organ harvesting of prisoners of conscience – the largest group of which are Falun Gong practitioners. Many people were shocked when they heard about the atrocities. As one New Yorker commented: "This is murder!"
Practitioners will hold similar activities every day during the UN summit, from September 23rd to the 27th, calling upon the international community to help stop the persecution in China.