Dalian Authorities Plan to Sentence More Falun Gong Practitioners Before October
September 14, 2014 | By a Minghui correspondent from Liaoning Province, China
(Minghui.org) Dalian authorities plan to sentence more Falun Gong practitioners before October, according to sources. Local courts have made an online announcement listing wanted practitioners, who have left their homes to avoid further persecution. Thirty-four illegal sentences have been confirmed in Dalian between January and August 2014.
Staff from the Dalian Intermediate Court revealed that the city's deputy mayor and police department chief, Liu Leguo (刘乐国), ordered the court to uphold all sentences of Falun Gong practitioners.
Once sentenced, the chance of a successful appeal is bleak for practitioners.
Ms. Ma Dongmei (马冬梅) is one of the 34 practitioners sentenced earlier this year. On September 2, 2014, her sister learned that Ms. Ma had been sentenced to a six-years term, in a May trial. She called judge Li Bianjiang at the Shahekou Court, who ruled the case, and questioned him about the legality of the sentence. Li told her, "I didn't make the decision, several other government agencies decided the term at the Xianglujiao Police Station."
Falun Gong practitioner Ms. Wang Yusi (王语丝), an English teacher from Dalian, was tried on August 27, 2014, by the Xigang District Court. The trial lasted less than ten minutes, and she was sentenced to a six-year prison term.
Earlier this year, eleven practitioners were sentenced for installing satellite dishes for Dalian citizens, to receive uncensored overseas Chinese-language TV programs. Their family members and lawyers appealed to the Intermediate Court, but the court upheld the sentences based on internal orders from the city police chief.
Among them, Mr. She Yue (佘钺) was tried on April 15 while he was unconscious. His attorney and family members were barred from attending the trial. One week after the closed-door trial, he was sentenced to six years in prison.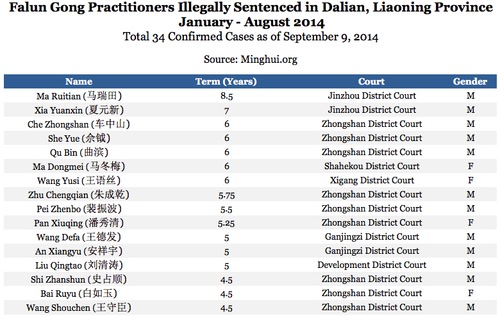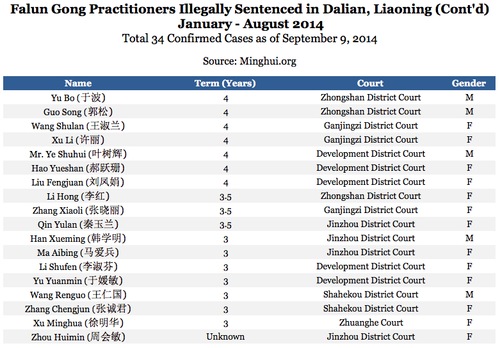 Related articles in Chinese language:http://www.minghui.org/mh/articles/2014/7/17/2014年上半年大连法轮功学员被迫害综述-294786.html
http://www.minghui.org/mh/articles/2014/8/5/二零一四年八月五日大陆综合消息-295603.html