Mr. Zhang Guoli in ICU after Being Given Unknown Drugs and Tortured
August 23, 2014 | By a Minghui correspondent from Liaoning Province, China
(Minghui.org) Mr. Zhang Guoli, a Falun Gong practitioner, is now in ICU at Zhuanghe Central Hospital after being tortured and given unknown drugs at the Dalian Detention Center.
As Mr. Zhang was on the verge of death in the detention center, officials there transported him to the 210 Hospital in Dalian. On August 11, they notified his family to come take him home. It is believed that the Chinese Communist Party was trying to avoid responsibility for his potential demise by sending him home.
"I Cannot Lose My Son. I Would Rather Lose the Family Fortune."
The family found Mr. Zhang prostrate, unable to eat or speak, when they brought him home to Zhuanghe. When they realized he was in critical condition, they took him to the hospital.
Mr. Zhang's medical expenses are costing his retired parents over 5,000 yuan a day. As a result of being persecuted since July 20, 1999, Mr. Zhang is destitute and homeless, and has no identification card, no medical insurance, and no job or source of income. His father, who is over 70, is using his pension to pay the medical costs. He tearfully cried out, "I cannot lose my son. I would rather lose the family fortune."
26 Falun Gong Practitioners Arrested in Three days
The Dalian Police Department Jinzhou Branch, the Zhongshan Branch and the Domestic Security Division, and the police stations in Dalian City arrested 26 practitioners, including Mr. Qu Bin, over the course of three days, beginning July 21. Mr. Zhang was arrested in the place he was renting on July 23 by the Xianjin Police Station in Jinzhou. His family wasn't notified.
Hunger Strike to Protest
Mr. Zhang went on a hunger strike to protest being persecuted at the Dalian Detention Center. He was beaten daily by criminals, handcuffed and his legs shackled. He was punitively force-fed many times a day, which is not to be confused with concern over his well-being, as the methods used were brutal and amounted to torture.
Chili powder and unknown drugs were included in the substance that was forced down his throat, causing absent-mindedness, kidney failure, uremia, urinary incontinence, rashes, sores and ulcerations on his buttocks, and blockage in his nasal passage caused by congealed blood. His heart rate was over 150 beats per minute, and he had severe heart pain. He wasn't able to sleep for many days and hallucinated that maggots were crawling all over his body.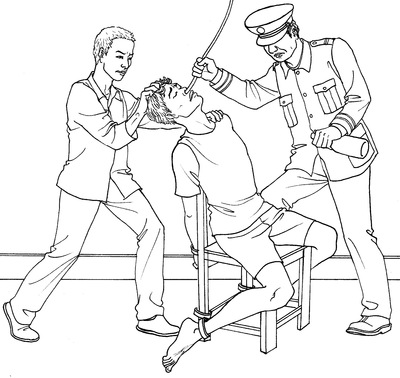 Sketch Demonstrating Forced-Feeding
Related articles:Mr. Zhang Guoli Was Persecuted to the Brink of Death at Dalian Forced Labor Camp (Liaoning Province)Falun Gong Practitioner Mr. Zhang Guoli from Dalian City Severely Tortured