The Story of a 16-Year-Old Canadian Gymnastics Champion
August 02, 2014 | By Minghui correspondent Zhang Yun
(Minghui.org) As a rising gymnastics star, Aleeza Yu is already a two-time Ontario champion and Canadian East Coast all-around champion, all before her 16th birthday.
Gymnastics is a highly skilled sport, with high requirements in both technique and mental control. Many years of hard work are judged in just a few minutes during a competition.
Dealing with Success and Failure in Competitions
How does Aleeza handle accomplishments and accidents in competition? She said, "I try to deal with everything calmly no matter what happens. I don't brag about my achievements. I also ask my mom not to tell many people, because the awards are the natural outcome of my efforts. If they are mine, they are mine. I don't need to pursue them with too much intention. They should come naturally."
Aleeza's mom Sheree has a unique perspective: "Her efforts without pursuit are the key reason for her success. In fact, every athlete works extremely hard nowadays, but her success rate is higher. That is because she isn't competitive. She doesn't show off her skills and doesn't get jealous of others' successes. Once she is able to relinquish negative thoughts and emotional burdens, her success becomes natural and relatively easier."
Of course, Aleeza has experienced setbacks. She described a recent occurrence in April: "I didn't worry or stress out. During the event, I fell off the balance beam. I was unaffected and did my best in the floor exercise. I still won third place in the floor exercise individual event.
"Friends worried about me because I did the floor exercise right after falling from the balance beam. I wasn't stressed. I only thought about how to do my best in the rest of the competition. I didn't look back, but simply looked forward."
Witnessing the entire thing, Sheree said, "So many years of hard work are judged in a short period of time, less than a minute and 20 seconds. There was only 10 minutes between the balance beam and floor exercise. It is very hard even for adults to remain calm. Her state of mind is just trying her best. She made it."
Handling Everything as a Cultivator
As a Falun Gong practitioner (cultivator), Aleeza shared how her compassion could change the team environment. A fellow athlete often argued with others. Many were afraid of working with her.
"I thought that, since I was a cultivator, I should treat everyone equally. I was nice to her. Even though she lost her temper with me or got jealous of my achievements, I didn't argue with her. She asked to share the same room with me every time. I never rejected her. Gradually, she started to change and has become more considerate," Aleeza recalled.
"In fact," she continued, "my coach said to me, 'You have changed her.'"
Aleeza has had injuries just like every other athlete, "I don't worry about it too much. I tell myself, 'An injury will affect my performance, of course. But worrying doesn't solve the problem. As long as I face it directly and positively overcome difficulties, I will be better.' Once I think this way, my recovery is really rapid.
"I have to train as usual, injured or not. I normally train six hours every day. If I'm injured, I can only train for four hours a day. However, training with an injury can be quite painful." She emphasized that one had to be strong.
This May, Aleeza participated in the national tournament in Ottawa in May for the July Commonwealth Games in the UK, even though she had a foot injury. Unfortunately, she added a new injury during the competition. She explained, "The first day I ranked second in the all-around but was injured again during the vault session. Why did I participate in the games with an injury? I understand that I need to cooperate with the team, respect my coach's decisions, and try my best."
The doctor had recommended that she sit on the bench for the July games. She remained calm: "I didn't feel depressed or frustrated. If I was supposed to go, then I would go. As a cultivator, I kept up with my Fa study and exercises. My recovery was rapid; the swelling went down significantly. Cultivation is also about making solid steps without pursuing miracles. Miracles may happen at any time, but they are not something one can deliberately go after."
She emphasized that she regarded herself first as a cultivator, then as an athlete.
Aleeza credits Falun Gong as the reason for her success: "I am so lucky. I have practiced Falun Gong for 15 years. Even though many call me 'little Falun Gong practitioner,' I insist that they call me 'veteran practitioner.' I follow the principles of Truthfulness-Compassion-Forbearance and try to do my best."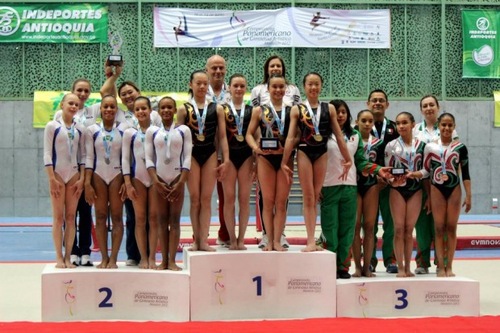 The 2012 Junior Pan Am in Columbia was Aleeza's first-ever international game. She was part of the team that won the gold medal.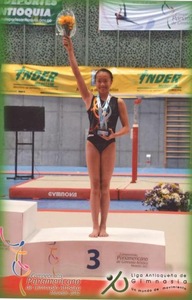 The 2012 Junior Pan Am in Columbia. Aleeza won third prize in the all-around competition.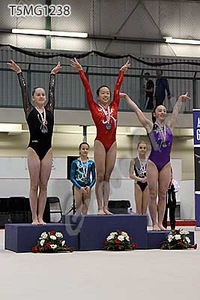 Aleeza was an individual event champion in Elite Canada 2013.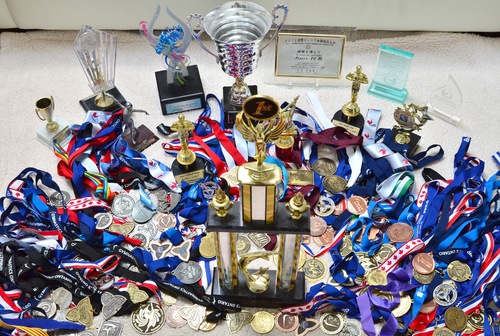 Some of Aleeza's trophies and medals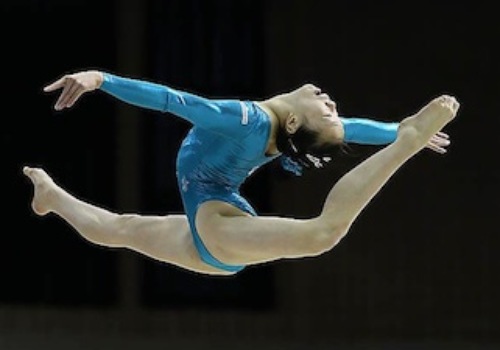 Aleeza in a gymnastics competition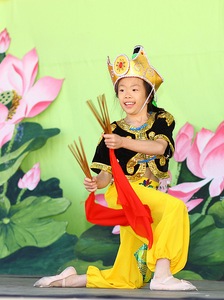 Aleeza also performs Chinese classical dance at community events.
A Natural Gift for Gymnastics
At the age of five, Aleeza urged her mom to let her do gymnastics. Her mother, Sheree, an immigrant from Hong Kong, knew nothing about gymnastics. She was surprised, "All the other kids learn piano and music. Why did my girl asks for gymnastics, something I know nothing about?" Seeing that her mom was so clueless, Aleeza urged her aunt to help.
Her aunt helped her find a gymnastics club when she was seven years old. She acted like a veteran and asked for a tour of the club. Their host asked her, "Why do you want to learn gymnastics?" She said, "Because I would like to go to the Olympics."
During try-outs, Aleeza jumped onto the balance beam as if she had done it many times. It hit Sheree that gymnastics might be something that needed to be a part of her daughter's life.
Aleeza started formal training at seven and a half. She joined the Ontario provincial team at the age of nine and won first prize in the all-around East Coast competition in Canada and was a member of the championship team on behalf of Ontario.
When she was 11, she entered the national level. She joined the Canadian national team a year later. As part of the Canadian national team, she competed in the international games in Columbia, France, Japan, Germany, and the United States.
2014 is her first year as a member of the adult Canadian national team. The team won team silver at the Pacific Rim Gymnastics Championships in April. The United States won the gold and China, bronze.
Aleeza finished fifth in the all-around, with a strong individual effort for the Canadian team.
As a Falun Gong practitioner, Aleeza is very disciplined: "I have to make certain that I get my Fa study and exercises in. I train every day between four and six hours. On top of that, I have to finish my schoolwork. No matter what, I manage to spend time studying the Fa and doing the Falun Gong exercises."
She maintains a good balance among her school commitments, games, tests, and her spiritual practice of Falun Gong.