Summary Report of Falun Gong Practitioners Killed in Prisons and Detention Centers
August 18, 2014 | By a Minghui correspondent
(Minghui.org) The Chinese Communist Party launched its crackdown of Falun Gong nationwide on July 20, 1999. The Minghui website has reported 3714 deaths of practitioners as a result of the persecution as of June 30, 2014. Among them, the deaths of 512 practitioners (14%) were attributed directly to abuses they suffered while incarcerated in prisons, detention centers, and labor camps.
These deaths have been reported in all Chinese provinces and municipalities with the exception of Hainan Province and Tibet Autonomous Region. Among the 512 recorded cases, there are 427 deaths of practitioners in prisons, 51 in detention centers, 1 in a labor camp, and 33 unknown. Due to censorship under the Chinese regime, the above figures most likely represent only a small fraction of the actual numbers.
Practitioners on Average Subjected to Three Forms of Torture
There were 335 death cases that were reported with explicit mentions of torture. On average, each practitioner had been subjected to three types of torture.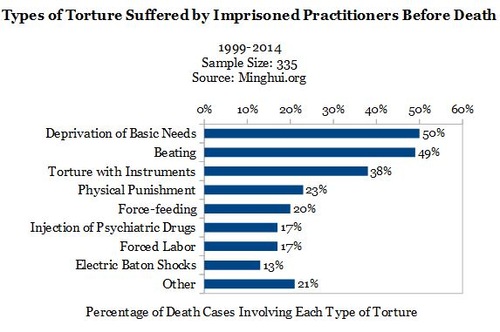 The largest abuse categories include deprivation of food, water, or sleep, having dirty or foreign objects forced into the mouths of victims, forced nudity, etc.
Torture instruments used include shackles, ropes and chains, the "tiger bench," the "death bed," hanging, cutting with knives, or burning.
Physical punishments include being forced to squat, kneel, crawl, run, or stand in sometimes extreme temperatures for extended periods of time.
Half of Prison-Related Deaths Occurred Soon After Release
Of the 427 practitioners killed by abuses in prison, 211 (49%) died in prison and 214 (50%) died after release or on medical parole. Two practitioners died at an unknown time.
An analysis of 105 practitioners for whom exact times of release and death were available shows that 37 practitioners (35%) died within a month after release, 30% died within 3 days of release, and 80% died within six months after release.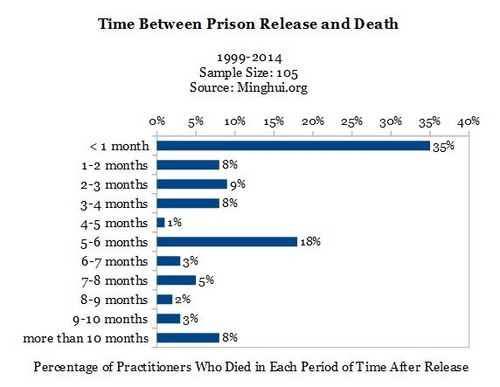 The same pattern emerges among the 51 practitioners killed in detention centers: 26 died while in detention, and 23 died soon after release.
Mr. Zhang Xuewen, a practitioner in Fangtai Township, Hulan County, Heilongjiang Province, was subjected to force-feeding in a detention center. The force-feeding continued when he was transferred to Hulan Prison in Harbin on August 7, 2003. The next day, Mr. Zhang's family received notice that his life was in danger. By the time they arrived at the prison, Mr. Zhang had passed away. During the process, his body was emaciated, and all of his teeth had fallen out due to force-feeding.
Average Prison Term: 6 Years, 3 Months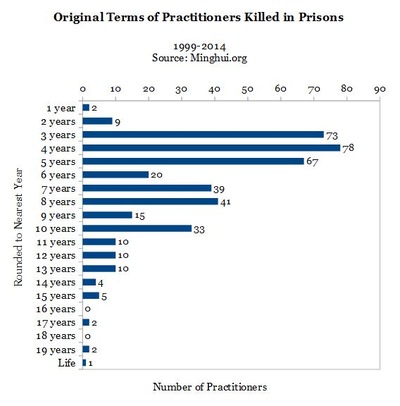 The Minghui website reported 421 death cases with known prison terms, which average 6 years and 3 months. On the extreme end of the scale, Ms. Zhang Li, a practitioner in Liaoning Province, had been sentenced to life in prison before she was tortured to death.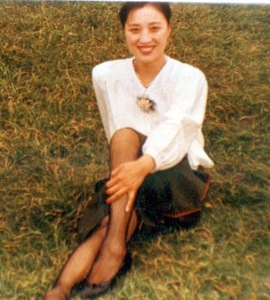 Ms. Zhang, 40, was arrested by Lishan Police of Anshan on March 19, 2002. She was labeled a "key member" of Falun Gong and sentenced to life in prison. She was interrogated many times while detained at the First Detention Center of Anshan. After each interrogation, she would be covered in bloody scars. After she passed away, witnesses who saw her body reported that her respiratory tract and one armpit had been cut open.
Death Rates Over Time
Deaths have been reported every year since 2000, with over 30 each year between 2003 and 2013.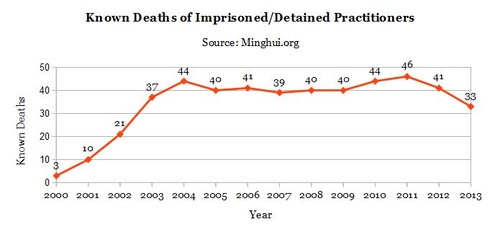 Victim Demographics
Among the practitioners killed in state custody, 62% were men and 38% were women. Their average age was 51.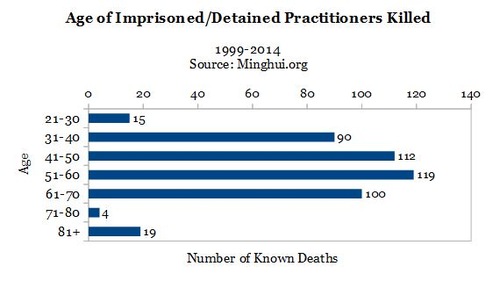 Heilongjiang Province Leads in Death Toll with 96 Killed
Heilongjiang Province claimed the most deaths with 96, followed by Liaoning Province with 73, Jilin Province with 55, and Sichuan Province with 45.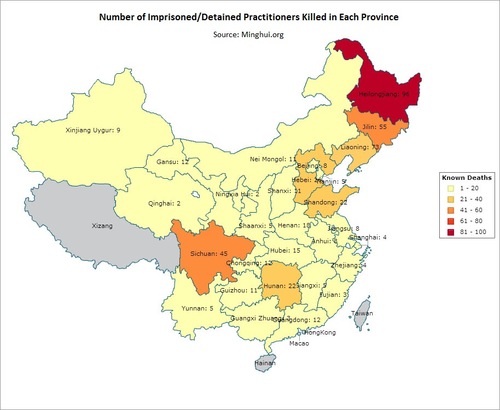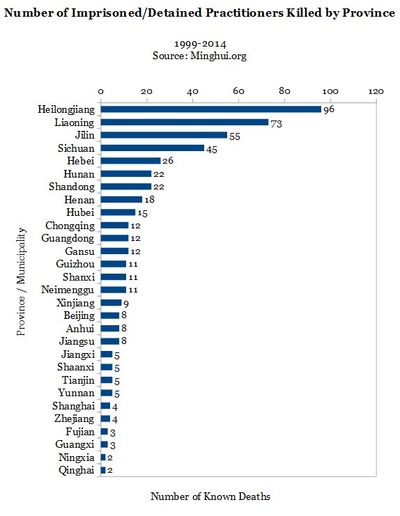 Liaoning Women's Prison Responsible for 25 Deaths
In total, 120 prisons are directly responsible for the deaths of 427 practitioners. Liaoning Women's Prison is the most notorious, claiming 25 deaths.