Jilin Women's Prison: Inmates Ordered to Use "Hard and Soft Ways" to Force Ms. Huang Fulan to Renounce Falun Gong
August 11, 2014 | By a Minghui correspondent from Jilin Province, China
(Minghui.org) "The police told us to use both hard and soft ways to 'transform' you," said an inmate while torturing Falun Gong practitioner Ms. Huang Fulan in Jilin Women's Prison.
This inmate was a former practitioner who was herself "transformed" and made to put pressure on practitioners who refused to renounce Falun Gong. While the "hard" ways refer to torture and beating, "soft" ways include coercion and brainwashing tactics.
Ms. Huang Fulan, 67, was unlawfully arrested for her belief in Falun Gong on the evening of November 6, 2012. She was later sentenced in a sham trial, and taken to Jilin Women's Prison in late 2013.
Ms. Huang was brutally tortured by Pan Ying and Jiang Dandan, inmates at the prison, along with Yu Xuewei and Yue Hongmei, two other former practitioners that had given into pressure to turn against Falun Gong.
At first, the prisoners who monitored Ms. Huang were lax in watching her. But once Pan Ying arrived at the prison, the situation worsened. She would order Ms. Huang to repeat curse words, forbid her from using the restroom, and other forms of torment. She forced her to sit on a small, hard stool from 4:00 a.m. to midnight.
Pan said, "The guards ordered me to treat you like this. If you don't believe me, let's go to the office and I'll curse at you and beat you in front of the door, and we will see if they stop me."
When Ms. Huang looked sleepy, inmate Yu Xuewei stabbed the back of her hand with the tip of a pen. At night, Yu sat in front of Ms. Huang's bed and beat her to keep her from falling asleep.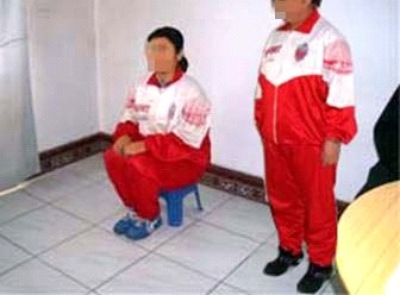 Torture re-enactment: Forced to sit on a small stool for long periods of time
As a result of being forced to sit on a small stool for long periods of time, Ms. Huang's thigh became ulcerated. It was very painful so she put some toilet paper on the stool for padding. When Yu, Yue, and two others discovered it, they forced her to wipe her mouth with the bloodied toilet paper. Some inmates reported this to the guards. As a result, the torture intensified. They forced Ms. Huang to slap her own face. Eventually, she suffered from severe memory loss, became very dizzy, and could not take care of herself.
Parties in Jilin Province Women's Prison involved in persecuting Ms. Huang:Wu Zeyun (武泽云), director: +86-14768199088 (cell)Wang Lijun (王力军), deputy director: +86-13424483338 (cell)Captain Zhang Shuzhen (张淑珍), educational section in the prison: +86-18248757172 (cell)Ni Xiaohong (倪笑虹), team leader: +86-13569444904 (cell)