Liaoning Province: Domestic Security Division Sets Arrest Warrant Quotas
(Minghui.org) The Domestic Security Division of the Liaoning Provincial Public Security Ministry issued a Domestic Security Core Goal and Evaluation Plan for 2014 on April 10, 2014. The plansets a quota for arrest warrants to be met by all city-level Domestic Security Divisions for arresting Falun Gong practitioners in 2014.
Officials of the province-level Domestic Security Division ordered the chiefs of all municipal Domestic Security Divisions to attend a meeting on May 12, 2014. The province level chief stressed during the meeting that city-level divisions that do not meet the quota won't receive a grade A in their annual evaluation.
Officials of city-level Domestic Security Divisions then organized meetings for county/district-level division chiefs, and established quotas at each level.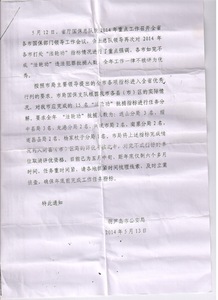 Notice to the Huludao City Domestic Security Division: Complete 15 arrest warrants on Falun Gong practitioners
Domestic Security Divisions are organized within police departments. Their main responsibility is to suppress religious groups. They are set up in police departments at province, city, and district levels.
These divisions at all levels have played an active role at the front lines in persecuting practitioners since the persecution of Falun Gong began. They collaborate with the 610 Office, police stations, and community offices, and have initiated the arrests of many practitioners, especially in recent times.