Falun Dafa Practitioners from India Receive a Warm Welcome in Nepal
(Minghui.org) Falun Dafa practitioners from India had a booth at the 2014 Nepal Education & International Book Fair held at Kathmandu, the capital of Nepal, from May 29 to June 5. This was the first time practitioners from India went to Nepal to promote the practice.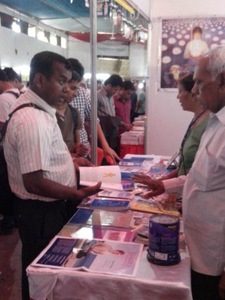 Falun Dafa at the Nepal Book Fair
Thousands of people from all walks of life, including teachers and students, came to the Falun Dafa booth. Everyone who stopped by was given a flyer, and many purchased Dafa books. Practitioners talked to people about Falun Dafa and also informed them about the persecution of the practice in China.
Every morning, practitioners who participated in the book fair practiced the Falun Dafa exercises together at a sports field where thousands of people go for their morning walk and exercises. Many came to learn the exercises.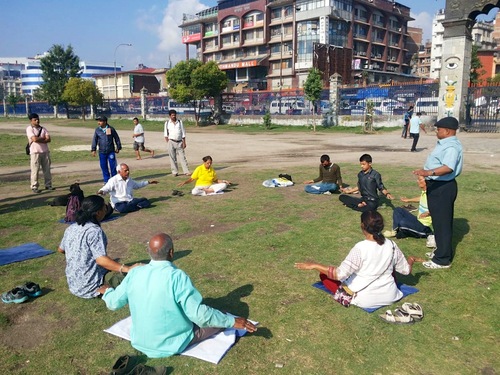 Teaching the meditation on the sports field
Indian practitioners had found out about the book fair only two months prior to the event. Some were apprehensive about going to Nepal to introduce Falun Dafa because of the communist influence in Nepal.
Two senior practitioners in Delhi made up their minds to go to Nepal and visited the Nepal Embassy. They talked to embassy officials about Falun Dafa and the benefits of the practice. The officials were appreciative of the practitioners' efforts to promote Falun Dafa in Nepal.
Later, more practitioners agreed to participate and made arrangements for the booth and for their travel. As a group, they overcame many challenges, including having to change their travel plans due to a change in the book fair schedule, and the difficult task of getting all the materials to the event.
After the book fair ended on June 5, practitioners went to the city of Pokhara, a famous tourist destination in Nepal. While distributing informational materials there, they met a young Chinese woman who taught Chinese. Due to the influence of Chinese Communist Party (CCP) propaganda, she had misunderstandings about Falun Dafa. However, after talking with the practitioners, she realized the true situation and her attitude became supportive. The practitioners also introduced Falun Dafa to a group of students near Shanti Stupa, a Buddhist shrine built atop a hill in Pokhara that attracts a lot of tourists.
Thousands of people in Nepal learned about Falun Dafa through this volunteer effort by practitioners in India.
[Article submitted to the Minghui website on July 1, 2014]