Ms. Bao Yan Severely Injured while Trying to Escape Unlawful Arrest
July 07, 2014 | By a Minghui correspondent from Liaoning Province, China
(Minghui.org) To escape unlawful arrest, Falun Gong practitioner Ms. Bao Yan from Shenyang City jumped out of the fourth floor window of her residence and was injured severely. Police arrested her son Mr. Zhang Lei and ransacked their home. Ms. Bao needed money for medical treatment, however, the 10,000 yuan she had left at home was stolen by the police.
Ms. Bao's Arrest
Ms. Bao, 57, and her son, Mr. Zhang Lei, 31, had just returned to their rental place in Shenyang City from another city around 9 p.m. on April 24 when police came knocking on their door. They demanded Ms. Bao and her son to go with them. Ms. Bao told them she needed to change first and went into another room. Ms. Bao had previously been arrested and tortured by the police. Desperate to avoid this, she chose to jump out of the window from the fourth floor.
After she landed it took her great effort to get to a neighbor's place in another building. The family living there did not dare to keep her in their home, but took her to Mr. Jiang Jun's home in Xiaojinqiao, a nearby town. Three or four hours later, police officers from Shenyang City broke into Mr. Jiang's home and arrested them both. At the same time, police officers confiscated thirty to forty thousand yuan from Mr. Jiang's home.
The police took Ms. Bao to the hospital. Doctors there said that it would cost forty to fifty thousand yuan for the operation. On April 27, police officers from Xiaojinqiao Police Station in Tianjin City called Ms. Bao's brother and lied to him, claiming that when they ran into Ms. Bao, she was already injured. Her brother believed them and went to take Ms. Bao home. Not until he saw Ms. Bao, did he realize that her wounds were caused while escaping from the police.
Ms. Bao's brother is not able to easily take on the responsibility of caring for Ms. Bao. He has work and a family to look after, including their 84-year-old mother. Ms Bao's brother is hoping for Mr. Zhang Lei's return so that he can to take care of his mother. However, Mr. Zhang is still being held at the Shenyang Detention Center and police have issued an arrest warrant for him.
Police Officers Deny Stealing 10,000 Yuan
After Ms. Bao was taken away, she told her mother that more 10,000 yuan in cash was stored in a backpack and a small bag. The two items were placed on the bed in the room facing north. She asked her to have her brother go to her place and collect them for her.
In mid-May, her brother went to her rental place to pick up the items for her. Her place had been turned upside down. Her desktop computer and a notebook were gone. The backpack had fallen onto the ground. The bag as well as the small pockets inside were opened, and the cash had disappeared. Her brother went to Xiaojinqiao Police Station to get his sister's money back. The police officers there denied taking the money, claiming they should go to inquire at the Dadong District Police Department.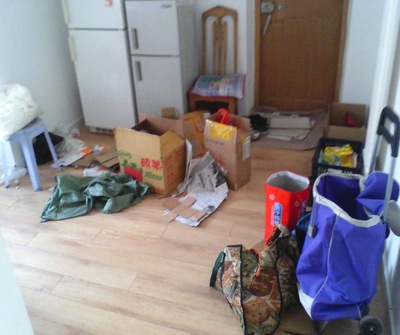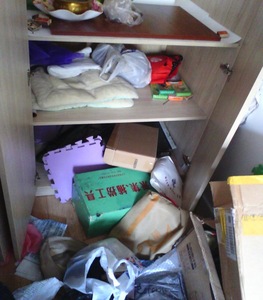 Ms. Bao's rental place after being ransacked by the police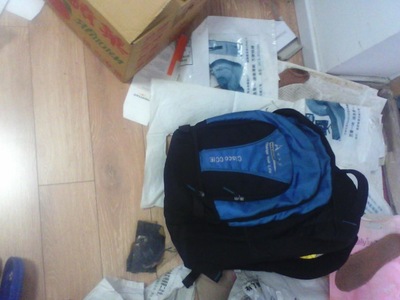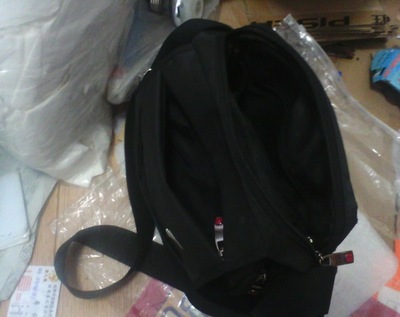 The backpack and a small bag that Ms. Guo used to contain cash, were later found lying on floor, 10,000 yuan was missing from them.
Ms. Bao's brother is urgently collecting funds to help with his sister's medical expenses. Ms. Bao's family hopes that the Shenyang Police will return the money.
Phone numbers pertaining to relevant people:Shenyang Detention Center: +86-24-8924189, +86-24-89241894, +86-24-89248084Person in charge of the police station Zheng Gang (郑罡)Deputy person in charge Guo Baoan (郭宝安)Political Instructor He Dongning (何冬宁)Dadong District Police Department: +86-24-88503258, +86-24-88204093, +86-24-24830645, +86-24-88504537, +86-24-88537328, +86-24-24830645President Piao Qiang (朴强)Domestic Security Department in Dadong District Police Department: +86-24-88538659, +86-24-88503258Team leaders: Qiao Yi (乔毅), Tao Dongxin (陶东新)Xiaojinqiao Police Station: +86-24-88504390
Related article:Separation, Injuries, Secret Arrests: Family in Turmoil Amid Persecution