A Look at Organ Harvesting in China as Condemnation Moves Through U.S. House
July 28, 2014 | By Minghui correspondent Brianna Pendleton
(Minghui.org) "Screens divided a very big hall into small rooms. I noticed all the windows were covered by white cloth. Many people were wearing white lab coats, white medical hats and large white masks, revealing their eyes only. Some were holding trays.
"We lined up to go in from one door and go out another. It was a long line with an estimated several hundred people. On both sides of the line were heavily armed police, all wearing helmets, white gloves and sunglasses. We were not allowed to talk. It was dead quiet, very scary."
Above is a scene Ms. Li Baoyun, a Falun Gong practitioner residing in San Francisco, recalled when blood was drawn from prisoners in Shenyang Dabei Prison in the spring of 2004.
"When it was my turn, I walked in and saw many large syringes lying in the tray. They rolled up my sleeve and drew 3 to 4 syringes of blood. I felt a little nauseated. Then I was escorted out from another door. None of us ever received any blood test results," Ms. Li says.
Why did the prison draw practitioners' blood while trying to force them to abandon their beliefs through torture and brainwashing? Surely it wasn't out of concern for their well-being.
Ms. Li wasn't alone. Mr. Bu Dongwei (also known as David Bu), a former project coordinator at the Beijing office of the Asia Foundation and a subject of Amnesty Internationals' global write-a-thon, experienced the same:
"Every three months, Tuanhe Labor Camp arranged Falun Gong practitioners to have a 'blood test.' But only Falun Gong practitioners had such a 'privilege.' The non-Falun Gong people didn't need to undergo the blood test. Every time we had 10 to 20 ml of blood drawn, but no one gave us any test results," Mr. Bu described his experience during 2006 and 2008 in the labor camp in Beijing.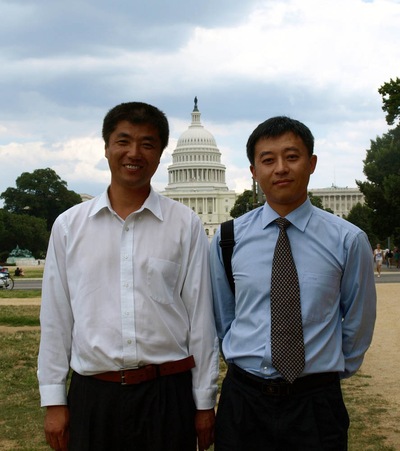 Mr. Bu Dongwei (right) and Mr. Xu Yin (left) joined the events in Washington DC in 2009 to help their fellow Falun Gong practitioners who were still persecuted in China.
Mr. Li Tong, a retired university professor, witnessed practitioners being taken away for "physical examinations" at the Beijing Shijingshan Detention Center in January 2001. He recalled, "Practitioners were constantly taken away for so-called physical examinations, but none of them came back."
The Minghui website exposed that in late 2011, Falun Gong practitioners had to go through monthly blood drawings in forced labor camps in Beijing and Inner Mongolia, under the guise of "physical examinations."
Between April and June 2014, police in Liaoning, Guizhou, Hebei provinces and Beijing are reported to have forced practitioners to go through blood tests. In the cases of unavailability or refusal from practitioners, some relatives were forced to have their blood drawn in their place.
The combination of targeted eradication and physical examination of Falun Gong practitioners didn't seem to fit, until news of organ harvesting broke in 2006: Practitioners are candidates for the organ trade, to be killed on demand.
Back in 2006, a lot of people, including quite a few Falun Gong practitioners, couldn't believe that this was happening in China. Subsequent independent investigations and reports have validated these reports' credibility after seven years.
In December 2013, the EU Parliament passed a resolution condemning this crime against humanity. In the same month, the Asia Subcommittee of the House Foreign Affairs Committee in the US Congress marked up a similar resolution. It is now scheduled for full committee markup on July 30.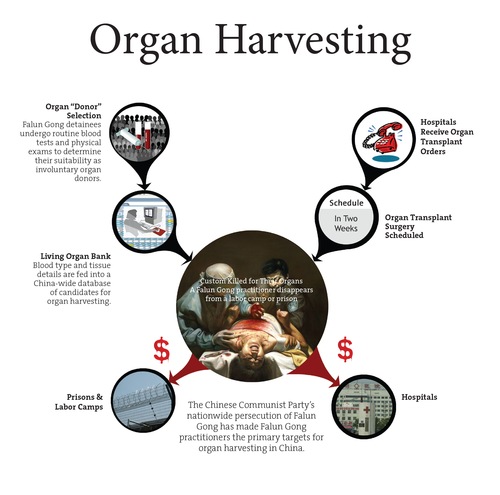 At a forum last summer, Dr. He Mai, MD, Deputy Director of DAFOH (Doctor against Forced Organ Harvesting) and Assistant Professor at Alpert Medical School of Brown University, revealed the targeted physical examinations that Falun Gong practitioners were put through.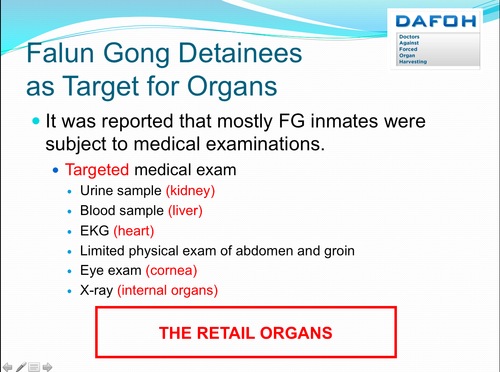 According to Professor Maria A. Fiatarone Singh, MD, with University of Sydney, Spain is the global leader in organ donations at the rate of 35 per one million. The United States is the second at the rate of 21 per million. China's organ donation rate is almost zero, yet it trails the US as the second largest organ transplant nation in terms of number of surgeries.
The medical community knows the extent of the organ harvesting beyond facts and figures—many have encountered its vile touch, even if it was on an anecdotal basis.
Franz Immer, MD, Chair of the Swiss National Foundation for Organ Donation and Transplantation, recalled, "During my visit in Beijing in 2007, a hospital invited us to watch a heart transplantation operation. The organizer asked us whether we would like to have the transplantation operation in the morning or in the afternoon... This meant that the donor would die, or be killed, at a given time, at the convenience of the visitors. I refused to participate."
The Prince Charles Hospital and the Princess Alexandra Hospital, two major organ transplant hospitals in Queensland, Australia, banned training Chinese surgeons after not receiving assurances that the skills would not be used in organ harvesting, as reported by the Australian Associated Press in December 2006.
As the evidence mounts, the response from the Chinese Communist Party (CCP) has evolved from complete denial to admitting the use of organs of death-row prisoners; from promising to stop using executed prisoners' organs before the 1998 Beijing Olympics to a "gradual phase-out" without a time line commitment.
In late 2013, it announced the China Organ Transplant Response System (COTRS), a computerized organ-allocation system, which essentially intermingles voluntary and involuntary organ donations and makes future investigations into organ harvesting more difficult.
One constant in the CCP's response is dodging the issue of organ harvesting from Falun Gong practitioners.
"As long as the words Falun Gong are not used and the critic restricts the criticism to sourcing of organs from prisoners, the response of the Party/State has been accommodating," said David Matas, a renowned human rights lawyer and subject matter expert on the issue of organ harvesting.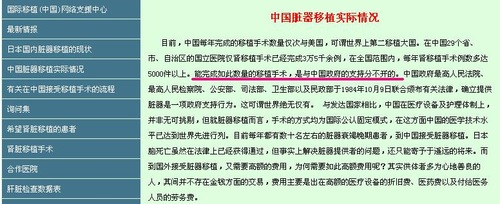 This is an archived screenshot of the 2006 web page of the China International Transplantation Network Assistance Center in Shenyang. The section titled "the situation of organ transplant in China" stated, "Right now, the number of transplant surgeries completed in China each year is next only to the US, therefore China can be called the second largest transplant country in the world. More than 35,000 kidney transplants alone have been carried out in official hospitals in 29 provinces, cities and autonomous regions. Throughout the country, as many as [sic] more than 5,000 kidney transplant surgeries are carried out annually. The ability to complete so many transplant surgeries is inseparable from the support of the Chinese government." The web page was removed after news of organ harvesting broke in 2006.
The China International Transplantation Network Assistance Center in Shenyang, Liaoning Province, claimed on its website: "The ability to complete so many transplant surgeries is inseparable from the support of the Chinese government."
Indeed, the consistently declining number of executed inmates doesn't explain the number of organ transplants in China. According to Professor Fiatarone Singh: "115,000 organ transplants took place globally in the past year [2013]. These are primarily performed in the USA, followed closely by China with smaller numbers around the globe."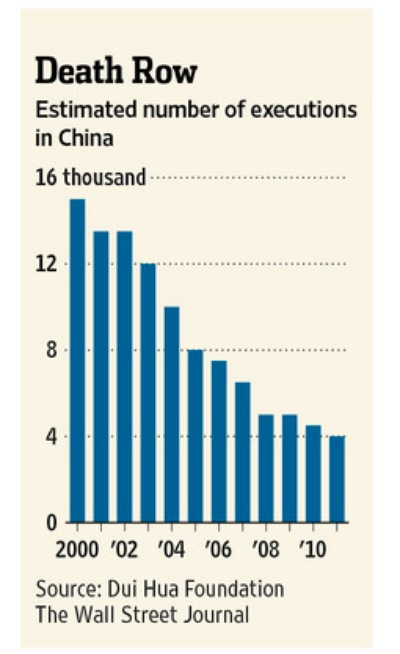 In a March 2012 report, the Wall Street Journal reported the number of executed prisoners in China. The number keeps declining year over year and cannot explain the large number of organ transplants in China, with virtually no voluntary organ donations. Death-row prisoners also cannot explain the short wait time in the matter of a few weeks for matched organs.
The nationwide persecution of Falun Gong certainly provides the political environment for the systematic, state-sanctioned organ harvesting to be possible.
Perhaps recognizing that the persecution and organ harvesting are inextricably linked, the EU Parliament calls for the "immediate release" of all prisoners of conscience in China, including Falun Gong practitioners, in its resolution of condemnation.