California, USA: San Diego Practitioners Mark 15th Anniversary of Peaceful Resistance to Persecution
July 27, 2014 | By a practitioner in San Diego, California
(Minghui.org) On the lawn beside La Jolla Bay in San Diego, several dozen people practiced the Falun Gong exercises on July 20, 2014. The serene scene drew the attention of tourists passing by, who paused to watch and read the informational poster boards nearby.
It was just one of several events that Falun Gong practitioners held in San Diego to mark the 15th anniversary of peaceful resistance against the Chinese Communist Party (CCP) persecution, which began on July 20, 1999. La Jolla Bay was the first group practice site set up in San Diego. The practitioners gathered that day to call for an end of the brutal persecution in China.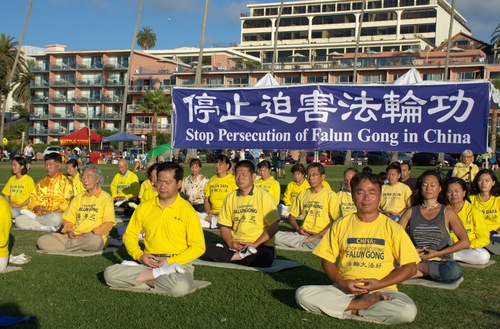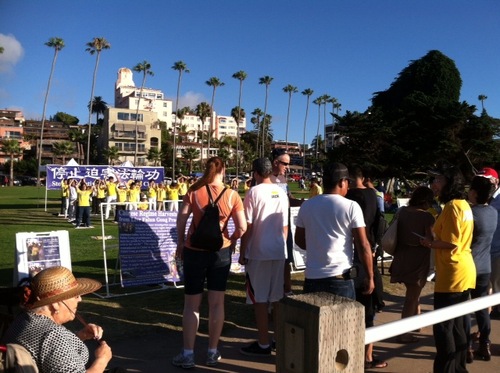 Falun Gong practitioners hold group exercise practice and raise awareness at La Jolla Bay in San Diego. Many tourists stopped and learned about Falun Gong and the persecution in China.
http://www.minghui.org/mh/article_images/2014-7-25-minghui-falun-gong-sandiego-03.jpg。A candlelight vigil to commemorate the practitioners who died as a result of the persecution
A woman who is a singer said to a practitioner, "They (the practitioners) have strong energy. Their faces glow." She said she would compose a song to let more people know about Falun Gong.
On the beach, the practitioners set up poster boards and distributed flyers. Practitioner Ms. Yang said, "I met a South Korean couple from Los Angeles today. Both are Christians. They were misled by incorrect information from their Chinese colleagues about Falun Gong. They asked me many questions. I talked to them in detail about the persecution. Finally they understood and left with several copies of informational materials, which they said they would give to their customers."
An older man from China, visiting relatives in San Diego, spent some time talking with a practitioner. He said, "There is real freedom here! Falun Gong practitioners can freely practice the exercises. But in China, no one can do it in public. I know why the persecution started – too many people practicing it. Now, in this free country, I can say out loud, 'I support Falun Gong!'"
"To force me to give up practicing Falun Gong, the guards tortured me on my second day in the forced labor camp," recalled a former United Nations refugee, Mr. Wang, who came to San Diego two years ago. He recalled his experience and suffering in China 15 years ago. He was a mechanical engineer but was laid off for not giving up his belief in Falun Gong. He was imprisoned in Guangzhou Forced Labor Camp in 2003. Mr. Wang said, "My arms were tied behind me, and my whole body was tied up with ropes. I fainted within minutes due to the agony. The guards loosened the ropes until I came to and then tied me up again.
"I was taken to a medical facility for a health exam when my term was nearly over. I wondered, 'Why did they torture me and then have me examined?' I recalled they had drawn my blood when I entered the camp. When the Communist Party's atrocity of live organ harvesting was exposed, I finally understood: I was almost selected as an organ donor."
Mr. Wang said quietly, "Recalling the misery I suffered, I am not angry, because the public has been misled by the CCP's lies, and the perpetrators will get what is coming to them for what they have done. We just want more people to know the facts and what the CCP is really like. So we are here to raise awareness."