Toronto: "You Are the Hope for China"
July 26, 2014 | By Xiao Yan, a Minghui correspondent in Toronto
(Minghui.org) On the 15th anniversary of the Chinese Communist Party's persecution of Falun Gong in China, Toronto practitioners held a week-long event to raise awareness of the injustice.
Impressed by the tremendous suffering practitioners have experienced for their belief, an immigrant from Shanghai said, "Thank you very much for your perseverance. Our society needs the principles of Truthfulness-Compassion-Forbearance. You are the hope for China."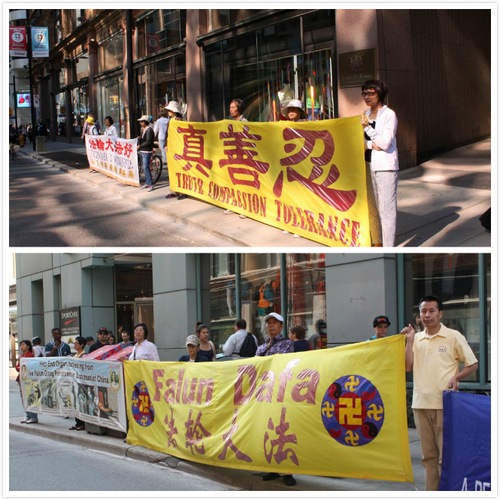 Practitioners held activities in downtown Toronto July 14-21 to tell people about Falun Gong and the persecution that started in July 1999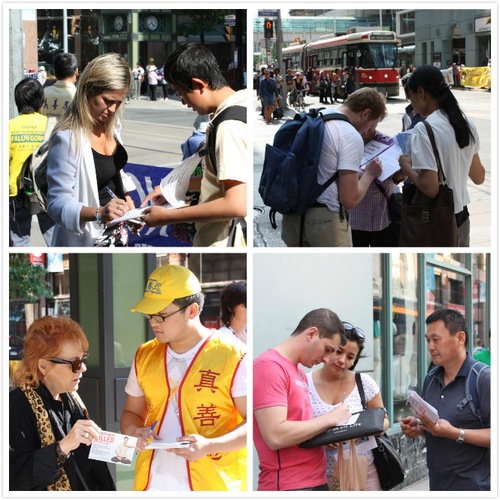 Pedestrians signed a petition to support Falun Gong
From July 14 through July 20, practitioners held banners and posters to tell drivers, pedestrians, and tourists about Falun Gong, as well as the persecution in China. After hearing about how practitioners have been tortured for their belief, many passersby signed the petition to show their support.
One passerby was Lucy, an immigrant from Shanghai, China, who has lived in Canada for more than 20 years. "I am a Christian, but I support Falun Gong. After seeing you working so hard through all these years, in summer and winter, rain and snow, I have to say that I admire your courage and determination."
Lucy said the banning of Falun Gong was wrong, let alone the harvesting of organs from living practitioners. "It [Live organ harvesting] is simply too cruel and too vicious," she said with tears in her eyes. "No one, nobody should allow it happen. We cannot remain silent on things like this."
She thanked practitioners for providing tools for the Chinese to overcome the Internet firewall and access uncensored information. "The Chinese Communist Party (CCP) has been in power for over 60 years, but now more and more people are finding out the truth and starting to wake up. We should all take action, say no to the CCP, and stop it from harming people anymore."