Chicago: "CCP Did Not Succeed in Suppressing Righteousness; It Never Will"
July 25, 2014 | By a Minghui correspondent in Chicago, Illinois
(Minghui.org) Practitioners in the Greater Chicago Area gathered at the Chinese consulate in Chicago on the afternoon of July 19, 2014, calling to end the persecution against Falun Gong in China that started in July 1999. A graduate from renowned Tsinghua University gave testimony during the gathering, "I was imprisoned for 10 years for my belief. But nothing could stop me from following the principles of Truthfulness-Compassion-Tolerance."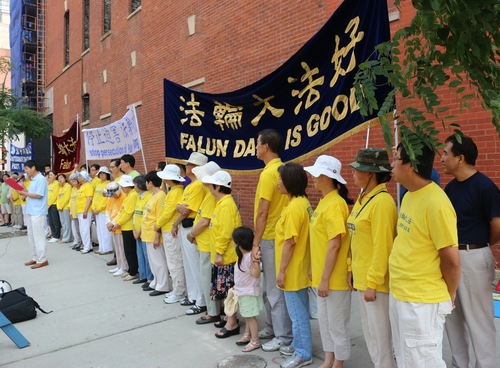 Practitioners in Chicago held an event on July 19, 2014, calling to end the persecution
After graduating from Tsinghua University with a major in Precision Instrument, Mr. Yu Chao worked for a foreign firm in Beijing with a decent salary. Because of practicing Falun Gong and telling others about the persecution, he was sentenced to imprisonment twice—one year in 2000 and nine years in 2002. He was severely tortured in detention centers and prisons.
Mr. Yu's experience was typical for tens of millions of practitioners living in China, said Yang Sen, director of the Falun Dafa Association in Chicago. "Nearly 4,000 practitioners have been confirmed dead as a result of torture during police custody. It was reported that at least 60,000 practitioners had become victims of organ harvesting while they were still alive."
"The nature of the persecution, as well as the scale and severity, has made it one of the worst human rights violations in contemporary society," Yang said. Because of the strong economy in China, he explained, very few Western governments or media have reported these.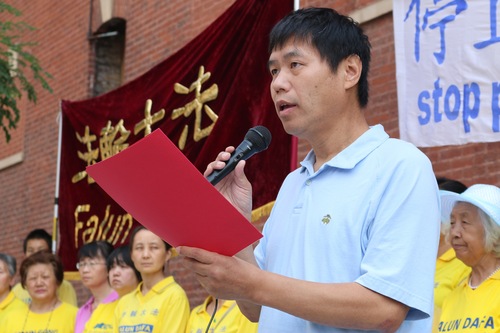 Yang Sen, director of Falun Dafa Association in Chicago, gave a speech to raise awareness of the massive suppression in China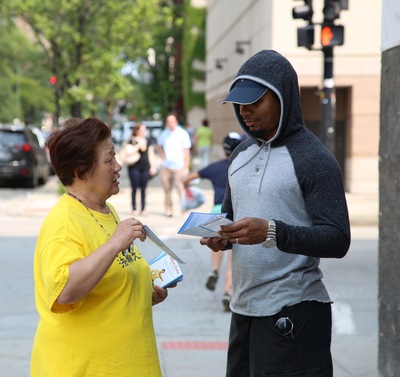 Practitioners explaining about Falun Gong to passersby
After years of efforts of telling the facts of Falun Gong, government officials and the public have begun to pay attention to this issue. More than 10 Illinois House Representatives have co-sponsored H.Res.281, a resolution calling for the Chinese Communist Party (CCP) to end the brutality against Falun Gong, especially live organ harvesting.
Mr. Yu said to a Minghui correspondent, "Today I can freely practicing my belief on this land. But practitioners in China are still being detained and tortured. They need our help."