Rally at U.S. Capitol: "Persecution of Falun Gong a Great Shame of Chinese History" – Speech by Congressman Chris Smith
July 21, 2014 | By Congressman Chris Smith
(Minghui.org) Editor's note: Below is Congressman Chris Smith's prepared statement for the rally at the U.S. Capitol on July 17, 2014, marking 15 years of the persecution of Falun Gong. Congressman Smith had to miss the event due to a last-minute voting call.
Congressman Smith currently serves as a senior member on the House Foreign Affairs Committee, and is chairman of its Africa, Global Health, Global Human Rights and International Organization Subcommittee. In 2011-2012 he chaired both the Commission on Security and Cooperation in Europe (CSCE), and the Congressional-Executive Commission on China.
***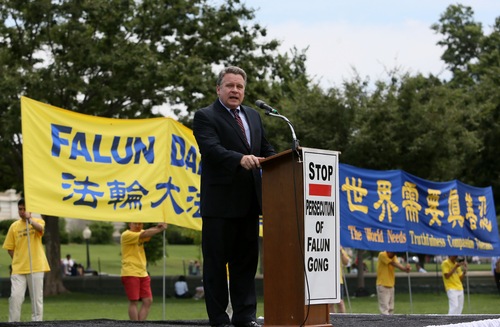 Congressman Chris Smith speaks at the 2012 rally on Capitol Hill.
The brutal campaign to eradicate the Falun Gong from China is one of the great shames of the last two decades. Every year you assemble in Washington to remind us of this crime against humanity. You push us here in Washington to speak out clearly and forcefully on behalf of Falun Gong.
The arbitrary detentions must stop. The slander must stop. The torture must stop. The black jails must close. There should be no organ harvesting from any prisoner in China. And the war on women – forced abortion, forced sterilization – must end and perpetrators of the crime against humanity must be held to account.
Human rights violations anywhere should be a cause for concern everywhere for everyone. Human rights violations in China, the world's most populous country, and a rising power in Asia, should be considered a security threat – as China is intent on spreading its model of authoritarian nationalism throughout the region.
What kind of a country murders, tortures, imprisons peaceful individuals seeking enlightenment in meditation and better health? Can we ever trust such a country as an ally? As a security partner? As a trusted partner in trade? Of course the answer is no.
The communist party believes that the only way it can survive is to stamp out diversity of opinion and belief whenever it occurs. For Falun Gong practitioners, this means renouncing your beliefs and being "transformed" – through re-education. Those who seek to defend Falun Gong practitioners are harassed, detained, and tortured.
China cannot keep responding to diversity of thought and opinion as a threat to be suppressed. This is not an effective strategy.
It's not working on the Tibetan plateau, where a policy of repression has led to a series of terrible tragedies and massive discontent.
It's not working among Christians as persecution has brought an increase in members. It's not working for the Uyghur people as well.
It's not working on the Internet, where hundreds of millions of Chinese thirst for a place where they can share uncensored and diverse views about their society and their government.
The strategy of repression won't work for the case of Falun Gong, whose practitioners simply want to live in peace and freedom.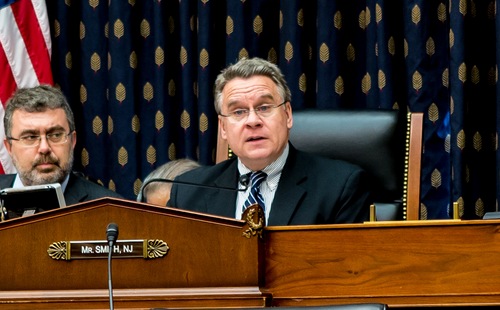 Congressman Smith chairs the "Let Our Fathers Go" congressional hearing focusing on five daughters and their courageous plight to help release their dads from persecution in mainland China. The hearing was held by the human rights subcommittee of US House Committee on Foreign Affairs on December 5, 2013.
We need to continue to ask our administration to speak publicly, and unashamedly about human rights, and religious freedom and persecution of Falun Gong. Even though the leaders in Beijing bristle when we bring up Falun Gong persecution, we need to make sure they know that the world condemns their act of violence, condemns their restrictions on religious freedom, condemns their torture and harsh detentions.
I commit, as chairman of the Human Rights Committee of the House of Representatives, to continue to hold hearings, to promote resolutions, to speak to Chinese diplomats, and the Administration. I intend to try and hold the Chinese government to account for the pain, suffering and death this needless campaign against the Falun Gong has produced.
I am working on a bill right now that will sanction individuals in China – officials, police, and those who torture Falun Gong and other rights defenders in China – with visa denials and financial penalties. The China Human Rights Protection Act of 2014 is something I want to introduce soon, because Chinese officials need to know there are consequences to their actions. We can pass this bill, I hope, with your help.
When the history of the last fifteen years is written, the systematic torture and eradication of Falun Gong will be seen as the great shame of Chinese history. What we need to do right now is to work together to try and end that shame.
I know you all believe a better day is coming, but it will come sooner than later, if we do our part in the congress to speak out, with a clear voice, on behalf of Falun Gong.
Thank you.