Sydney, Australia: "Great Wall of Truth" Generates Support for Ending Forced Organ Harvesting in China
July 14, 2014 | By Minghui correspondent Hua Qing
(Minghui.org) A "Great Wall of Truth" unfolded on July 12 in Chatswood, an area on the north shore of Sydney. Along the busy streets of Victoria Avenue, Falun Gong practitioners held up banners exposing the persecution of Falun Gong in China, especially the state-sanctioned forced organ harvesting of imprisoned Falun Gong practitioners.
Many passers-by signed the petition calling for ending the atrocities, and several offered to help by collecting more signatures from their friends and colleagues.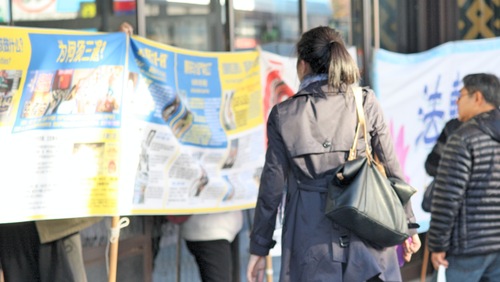 People pass by the "Great Wall of Truth," a wall of banners presenting facts about forced organ harvesting in China, on Saturday, July 12 on Victoria Avenue in Chatswood.
One woman asked for a blank signature form and said that she would take it to her mother's real estate company to further spread the information and urge her mother's colleagues to sign the petition.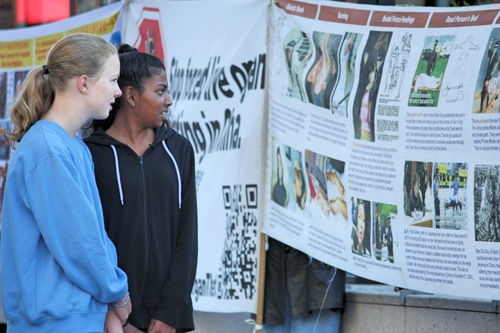 Sara and Anika told practitioners that they would help spread the word about the atrocities in China.
Sarah and Anika spent a great deal of time reading the banners and discussing among themselves. They learned that practitioners persecuted in China are forced to undergo physical examinations when admitted to labor camps or prisons. The authorities store information about their tissue and blood type in a database, essentially creating a massive living donor bank. When a patient in need of an organ transplant is successfully matched with an imprisoned Falun Gong practitioner, the regime profits from harvesting their organs.
The two young women took materials to prepare a presentation for a classroom project, in which they planned to discuss the persecution of Falun Gong and forced organ harvesting in China.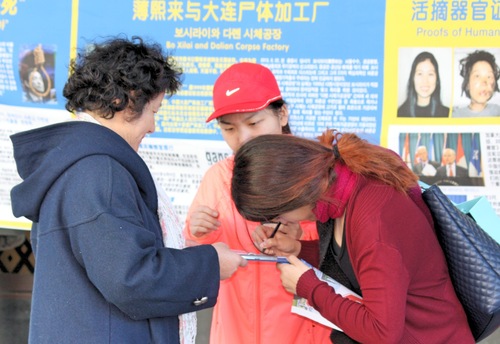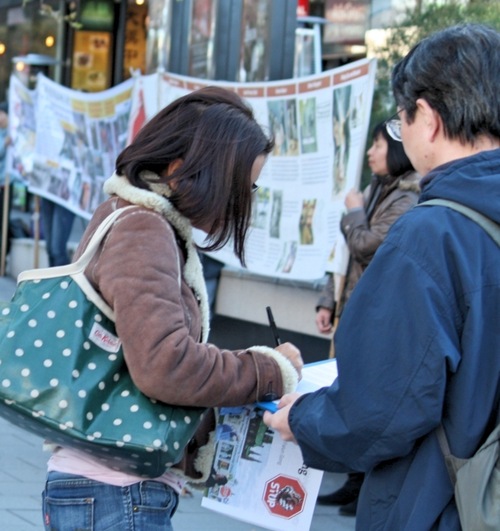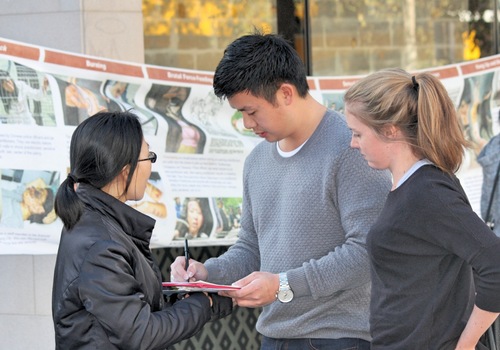 Passersby sign a petition calling for an end to the state-sanctioned crimes of organ harvesting in China.
After signing the petition, Henry asked practitioners why some of his Chinese friends and colleagues didn't want to talk about the persecution of Falun Gong.
Practitioners explained that many overseas Chinese have been influenced by the propaganda of the Chinese Communist Party (CCP), and therefore might not be any better informed than Westerners regarding current affairs in China. This is primarily because there are very few independent Chinese-language media outlets outside of China and many overseas media simply use the same CCP-generated propaganda.
Henry said that he was convinced that China would eventually embrace freedom. The practitioners agreed, citing their confidence in people's conscience and the power of goodwill – such as the successful signature campaign that weekend.