Canada's Minister for Multiculturalism Wins Human Rights Award, Reveals Being Threatened by Former CCP Security Chief Zhou Yongkang
June 07, 2014 | By Minghui correspondent Yingzi
(Minghui.org) Canada's Federal Cabinet Minister Jason Kenney accepted the Moral Courage Award issued by UN Watch, a non-governmental organization that monitors the United Nations and promotes human rights, in Geneva, Switzerland, on May 22.
As former Immigration Minister and now Minister of Employment and Social Development and Minister for Multiculturalism, Mr. Kenney has often spoken out against human rights abuses, including the persecution of Falun Gong in China.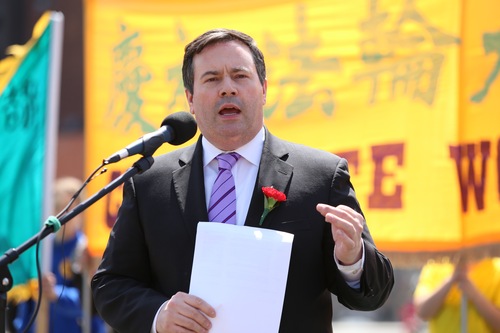 Jason Kenney said "Falun Dafa is good" in Chinese at the Falun Dafa Day Celebration in Ottawa in 2014.
During his acceptance speech, Mr. Kenney told about being threatened by Zhou Yongkang, China's former security chief, three years ago.
"Zhou Yongkang was responsible more than anyone for the violent oppression, for example, of the Falun Gong, Falun Dafa practitioners; of Tibetans; of dissidents; of unregulated faith groups," he said.
Mr. Kenney then described how Zhou asked him through the translator at the beginning of the 45-minute conversation, "We understand that you are an expert on so-called human rights. Can you explain to me what these human rights are?"
"I was as shocked as some of you are," Mr. Kenny said to the audience. He shared his response: "Well, Minister, these human rights are a reflection of the innate, inalienable dignity of the human person, and they are the inalienable property of all people, including the Chinese people. They are not the invention of Western liberal democracies—they are the birthright of all men and women."
Reflecting on his exchange with Zhou, Kenney said, "And for me to think that his government was represented on the U.N. Human Rights Council when he was essentially mocking the very principles upon which the United Nations was founded: the reaffirmation of the faith and fundamental human rights and the dignity and worth of the human person."
At the end of his speech, Kenney quoted Canadian Prime Minister Stephen Harper: "Now, we know where our interests lie and who our friends are. And we take strong principled positions in our dealings with other nations whether popular or not. And that is what the world can count on from Canada."
A Bizarre Experience in China
Mr. Kenney is one of the Canadian Federal Cabinet Ministers who publicly express support for Falun Gong and criticize the persecution of it in China.
As the Canadian Minister of Immigration and Multiculturalism, he visited China three years ago. He was arranged to have a meeting with Zhou Yongkang, one of the major perpetrators involved in the persecution of Falun Gong. The Chinese Communist Party (CCP) sent a car to chauffeur him to the meeting location.
According to Minghui sources, he encountered bizarre and life threatening experiences on the ride.
The engine of his luxury car died as they were passing Tiananmen Square, and there was a lot of smoke.
The driver got out of the car and left, leaving him there alone. The police showed up a few minutes later with fire extinguishers, something that policemen normally don't carry when they are on duty.
When a foreign minister visits, every small detail of the agenda is usually carefully arranged, and the chance of mistake is minimal. It is hard to imagine that the engine of a government car would die and that a government-trained driver would leave without giving any explanation to or seeking help for the guest. It is also hard to explain why the police showed up so fast with unusual equipment handy.