Art Teacher Repeatedly Persecuted
June 20, 2014 | By a Minghui correspondent in Hebei Province
(Minghui.org) During a new round of arrests, police from Sanhe City in Hebei Province arrested Falun Gong practitioner Mr. Wang Zhanqing, who was working in Beijing.
The police ransacked his home and confiscated two laptop computers, his bank savings card, and other items. Mr. Wang is now being held in Sanhe Detention Center.
While tracking the devices that practitioners use to send group text messages about Falun Gong to the public, the police monitored the cell phones of several practitioners. The police confiscated several group text message-sending devices when they ransacked the homes of Mr. Wang and other practitioners on April 22, 2014.
Related report: Four Practitioners Arrested for Sending Group Text Messages
Mr. Wang Zhanqing, 39, is an art teacher who has been repeatedly persecuted for being steadfast in practicing Falun Gong.
Mr. Wang Arrested for Exercising His Right to Appeal
When the Chinese Communist Party (CCP) launched the nationwide persecution of Falun Gong, Mr. Wang, his mother, and a few others went to the National Appeals Office in Beijing to speak up for Falun Gong. They were held in Fengtai Stadium with other practitioners for a day before being escorted by military police to an empty field in the suburbs of Baoding City. They were held there for the entire night, surrounded by police.
Mr. Wang was sent back to Sanhe City and monitored at his workplace. Two days later, he managed to escape and went to Beijing to appeal again. This time over ten police officers beat him and then escorted him to the field again before he was taken back by Sanhe authorities and detained for 11 days. The local education bureau switched his teaching job to a rural area and had someone monitor him day and night whenever sensitive days rolled around.
Officials from Sanhe 610 Office and education bureau went to Mr. Wang's school on April 25, 2000, to make sure he would not go to appeal. The school canceled his class and forced him to stay in his dorm. When his students went to visit him, the principal drove them away.
When Mr. Wang was attending a training session on July 20, the education bureau deputy chief forced him back to school and had two teachers monitor him to prevent him from going to Beijing to appeal.
Mr. Wang managed to escape in December 2000, and went to appeal again. He was arrested and held in Sanhe Detention Center for two weeks. He was then detained at another township government office before being sent back to school and monitored.
Forced into Homelessness
Mr. Wang was forced to attend a brainwashing session held by the local education system in March 2001. To protest the physical and mental torture, the practitioners who were being detained there launched a hunger strike. The brainwashing session was soon disbanded.
In April, the school continued to restrict Mr. Wang's freedom. The principle locked him in a room on the second floor and took his shoes to prevent him from escaping.
To avoid further persecution, Mr. Wang managed to escape and was forced to become homeless.
Officers from Yangzhuang Police Station broke into Mr. Wang's place in June 2001. They ransacked it and took a motorcycle and two printers.
Several officers forced him to the ground and shocked him with electric batons.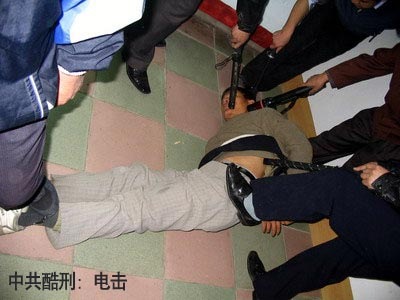 Torture illustration: Shocked with electric batons
The police took Mr. Wang to the police station and continued to shock him with electric batons, and whipped him. He was then locked in an iron cage and transferred to the Sanhe Detention Center the next day. He launched a hunger strike, and eight days later was sent back to his school and detained in a room with bars on the door and window. He was monitored day and night and was not allowed leave the room unless he needed to use the toilet.
School principal Jia Jianmin prepared a high-voltage electric baton to prevent Mr. Wang from escaping. He only allowed 50 cents worth of food to be given to him each day.
Harassment
Mr. Wang escaped again in late June 2001, but was arrested in a rental room in September. His laptop computer and printer were taken, and he was detained in a brainwashing center in Sanhe, as well as in Tangshan Forced Labor Camp.
On every sensitive day from 2001 to 2004, officials from the local education bureau and 610 Office harassed Mr. Wang.
While teaching a class in May 2004, he was arrested by more than ten officers, along with the deputy director of the education bureau. He was taken to a brainwashing session, and his computer and other items were confiscated.
The authorities planned to sentence Mr. Wang to prison in October 2004. To avoid further persecution, he was forced to leave his family and work, and went to Beijing.
Hunger Strike
With the approach of the Beijing Olympics in July 2008, the Sanhe 610 Office managed to locate Mr. Wang's new place of work. Police from Sanhe and Beijing collaborated to arrest him and ransack his workplace. They took his cash and MP4 player. They slapped him and handcuffed his hands behind his back for an entire night.
Mr. Want was then taken to Qinghe Detention Center in the Haidian District in Beijing, where he launched a hunger strike and was force-fed. He was then transferred to Sujiatuo Detention Center and continued the hunger strike. Two days later he was taken to a nearby emergency room. Despite his weak condition, his feet remained in heavy shackles. He was handcuffed to the bed, force-fed, and given blood transfusions.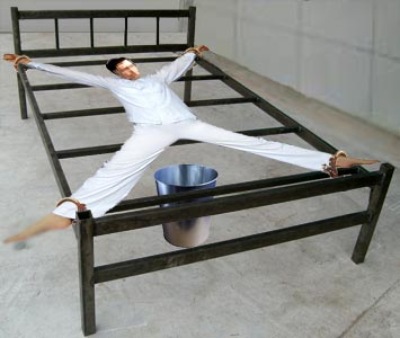 Torture illustration: Cuffed to a bed
Forced Labor
Mr. Wang was subsequently sentenced to two years of forced labor. He was first detained in Beijing's Daxing Tuanhe Inmate Dispatch Center for about six months, then taken to the Tumuji Forced Labor Camp in Inner Mongolia on January 20, 2009.
Shortly after Mr. Wang was released from the labor camp in June 2010, Jia Zhixue and others from the local Domestic Security Team and 610 Office went to his home to harass and threaten him.
Summary of Key Persecution Facts:Name: Wang Zhanqingi (王占青)Gender: MaleAge: 39Occupation: Art teacherDate of Most Recent Arrest: April 22, 2014Most Recent Place of Detention: Sanhe Detention Center (三河看守所)City: SanheProvince: HebeiPersecution Suffered: Electric shock torture, sleep deprivation, brainwashing, illegal sentencing, beatings, imprisonment, solitary confinement, other torture, force-feedings, extortion, physical restraint, home ransacking, interrogation, detention.
Perpetrators:Fu Lijun (付立军), head of Sanhe Police Department: +86-316-8335999 (Home), +86-13931680999 (Cell)Guo Lichen (国立臣), political commissar of Sanhe Police Department: +86-316-3175808 (Office), +86-316-3132359 (Home), +86-13603260114 (Cell)Zan Qingcai (昝庆才), Sanhe 610 Office head: +86-316-3113955 (Home), +86-13903163052 (Cell)Shi Liandong (石连东), head of Domestic Security Team: +86-316-3115636 (Home), +86-13832669588 (Cell)Jia Zhixue (贾志学), deputy head of Domestic Security Team: +86-316-3212291 (Home), +86-13832626910 (Cell)Wang Chaohe (王朝河), head of Sanhe Detention Center: +86-13833616158 (Cell)