At Least Six Practitioners from Sanhe City Illegally Detained at the Langfang Brainwashing Center
June 11, 2014 | By a Minghui correspondent from Hebei Province, China
(Minghui.org) At least six Falun Dafa practitioners from Sanhe City, Hebei Province are currently detained at the Langfang Brainwashing Center, including Dr. Kang Jingtai, Mr. Wang Zhanqing, Mr. Ma Weishan, and Ms. Lin Xiaohui (Xiao Linzi). They were arrested on April 22, 2014 during a large scale arrest targeting local Falun Dafa practitioners.
The foure above-mentioned practitioners have been transferred to the Langfang Brainwashing Center one after the other since May 2, after they went on a hunger strike at the Sanhe City Detention Center to protest the illegal detention.
According to reports, the recent large scale arrest was supervised by a deputy director from the Chinese Communist Party (CCP) Central Committee. He went to Sanhe City with his team of Prevention Office officials to investigate the whereabouts of computer equipment used for sending mass text messages with information about Falun Dafa and the persecution.
Tapping Practitioners' Phones
Many local practitioners' phones were tapped and conversations monitored even when their phones were turned off. Their families were also monitored and harassed. The authorities have disclosed that all equipment used to send text messages with Falun Dafa information have been confiscated.
Besides the four practitioners mentioned above, Ms. Liu Yuhua has recently been released after being held at the brainwashing center for more than a month.
Ms. Liu Xiuxiang and Ms. Cheng Ying from Dachang County were arrested in late March and detained. Ms. Cheng has been released.
Ms. Wang Dailing from Wenan County was arrested in early May and is currently detained at the brainwashing center.
Authorities Ignore Practitioners' Health Condition
Mr. Ma Weishan, 74 years old, and Dr. Kang Jingtai were extremely weak at the time of the arrest and had high blood pressure. Officials at the detention center refused to admit them because they didn't want to assume responsibility if their health worsened. However, officials of the Sanhe City Police Department disregarded the practitioners' health condition, signed the paperwork, and had them admitted to the detention center.
When Mr. Ma's 78-year-old wife Ms. Wang Yue petitioned for his release at the Sanhe Police Department, the guard on duty refused to let her enter the detention center. Ms. Wang called director Shi Liangdong of the Domestic Security Division and said, "Director Shi, all I wanted to tell you is that Falun Dafa is good. Truthfulness-Compassion-Forbearance is good. My husband is a good person." The authorities continued to turn her away.
Practicing Falun Dafa Is Legal
Dr. Kang's wife Ms. Fang Chunyan and his sister went to the police station to ask why he was arrested. Deputy director Jia Zhixue of the Domestic Security Division, who is in charge of persecuting practitioners, told them to look at Article 300 of the Criminal Law.
Article 300 of the Criminal Law describes the crime of "utilizing a cult organization to undermine law enforcement." However, no existing Chinese law defined Falun Dafa as a cult. Although the Chinese communist regime maintains an official list of cults, Falun Dafa is not named on that list. Therefore, no existing law, including Article 300 of the Criminal Law, can be used to persecute practitioners.
Disabled Person Arrested
Ms. Liu Yuhua, who is disabled, and her non-practitioner husband Mr. Lu were arrested at around 11 a.m. on April 1, 2014 by police officers from Xianghe County, Sanhe City Police Department, and Huangtu Village Police Station. Her Falun Dafa books, truth-clarification materials and personal belongings were confiscated.
The couple was taken to the Sanhe City Police Department. Mr. Lu was released while Ms. Liu was detained at the Xianghe Detention Center and later transferred to Langfang Brainwashing Center. She was released after more than a month.
Ms. Liu Xiuxiang, Ms. Jin Ruiling, and Ms. Cheng Ying from Dachang County were arrested on March 29, while distributing Falun Dafa truth-clarification materials. All three were taken to the Dachang Detention Center.
Ms. Cheng and Ms. Liu were transferred to the Langfang Brainwashing Center a few days later, while Ms. Jin was transferred to Sanhe City Detention Center and is facing criminal charges. Ms. Cheng was released recently after a month of detention.
Ms. Wang Dailing, in her 40's, is from Suqiao Township in Wenan County. She was arrested in May 2014 and is being held at the Langfang Brainwashing Center.
Crimes Committed at the Langfang Brainwashing Center
The Langfang Brainwashing Center, known as the Langfang City Legal Education Center, was set up by the local 610 Office for the sole purpose of persecuting practitioners from the Langfang region, including all counties within its jurisdiction. Many of the key positions at the brainwashing center are held by 610 Office officials.
Thousands of practitioners from Langfang and neighboring regions have been detained here since its establishment in 2000. The practitioners are detained without any legal proceedings, forced to undergo brainwashing, and physically and verbally abused.
Practitioners who refuse to renounce Falun Dafa and "transform" are often threatened and subjected to torture such as beating, insulting, long-term sleep deprivation and forced feeding. Furthermore, the guards mixed unknown drugs into food and water and gave practitioners injections of unknown drugs.
Practitioners given small doses of unknown drugs experienced dizziness, headaches and hallucination, while large doses have caused severe pain. Some even experienced memory loss, stiffness of the tongue, severe headache, unconsciousness, inability to awaken from sleep and insomnia. Some practitioners were rushed to the hospital, and some have suffered a mental collapse.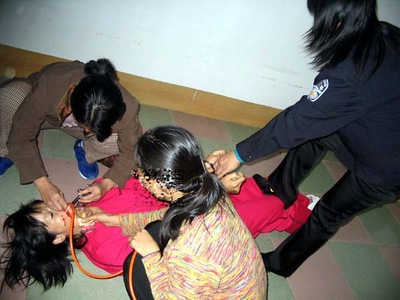 Torture Re-enactment: Forced-feeding
There have been many confirmed cases of death and mental illness at the center. Known cases included those of Mr. Hou Jiming, Mr. Ge Litao, Ms. Gao Jimin, Ms. Sun Guangjuan and Mr. Ma Zhenting.
After the crimes of the Langfang Brainwashing Center was exposed to the public, the brainwashing center officials changed their approach in brainwashing practitioners. The team of officials, including director Han Zhiguang, Zhao Lihua, Li Hansong, Chen Bin, and collaborator Li Shuxiang pretend to really care about the newly arrived practitioners and treat them nicely while trying to coerce them to renounce their belief and "transform." When practitioners refuse to comply, the persecution will escalate and the practitioners are often subjected to psychological attack and brutal torture.
Key Perpetrators at the Langfang Brainwashing Center
Director Han Zhiguang (韩志光), male, was born on January 10, 1955. He is also the director of the Langfang City 610 Office. Han has been a key persecutor of local practitioners since the onset of the persecution. He orders guards to carry out the torture, then he plays the good person. He has given a report to an audience of 10,000 people at a conference slandering Falun Dafa. He has gotten rid of evidence and concealed two death cases caused by torture. Han has handled many cases, sent many practitioners to forced labor camps, and turned in practitioners from out of the province to the public security agents from their hometowns.
Deputy director Zhao Lihua (赵丽华), female, was born on May 4, 1965. She is also the deputy director of the Langfang City 610 Office. She attends conferences all over the county sharing her knowledge in how to persecute Falun Dafa. She has been going to small villages in counties under jurisdiction of Langfang City and personally supervised arrests of local practitioners.
Li Hansong (李汉松), male, is in his 30's. He is a section chief at the Langfang City Brainwashing Center. Li is originally from Ninghe County in Tianjin City and holds a degree in computer science. He often threatens to send practitioners to forced labor camps when they go on hunger strike and personally escorted these practitioners to Langfang City Traditional Medicine Hospital for forced-feedings. It has been reported that he told practitioners on hunger strike, "I will take you to the hospital right before you die, so I won't be held responsible."
Chen Bin (陈斌), male, is in his 30's. He is a section chief at the Langfang City Brainwashing Center.
Parties Involved in the Persecution against Falun Gong Practitioners in Langfang City:Han Zhiguang (韩志光), director of the Langfang City 610 Office and director of the Langfang Brainwashing Center: +86-13832626821 (cell)Zhao Lihua (赵丽华), deputy director of the Langfang City Brainwashing Center and deputy director of the Langfang City 610 Office : +86-13832625199 (cell)Li Hansong (李汉松), section chief at the Langfang City Brainwashing CenterChen Bin (陈斌), section chief at the Langfang City Brainwashing Center: +86-13832626689 (cell), +86-316-2031640 (home)Fu Lijun (付立军), director of the Sanhe Police Department: +86-13931680999 (cell), +86-316-8335999 (home)Guo Lichen (国立臣), political commissar of the Sanhe Police Department, director of the Sanhe 610 Office: +86-13603260114 (cell), +86-316-3175808 (office)Shi Liandong (石连东), director of the Sanhe City Police Department Domestic Security Division: +86-13832669588 (cell), +86-316-3115636 (home)Jia Zhixue (贾志学), deputy director of the Sanhe City Police Department Domestic Security Division: +86-13832626910 (cell), +86-316-3226297 (office)