Awareness of Organ Harvesting from Living Practitioners Raised at International Conference
June 10, 2014 | By Tang Xiuming, a Minghui correspondent in London
(Minghui.org) The International Liver Transplantation Society (ILTS) held a joint conference with two other medical societies in London on June 4-7, 2014. Many meeting participants were given a letter outside the conference center that informed them about the organ harvesting from living Falun Gong practitioners that is ongoing in China.
The letter, entitled "Surgeons from China Have Questions to Answer About Organ Harvesting," called on over 1000 transplantation medical professionals who attended the conference to pay attention to this serious matter in China.
In addition to the open letter, meeting participants at the Queen Elizabeth II Conference Centre also received copies of a resolution passed by the European Parliament on December 2013, regarding organ harvesting in China.
The resolution expressed deep concern over the persistent and credible reports of systematic, state-sanctioned organ harvesting from non-consenting prisoners of conscience in the People's Republic of China, including large numbers of Falun Gong practitioners imprisoned for their religious beliefs, and members of other religious and ethnic minority groups.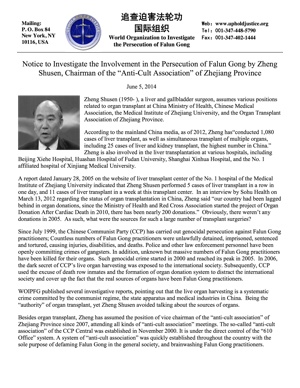 Notice to Investigate the Involvement in the Persecution of Falun Gong by Zheng Shusen, Chairman of the "Anti-Cult Association" of Zhejiang Province, issued by the World Organization to Investigate the Persecution of Falun Gong. (PDF document)

Meeting attendees who spoke Chinese were also handed copies of a lawsuit charging Zheng Shusen, one of the Chinese meeting representatives. Zheng was involved in the persecution of Falun Gong, and the legal papers were served by local practitioner Stuart.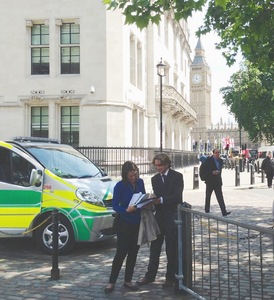 Practitioner Stuart distributing Falun Gong truth-clarification materials outside the conference center.
The Hard Truth
The reported number of organ transplantations increased dramatically after the persecution of Falun Gong began in 1999. For example, only 78 liver transplant cases were reported between 1991 and 1998, but this number jumped to 118 in 1999 alone. It continued to skyrocket, and reached 4,000 in 2005. Transplants of other organs also increased accordingly.
Despite the rapid increase in transplantation surgeries, the number of organ donations did not increase. Many suspect that the suspiciously large number of "donors" is linked to the brutal persecution of Falun Gong in China. Evidence obtained, including especially the investigation reports from David Matas and David Kilgour, and confirmed reports from Ethan Gutmann, indicate organ harvesting from living Falun Gong practitioners is taking place.
Response of Chinese representatives
Chen Xinguo and Chen Hong, two other Chinese representatives, were both assistant directors from the Organ Harvest Research Institute at the Armed Police General Hospital in Tianjin. Chen was involved in more than 800 organ transplants between 2002 and 2006.
When practitioner Stuart recognized Zheng Shusen, he approached him and handed the lawsuit paperwork to him, "Here is some information for you." Zheng did not know what it was until he accepted the material and took a look at it. He seemed very nervous and immediately left in a car.
Some representatives from China were nervous when practitioners told them the facts about Falun Gong, but some were interested in learning more, and read the lawsuit against Zheng. One practitioner said to the representatives, "Please stop doing bad things. We hope you will stop being involved in this [organ harvesting from living practitioners.] If you quit doing evil things, you will have a better future."