Taitung, Taiwan: Falun Dafa Practitioners Celebrate World Falun Dafa Day (Photos)
(Minghui.org) On May 4, Falun Dafa practitioners from Taitung, Taiwan celebrated World Falun Dafa Day at Seashore Park, and wished the founder of Falun Dafa Mr. Li Hongzhi happy birthday. May 13, 2014 marks the 22 nd anniversary of Falun Dafa's introduction to the public.
Falun Gong practitioners in Taitung, Taiwan celebrate World Falun Dafa Day. The top banner reads "Falun Dafa is great." The bottom banner reads "Celebrating World Falun Dafa Day."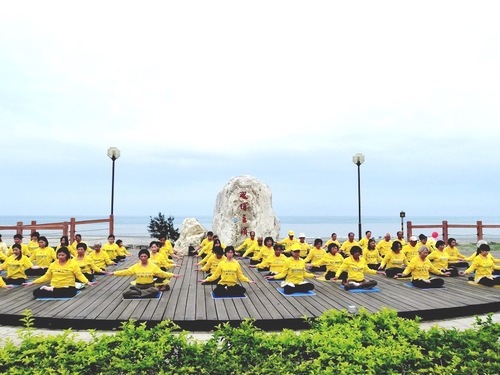 Falun Gong practitioners in Taitung, Taiwan doing the Falun Gong exercises
Practitioners shared the beauty of Falun Dafa with the public through group exercises, drawing the attention of many tourists passing by.
Model Worker: Following the Teachings of Truthfulness-Compassion-Forbearance
Pan Chunhe, 60, was recognized as "Model Worker" on May 1 by the Taitung County government.
"I cook breakfast for school kids every morning. Many young people cannot handle the physical labor, but it is a piece of cake for me," Ms. Pan said, "I started practicing Falun Dafa in 1997. It not only gives me good health, but also teaches me to be a good person. I try to follow the teachings of Truthfulness-Compassion-Forbearance in my daily life."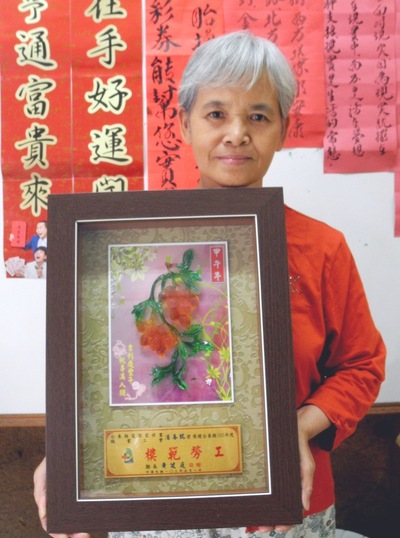 Ms. Pan Chunhe with her award
Cancerous Tumor Gone after a year of Practice
Ms. Huang Meichen, owner of a veterinary clinic, expressed her appreciation to Mr. Li Hongzhi for saving her life.
Ms. Huang started practicing Falun Gong in 2002. She had had parotid gland cancer for six years by then. The chemotherapy did not work. A friend of hers recommended Falun Dafa to her. Miraculously, the tumor was gone after a year of practice. She never had to go to the hospital after that.
Eighty-four-year-old Mr. Yang Chanwen had a similar experience. He had throat cancer and could not talk. He started practicing Falun Dafa five years ago. Now, he often rides a motorcycle to join practitioners' activities. "I love to share my experience with other people and let more people know how wonderful Falun Dafa is," he said.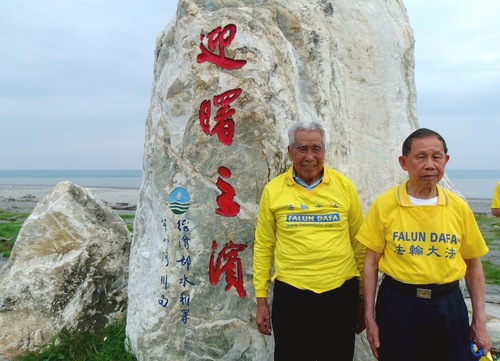 Eighty-four-year-old Mr. Yang Chanwen (left) and 85-year-old Mr. Xiao (right) are happy and healthy.
Telling People About Falun Dafa and Helping to Stop the Persecution
Ms. Wu has been volunteering at different tourist spots for over five years to raise awareness of the persecution.
"I sensed great changes in people's minds over these years," Ms. Wu said. "Many Chinese tourists thank me for telling them my experience of cultivating Falun Dafa. Many of them choose to quit the communist party. They also encourage me to talk to their friends and co-workers."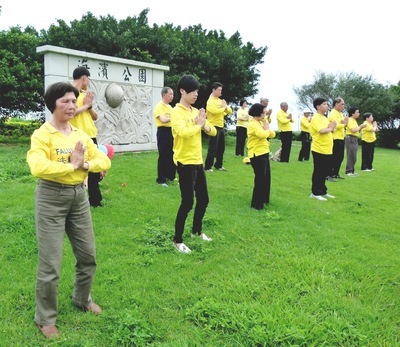 Ms. Wu (first left) volunteers at different sites to talk to Chinese tourists about Falun Gong and the persecution.
Ms. Lin, who has practiced for 14 years, echoed Ms. Wu's observation: "More and more Chinese people know the facts about Falun Dafa now, despite the CCP's propaganda. I often make phone calls to China, offering to help Chinese people quit the communist party. It is getting easier nowadays. Many people even ask me to send more information through text messages or emails. They are eager to know the truth from the outside world."
"I also speak to Chinese policemen on the phone. Some of them promised not to get involved in the persecution anymore after they learned the facts. This is really encouraging," said Ms. Lin.