University of Michigan: Celebrating World Falun Dafa Day
May 06, 2014 | By Xu Jing, a Minghui correspondent in Michigan
(Minghui.org) The University of Michigan, one of the oldest universities in the U.S., held its annual graduation ceremony on March 3, 2014, at its main campus in Ann Arbor. While students and their families and faculty were celebrating this special occasion, they also had an opportunity to learn about Falun Dafa while encountering local practitioners' World Falun Dafa Day celebration.
Like practitioners in other regions around the world, Michigan practitioners gathered over the weekend to practice the exercises and raise awareness about Falun Dafa, and to commemorate Falun Dafa's introduction to the public 22 years ago, on May 13, 1992.
For practitioners around the world, Ann Arbor holds a special place in Falun Dafa's history, as the "Great Lakes Fa Conference in North America" was held here on December 9, 2000. This was only the second time the founder of Falun Dafa, Mr. Li Hongzhi, attended a conference and gave a lecture after the persecution began in July 1999.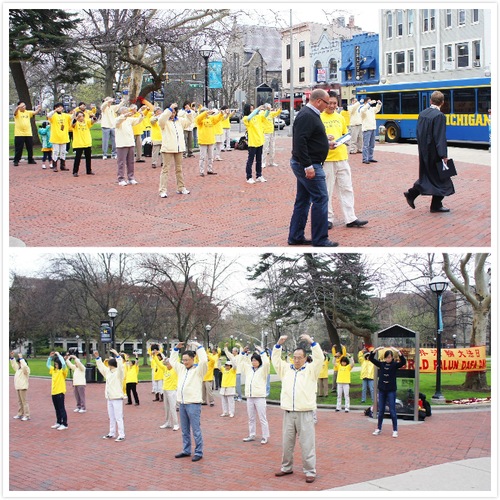 Practicing the exercises at the University of Michigan in Ann Arbor
Chinese students accept Falun Dafa informational materials.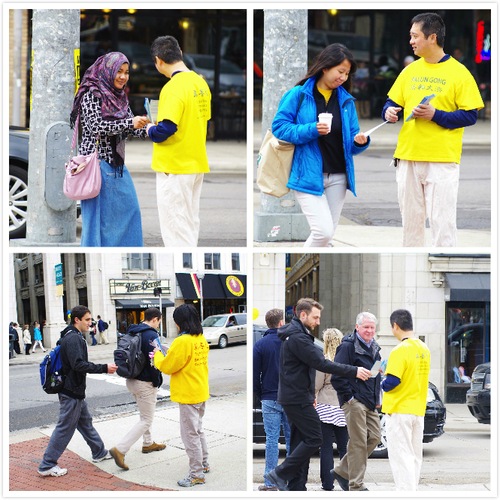 People take informational materials to learn more.
A Look Back on the Journey
One practitioner who began practicing in 1998 shared what it was like the first time she joined a large group practice in China. She said, "It was in Beijing, also an early spring day, like today." She said her hands were cold when doing the second exercise set, a still standing pose with the arms raised. "I opened my eyes for a second, and saw nearly 100 practitioners doing the exercises—none of them moved a bit. I was very touched."
"Sixteen years have passed," she said, "I still remember that day clearly. I was very fortunate to become a practitioner. Today I am glad to celebrate Falun Dafa Day with fellow practitioners. I really want to thank Teacher for his guidance through the years."
Contrast Between Goodness and Wickedness
Another veteran practitioner, Mr. Li, who recently moved here from Mainland China, said that the first group exercise he joined was in July 1999. "Today is the first time I feel safe when doing the exercises in public since the persecution started in July 1999." He said, "Falun Dafa is so good, it should be allowed in any nation."
"I cannot understand why it [Falun Dafa] is banned in China, while it is well received in all other countries," he said. He noticed even overseas Chinese students had been influenced by the slanderous propaganda from the Chinese Communist Party (CCP). As a result, some Chinese students were still deceived and remained hostile towards practitioners. Although this is disheartening to see, practitioners have seen that more and more Chinese have become interested in learning the facts. Many Chinese students stopped to take information during this event, and asked questions about the movement to renounce the Chinese Communist Party.
"Just looking at the peaceful meditation, the defamatory propaganda, and the brutal persecution," Mr. Li said, "we can see a clear contrast between goodness and wickedness."
Detroit Media Gets It Right Early on
Recalling her experiences over past ten-plus years, another practitioner said, "The first time I saw Teacher was in December 2000, during the Great Lakes Fa Conference in North America." She said that despite the massive "crackdown" and propaganda campaign by the communist regime, The Detroit News carried positive reports about Falun Dafa, which was rare back then, when few people outside China knew much about the practice, and had only the regime's propaganda as a reference.
"We were pleased to see people taking a stance to support righteousness. This was the beginning of a long journey to overcome the persecution," she said.
"We have been practicing here for more than ten years. As long as the persecution continues, we will work hard to raise awareness, until it comes to an end," said the practitioner. "People need to know the truth."