Ms. Ji Shujun Illegally Tried in Jiangxi Province Court
May 03, 2014 | By a Minghui correspondent in Jiangxi Province, China
(Minghui.org) The atmosphere inside the Jiujiang County Court was especially tense on the morning of April 23, 2014. Several Domestic Security officers from the Jiujiang County Police Department were gathered inside the courtroom.
The reason for the heightened tension because Ms. Ji Shujun, a Falun Gong practitioner from Hebei Province, was about to be tried. Two defense lawyers from Beijing were there to enter a plea of innocence on her behalf.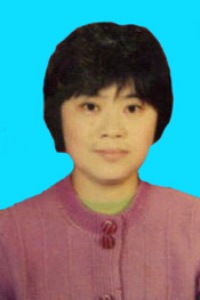 Ms. Ji Shujun
Those who wished to attend the trial were gathering in front of the court, but they were sent away by Domestic Security Division officer Wang Yijin. Wang threatened, "If you don't leave, I will record you." Two people were escorted out even though they had trial invitations in hand.
Besides the two defense lawyers, only Ms. Ji's sister and several elderly men, prearranged by the authorities to attend, were there for the trial. The rest of the trial witnesses were police officers.
Before the trial started, Ms. Ji's lawyers and her family were forced to turn off their cell phones, but police officers' cell phones were allowed to remain on. When the defense lawyers pointed this out, the judge remained silent.
Ms. Ji Shujun entered the courtroom in handcuffs. The lawyers asked that her handcuffs be removed, but the judge refused. The lawyers confirmed Ms. Ji's innocence in their presentation. Ms. Ji also spoke about her own positive experience of practicing Falun Gong.
However, the judge repeatedly interrupted whenever the lawyers and Ms. Ji talked, and the trial was finally adjourned.
Related articles: Ms. Ji Shujun from Hebei Province Unlawfully Arrested and Facing Trial
More Than a Decade of Persecution: Jiangxi Police Continue to Detain Falun Gong Practitioner for Her Belief