New Westminster Hyack Festival: Falun Gong Entry Wins President's Award
May 27, 2014 | By Minghui correspondent Zhang Ran
(Minghui.org) Falun Gong practitioners participated in the Hyack Festival in New Westminster, Canada, on May 24, 2014, and won the President's Award.
Roger Gate was happy to see the Falun Gong entry in the parade and appreciated practitioners' joining community events with their diverse culture: "This is the spirit of Canada!"
Mr. Gate has lived in the city of New Westminster for 40 years. New Westminster is a historic city in British Columbia, Canada. It was established in 1858 and was a center of trade. The Hyack Festival, formerly known as May Day, began in 1870. Canadians and Americans on the West Coast participate in this annual event.
Don Hills, a WWII veteran, came to the event from the state of Washington in the United States. As a member of the West Coast Parade Association, he had seen Falun Gong entries in different parades. He commended the practitioners' involvement in their communities.
Chinese tourists were surprised to see that there were so many Falun Gong practitioners in the parade and that the practice is warmly welcomed in Canada.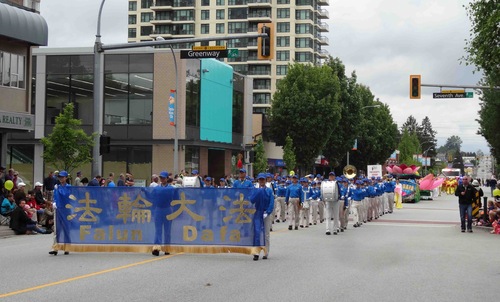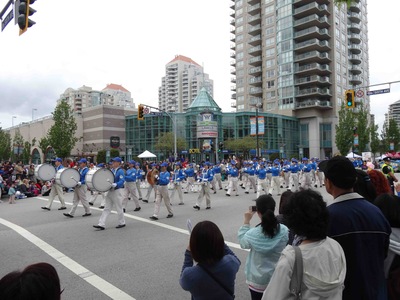 Falun Gong practitioners joined the Hyack Festival in New Westminster in Canada on May 24, 2014, and won the President's Award.