Happiness and Gratitude: European Falun Dafa Practitioners Interviewed at the 2014 New York Conference
May 27, 2014 | By Minghui correspondent Tang Xiuming in New York
(Minghui.org) Over 7,000 Falun Dafa practitioners from around the world attended the 2014 New York Falun Dafa Cultivation Experience Sharing Conference on May 13, 201, also the 15th anniversary of World Falun Dafa Day. Many European practitioners said that it was a day of happiness and gratitude, as well as a day to tell people about Falun Dafa and the persecution in China.
Polish Practitioner: Want to let more people know about Falun Dafa and the persecution in China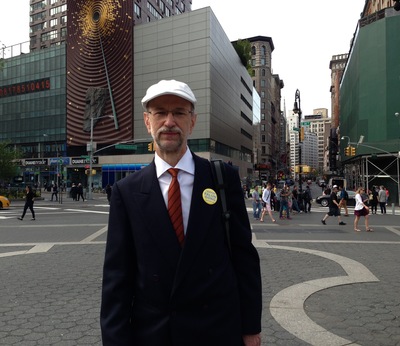 Falun Dafa practitioner Mr. Jas Motyka from Poland participated in the group exercise at Union Square, New York City on the morning of May 13, 2014.
Mr. Jas Motyka, a Polish Falun Dafa practitioner, an artist and a researcher of art history, has practiced Falun Dafa for seven years and this was his fourth time attending the New York Conference. On the morning of May 13, he joined a large scale Falun Gong exercise practice at Union Square in lower Manhattan.
After the exercises, he had a very simple breakfast and was set to go to the conference. He said that World Falun Dafa Day was a special day and believed that thousands of practitioners gathering in New York City had a special significance. It meant that time is very limited now and practitioners must help more people learn about Falun Dafa quickly. "Master has arranged everything for us and the purpose is to save sentient beings." Jas Motyka said, "We held a group exercise here [at Union Square], so that more people will take notice of Falun Gong. I hope people will also learn of the persecution of Falun Gong in China. I hope the persecution will end as soon as possible."
Czech Practitioner: Gratitude to Master from the bottom of my heart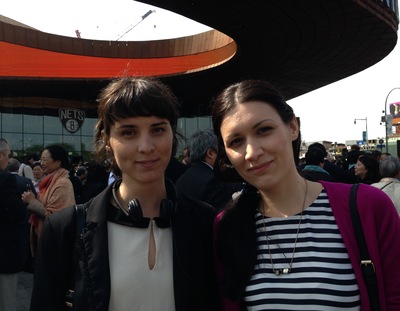 Czech practitioner sisters Ingrid (left) and Martina Longaverova at the New York Conference
Among the practitioners awaiting to enter the conference hall were two sisters from the Czech Republic, Ms. Ingrid and Martina Longaverova. The younger sister Ingrid started practicing Falun Dafa eight years ago when she was seventeen. Now, she has graduated with a college degree in journalism and is a reporter working in New York City.
Ingrid said that her relationship with Falun Dafa was predestined. One day eight years ago, she told her older sister that she felt her life would have a major change in a few days. Two days later, she received the book Zhuan Falun, which enabled her to understand the meaning of life and altered the course of her life.
"Celebrating World Falun Dafa Day is a way for practitioners to show the world how we treasure Falun Dafa. It's also a reminder for us to cherish the opportunity of helping each other to be more diligent." Ingrid said.
"I want to express my gratitude to Master, but I am at a loss for words. The appreciation is from the bottom of my heart. I feel so lucky to be a Falun Dafa practitioner who is witnessing the grandeur of Falun Dafa firsthand at this important historic point in time."
Iran Practitioners: Happy Birthday to Master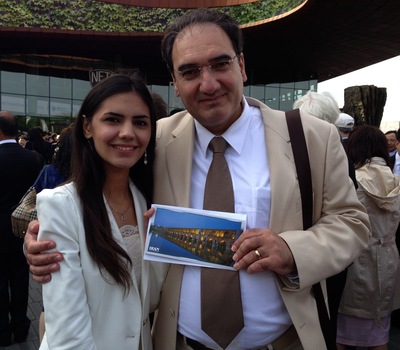 Iranian Falun Dafa practitioner Fariborz Tavanaei and daughter Ghazal, holding a birthday card to Master Li Hongzhi from another Iranian practitioner who didn't have the opportunity to attend the conference.
Mr. Fariborz Tavanaei, a civil engineer and business owner in Iran, his daughter Ghazal and a few other Iranian practitioners were happy to receive their visas shortly before the New York conference. Another practitioner who didn't receive a visa in time missed the opportunity to attend the conference in New York, but he asked Mr. Tavanaei to bring along a birthday card for Master Li Hongzhi.
Mr. Tavanaei had been searching for a spiritual path for over twenty years. He had read many books, tried several cultivation practices, learned a few types of Yoga, until he found what he was looking for and became "the most fortunate man in the world."
"I found the meaning of life and my moral standard rose." He said, "As it has become apparent to me, my family, and my colleagues, I became a better person."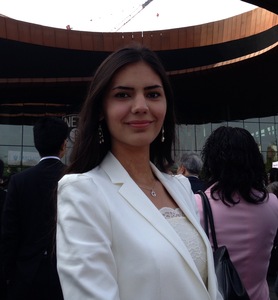 Ms. Ghazal Tavanaei from Iran
Miss Ghazal Tavanaei started to practice Falun Dafa two years ago on her 18th birthday. "It was like a big birthday gift. Indeed, it was the best gift in the world." Ghazal said, "I was a happy girl before that, but since I started Falun Dafa cultivation practice, I no longer have other desires in my life. I already have Dafa. It is the most important thing in my life."
Having lived in Dubai for seven years, Miss Ghazal speaks fluent English, but she felt that the human language is incapable of expressing her gratitude to Master. "Honestly, I feel that there are no words that can describe Master's compassion. " She said.
Looking at the thousands of practitioners waiting in line to enter the conference hall, Ghazal said, "Practitioners from all around the world gathered here today like a big family. We are becoming one entity and sharing our experiences. It's a great experience." Ghazal believes that her duty is to help people in the Middle East, including the many Chinese people who live there.
Italian Practitioner: Master guided me onto a righteous path
Mr. Marco Tistarelli (left 2) and other practitioners from Italy at the New York Conference
Mr. Marco Tistarelli owns a family hotel in Florence, Italy. He started cultivation while on a trip to Australia in 2006, when he met a practitioner who was promoting Falun Dafa in the street. He had come to the New York conference in 2009 and benefited a lot from that trip. After returning to Italy, he immediately set up a practice site in the city of Florence for group exercise practice and Fa study, because Master Li said that group Fa study, group exercise, and attending Fa conferences are three important forms in Falun Dafa cultivation.
Marco said that World Falun Dafa Day meant a lot to him because he had not been diligent for some time before Master enlightened him recently. "It was like Master was talking to me in person, 'Marco, this is your opportunity, you must make a decision. The door of cultivation practice is opened so wide that it is like no door at all. But you must pass the test and continue your cultivation. You must work harder.'"
"I appreciate Master being so compassionate. He didn't give up on me and gave me another chance to catch up." He said, "It is like I have been lost for a long time and finally am back on the right road toward home, and I found the treasure that I had once lost." "I sincerely promise to Master that I will work harder on what I should do. It is not just talk. I mean real actions. Just like Master taught us, righteous thoughts, righteous actions."
Holland Practitioner: Hope that my children will see a better Mom in me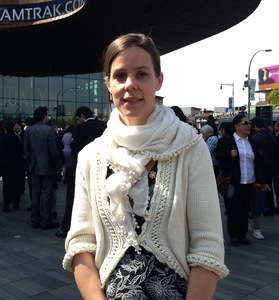 Ms. Mariekecos Vos from Holland
Ms. Mariekecos Vos works at a provincial environmental protection and tourism administration agency. With support from her husband and mother-in-law, she left her two children at home with them and took a vacation to attend the conference in New York City. She was very happy to have a chance to hear the experience sharing from practitioners from around the world and celebrate World Falun Dafa Day at the same time.
"It is a day to celebrate. Many practitioners are coming together to share their cultivation experiences so that we can improve together. It is very important." Ms. Vos said. "I miss my two children. One is two years old and the other is four. I hope they will see a better mom in me when I return home."
After participating in the group practice at Union Square in the morning, she was amazed at the benefit of group practice. "I usually can feel the energy when I am doing the exercises, but the energy was so strong when you have a large group of people practicing together. After the group practice this morning, I felt very peaceful and positive. The opportunity [of joining such a large group practice] is rare." She said and also wished Master a happy birthday.
British Practitioner: I am honored to be a Falun Dafa practitioner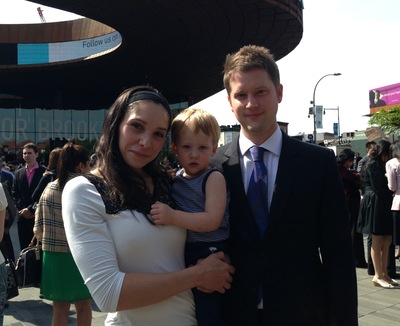 British Falun Dafa practitioners Joanna Conway and her family at New York Conference
After having benefited a lot from attending the conference in the past years, Joanna Conway and her husband brought their 22-month-old son to attend the 2014 New York Conference and to celebrate World Falun Dafa Day at the same time.
"Being part of this magnificent historical moment, I'm very honored to be a Falun Dafa disciple." Ms. Conway said, "Thanks to compassionate Master, who taught me this cultivation practice. To every practitioner, it is a huge honor to be a Dafa disciple in this life, so that one has the opportunity to clarify the truth and petition to stop the persecution.
"Practicing Dafa makes me more peaceful and patient. Certainly there were times that I was not patient enough with my husband, but I am working on it. I am working hard to conform to the principles of Truthfulness Compassion and Forbearance, overcome my shortcomings and become a better person."