Ms. Tan Xiangyu Died after 14 Years of Relentless Persecution
May 02, 2014 | By a correspondent from Hunan Province
(Minghui.org) Falun Gong practitioner Ms. Tan Xiangyu died on February 14, 2014, at the age of 66 after 14 years of relentless persecution.
Local officials even attempted to brainwash her 15 days before her death, when she was already in critical condition. Ms. Tan's death is indicative of how the Chinese Communist Party (CCP) carries out its policy to "destroy them [Falun Gong practitioners] physically."
A Hunan Women's Prison guard even swore publicly, "If we capture her again, she will not be released for any medical treatment and she will die in prison."
Ms. Tan, who was from Changsha, Hunan Province, was arrested seven times and sentenced to forced labor and prison simply for practicing Falun Gong. She was in critical condition each time, but she recovered by doing the Falun Gong exercises after she was released for medical treatment.
Ms. Tan's repeated recoveries seemed to give local Chinese Communist Party (CCP) officials incentive to arrest her again. Their goal was to force her to renounce Falun Gong. The relentless persecution, along with the death of her husband Mr. Xie Wutang in 2011, irreversibly ruined her health and she eventually could not recover.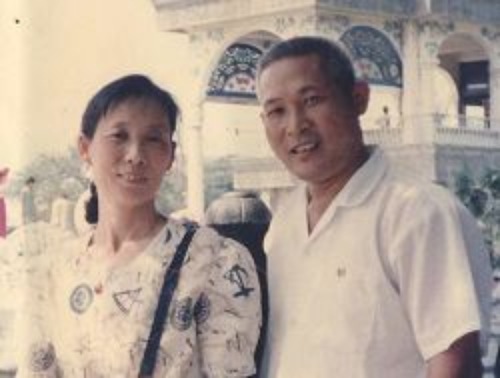 Ms. Tan Xiangyu and her husband Mr. Xie Wutang
Persecuted from the Beginning of the Persecution
Ms. Tan was a volunteer instructor at a Falun Gong practicing site in her area before the onset of the persecution. Because of this she was considered a "hardcore" practitioner by the CCP and thus became a major target of persecution after the nationwide campaign to wipe out Falun Gong began on July 20, 1999.
Ms. Tan was harassed many times by local officials once the practice was banned by the CCP. They went to great lengths to try to force her to renounce Falun Gong. She was monitored around the clock.
Her husband, Mr. Xie Wutang, also a Falun Gong practitioner, didn't fare any better. Officials threatened that the couple would be evicted from their home if they did not renounce Falun Gong. They even went so far as to brick up their front door to keep them out. Things just got worse as the years rolled on and the persecution intensified.
Police forced their way into Ms. Tan's home and arrested her one night in March 2001, when she was taking care of her sleeping two-year-old grandson. She was alone, as her husband had been sentenced to forced labor two months earlier and was in Xinkaipu Labor Camp. The officers arrested her anyway, leaving the crying two-year-old alone at home.
Ms. Tan was sentenced to forced labor in the Zhuzhou Baimalong Women's Labor Camp shortly after being arrested. She developed tuberculosis after 6 months of mistreatment in the labor camp. She was released for medical treatment in September when she was in a critical condition. Her husband was also released for medical treatment from the labor camp in September.
They recovered soon after they got home by doing the Falun Gong exercises. Local police, noting their recovery, arrested them again and detained them for 15 days.
Sentenced to Prison
Ms. Tan Xiangyu was again arrested when she was shopping in the Changsha Youyi Commercial Center on August 22, 2003, by Fu Shengwen, an officer with the Political Security Section of the Changsha Tianxin District Police Department. Fu handcuffed her arms behind her back, shackled her feet, and interrogated her for over 10 hours.
She was transferred to the Changsha Detention Center on August 23, 2003. She went on a hunger strike to protest the arrest. In response, the guards tortured her for long hours by chaining against a door panel with her limbs in shackles.
The Tianxin District Court sentenced Ms. Tan to three and a half years in prison in June 2004. She appealed but the original verdict was upheld. She was held in the Hunan Women's Prison starting in November 2004, where she was abused and tortured.
She had to get up at 6 a.m. and work in the prison workshop until 2 a.m. She had to process 55 pounds of soybeans daily. She was not allowed to rest until she finished her quota.
Under the poor conditions in prison, her health deteriorated until she was again in critical condition. She had a punctured lung and a malfunctioning liver. She vomited blood and could not walk or eat. She was 158 cm tall but weighed only 55 pounds. She was diagnosed with tuberculosis and severe hepatitis. The prison released her in September 2005 on medical parole. A prison officer said to Ms. Tan's daughter, "You have to tell us if you mother dies."
She recovered again by doing the Falun Gong exercises and reading the Falun Gong books. However, he had to leave her home to avoid being arrested again. Failing to find her, a prison official said, "If we capture her again she will not be released for any medical treatment and she will die in the prison."
Ms. Tan and her husband were found and arrested by police officer Fu Shengwen on July 14, 2007. Mr. Xie was sentenced to 56 months in prison, while Ms. Tan was sent back to Hunan Women's Prison. She was subjected to "strict discipline" for five months until the end of her sentence on December 16, 2007. She contracted tuberculosis and was again in critical condition.
Husband Dies after Release from Prison
Mr. Xie was held in Wuling Prison in Changde, Hunan Province. He was released for medical treatment on March 1, 2010, in critical condition.
Despite Ms. Tan's care, he didn't recover because the abuse had irreversibly ruined his health. He died at the age of 71 on February 11, 2011.
His death was devastating for Ms. Tan. She was traumatized and her health deteriorated, but officials kept harassing her.
Despite her deteriorating health, Ms. Tan was closely monitored by local authorities, on orders of the 610 Office. Local officials continued to harass her, especially on sensitive dates.
A local officer called Ms. Tan's family demanding that she be taken to a brainwashing center in Laodaohe Town in the Kaifu District of Changsha that was set up by the Changsha 610 Office in September 2013. Her family convinced the officials of Ms. Tan's deteriorating health and so spared her from the brainwashing sessions.
The relentless 14-year persecution took its toll on Ms. Tan's health, and she died on February 24, 2014, at the age of 66.
Family Implicated
CCP policy also gave directions to "bankrupt them [Falun Gong practitioners] financially." Her private property was illegally confiscated by local authorities over a period of14 years. The economic loses her family suffered totaled more than 100,000 yuan. Her children could not lead a normal life.
Ms. Tan's son was threatened that he would be fired if he refused to write statements that he was against his mother's practicing Falun Gong. Local police officers stole her daughter-in-law's motor-wagon in 2004, thus cutting off the the only income source for the whole family. The police also detained her son in the police station, although he did not practice Falun Gong.
Background
Ms. Tan is a retiree from the Nanling Chemical Plant of Shuangpai County, Hunan Province. She moved to Changsha City in the 1990s after she retired.
She began practicing Falun Gong in 1996 and returned to good health within two months, and her family lived in harmony.
As she had gained many benefits from practicing Falun Gong, she became a volunteer instructor at the practicing site in her area.
Parties Involved in Persecuting Ms. Tan:
The Domestic Security Group of Changsha Tianxin District Police Department: Jiang Penzhou (将鹏洲), group head: +86-13908476677 (mobile), 86-731-85895078 (office) Fu Shengwen (傅胜文), deputy group head: 86-13574119358 (mobile), 86-731-85895079 (office), 86-731-84723810 (home)
Changsha Tianxin District Court: Chen Xinzheng (陈新政), the judge who sentenced Ms. Tan to 3.5 years in prison in June 2004: 86-731-85351305 (office)
Changsha 610 Office: Wu Zhibin (吴志斌), former chief, in position March 2001-2011: +86-13307310607 (mobile), +86-731-85070065 (home) Wu Kaiming (吴凯明), former deputy chief, in position November 2002-2011: +86-13319578855 (mobile), +86-13308408731 (mobile), +86-731-85133270 (home) Hu Yajun (胡亚军), chief since 2011: +86-13787151617 (mobile), +86-731-88667548 (office) Shao Yuhui (邵云辉), deputy chief since 2011: +86-13975362119 (mobile), +86-731-88667550
Related articles: Mr. Xie Wutang Dies after Ten Years of Persecution Ms. Tan Xiangyu and Her Granddaughter Arrested by Changsha City Police Mr. Xie Wutang and Ms. Tan Xiangyu, His Wife, from Hunan Province Both Tortured