Missouri, USA: City of Bridgeton Proclaims Falun Dafa Day
(Minghui.org) On May 9, 2014, Mayor Conrad Bowers of the City of Bridgeton, Missouri, proclaimed May 13, 2014, as Falun Dafa Day Honoring Truthfulness-Compassion-Tolerance in the City of Bridgeton.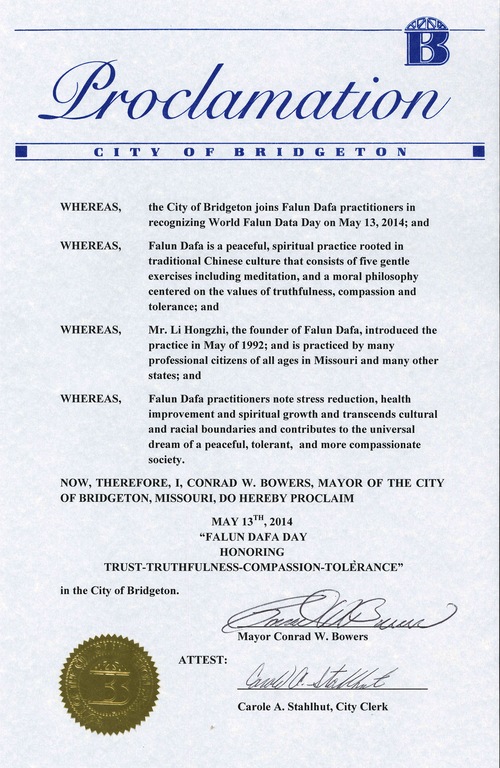 Proclamation City of Bridgeton
Whereas: the City of Bridgeton joins Falun Dafa practitioners in recognizing World Falun Dafa Day on May 13, 2014; and
Whereas, Falun Dafa is a peaceful, spiritual practice rooted in traditional Chinese culture that consists of five gentle exercises including meditation, and a moral philosophy centered on the values of truthfulness, compassion and tolerance; and
Whereas, Mr. Li Hongzhi, the founder of Falun Dafa, introduced the practice in May of 1992; and is practiced by many professional citizens of all ages in Missouri and many other states; and
Whereas, Falun Dafa practitioners note stress reduction, health improvement and spiritual growth and transcends cultural and racial boundaries and contributes to the universal dream of a peaceful, tolerant, and more compassionate society.
NOW, THEREFORE, I, CONRAD W. BOWERS, MAYOR OF THE CITY OF BRIDGETON, MISSOURI, DO HEREBY PROCLAIM
May 13th, 2014 "Falun Dafa Day HONORING TRUTHFULNESS-COMPASSION-TOLERANCE"
in the City of Bridgeton.
MAYOR CONRAD W. BOWERS