Hong Kong Practitioners Celebrate World Falun Dafa Day with Parade and Rally
May 13, 2014 | By Zheng Yuyan, a Minghui correspondent in Hong Kong
(Minghui.org) "I agree with your principles of Truthfulness-Compassion-Forbearance. They bring positive effects to people and our society. Please keep it up!" A Chinese tourist commented as such when he saw the Falun Gong practitioners' parade and rally in Hong Kong on Saturday, May 10, 2014.
Like many other places around the globe, Hong Kong practitioners held these events to celebrate World Falun Dafa Day, May 13, 2014, the 22nd anniversary of Falun Dafa's introduction to the public in China, as well as founder Mr. Li Hongzhi's 63rd birthday. Practitioners also sang songs to express their joy for the mind and body improvements they have experienced from the practice.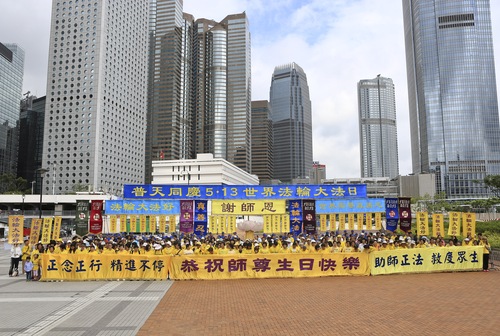 Hong Kong practitioners celebrate World Falun Dafa Day and wish Master Li a happy 63rd birthday on May 10, 2014 near City Hall.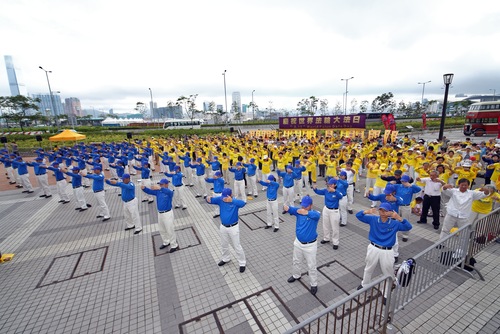 Practitioners demonstrate Falun Dafa exercises at the City Hall plaza on May 10.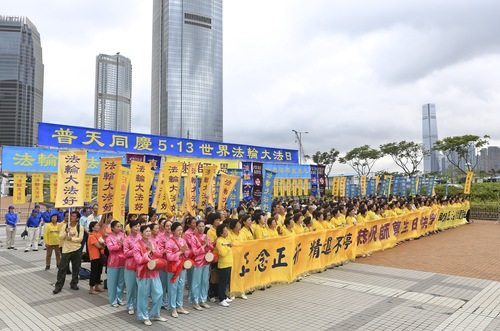 With palms pressed together, practitioners express their gratitude towards Master Li, the founder of Falun Dafa.
Life Renewed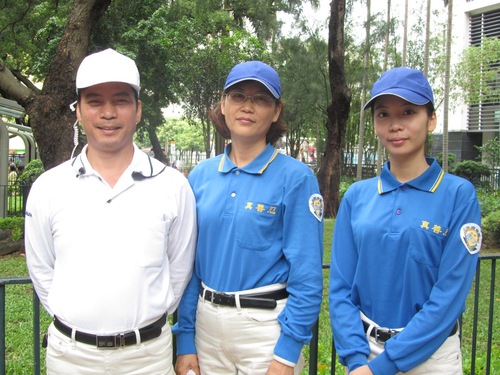 Mr. Weng and his entire family are Falun Dafa practitioners.
Mr. Weng, a small business owner, learned about Falun Dafa in 2003. A friend gave him a copy of the book Zhuan Falun during his family vacation. He read the book and became very interested. Not long after he began practicing, his headaches and other illnesses disappeared. In addition to physical improvement, he also became more opened minded. He said, "With less pursuit of fame and material interest, I found life more peaceful and meaningful."
His wife also had similar experiences. Not only did she recover from severe allergic rhinitis, she also became more patient in educating the children, which had been quite a challenge in the past. By following the principles of Truthfulness-Compassion-Forbearance, the entire family now lives a harmonious, happy life.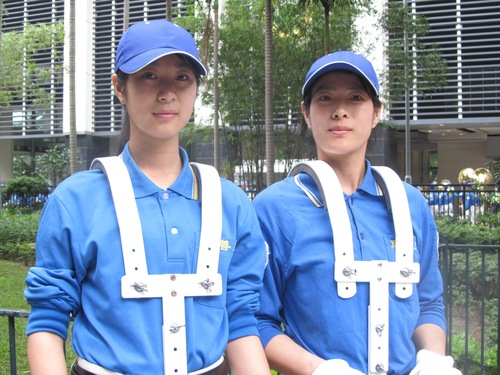 Practicing Falun Dafa also makes one look younger. Here is a picture of Chieko Yoshihara (mother) and Koyukuk Yoshihara (daughter). When standing next to each other, they were often thought to be sisters.
Chieko Yoshihara from Japan previously suffered from arthritis, anemia, and other chronic illnesses, and had generally poor health. After a friend told her about Falun Dafa in 1994, she became deeply impressed by the principles of Truthfulness-Compassion-Forbearance Her health miraculously improved greatly, as did her xinxing improvement.
Koyukuk traveled with her mother to Japan, and came here to celebrate Falun Dafa Day. She said, "I used to have a strong ego and could not accept any criticism... Practicing Falun Dafa helps me to be more open-minded."
Chieko was very glad to see the positive changes in her daughter. "Falun Dafa is so good and I hope everyone, especially people from China, will learn the facts about Falun Gong."
Supporting the Righteous
What Chieko was referring to is the 15-year-long ban and massive persecution of Falun Dafa in China. The Chinese Communist Party (CCP) began suppressing Falun Dafa in July 1999.
Another theme of the gathering and parade was telling Mainland Chinese people the facts about Falun Dafa, to dissolve their misconceptions caused by 15 years of hate propaganda.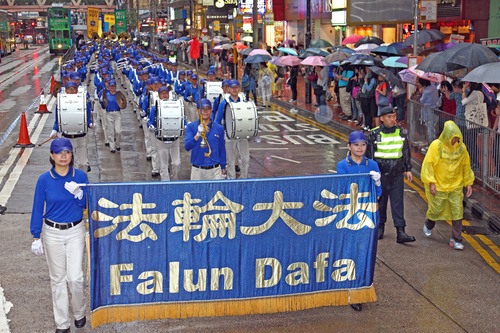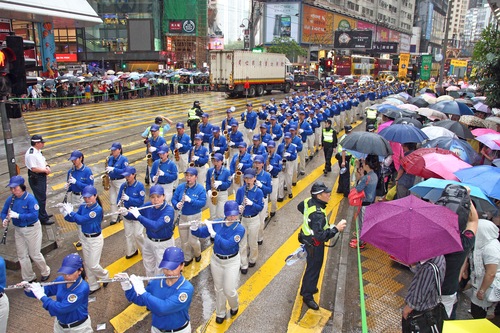 Parade led by the Divine Land Marching Band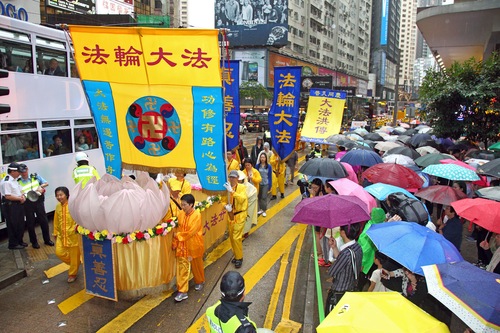 Bus passengers watch the parade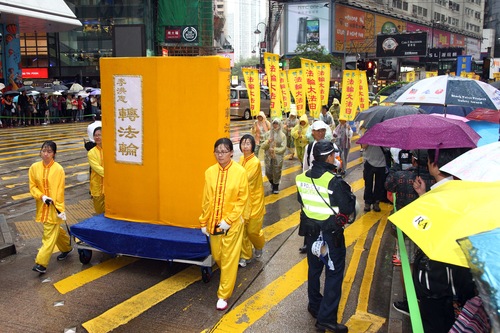 Many local residents and tourists watch the parade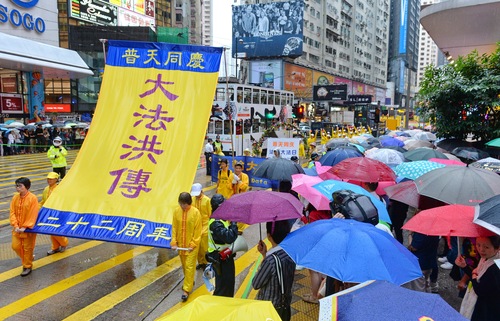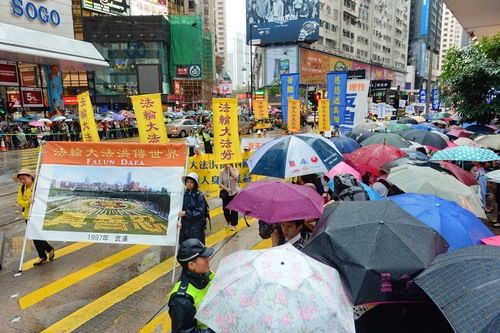 Chinese tourists learn more about Falun Dafa
Chinese tourists were surprised to see such a large scale parade and gathering of Falun Dafa practitioners. One of them, John, said, "This is impressive. This event sends a strong, positive message to everyone. We need to care about each other." He said that everyone should learn the facts.
Quitting the CCP
Many tourists from China also read the posters and banners that exposed the CCP's brutality.
Local resident Hu said that he had seen Falun Dafa practitioners in many other regions while traveling in Australia, New Zealand, and other countries. "Falun Dafa is very good and is popular around the world," he said, "I don't understand why the CCP banned it—it's truly absurd! It [the CCP] will have to pay for its actions sooner or later."
While distributing pamphlets, practitioner Ms. Zhang said to Chinese tourists around her, "The CCP has done many bad things, and anyone associated with it have to face the consequences." She informed them that quitting the CCP will ensure a safe future.
Quite a few Chinese people agreed to quit the CCP after hearing these words. A 50-year-old man said that he had already done so. "I know Falun Dafa is good. It is outstanding!" He told Ms. Zhang that such events should be held monthly, so that everyone will learn about the bad deeds committed by the Chinese Communist Party.