San Francisco: Group Exercises and Rally Pay Tribute to World Falun Dafa Day (Photos)
May 13, 2014 | By Wang Ying, a Minghui correspondent in San Francisco, California
(Minghui.org) Falun Dafa practitioners in the San Francisco bay area celebrated World Falun Dafa Day with group exercises at the City Hall plaza on May 10, 2014, along with a parade on the main streets and a rally at Portsmouth Square in San Francisco's Chinatown. Several practitioners shared the positive changes the practice brought to their lives.
May 13 marks the 22nd anniversary of Falun Dafa's introduction to the public. It is also the 15th World Falun Dafa Day and the 63rd birthday of Mr. Li Hongzhi, founder of Falun Dafa.
Mr. Anguelov: I Learned to Be Kind to Others
Mr. Ivailo Anguelov started practicing Falun Dafa in 2006. He had experienced chronic pain since he was a child. Within several months after taking up the practice, the pain disappeared. He has since become a healthier and nicer person.
He said, "I'm participating in today's event because I'm a Falun Dafa practitioner. I have become a healthier person. I have also learned to be kind to others."
Ms. Yang: Doctor Said I Would Only Live for Another Six Months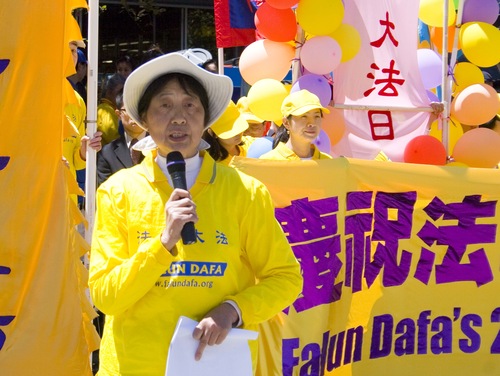 Ms. Yang Li
Ms. Yang Li, 76, shared her story at the rally in Chinatown. In the late 1990s, her doctor told her that she would only live another six months due to a relapse of her stomach cancer and newly diagnosed nasopharyngeal cancer. Soon after, she came across Falun Dafa, and has been healthy ever since.
"Falun Dafa is so great. It has miraculous healing and fitness effects. I have truly tasted the happiness of having no illness!" Ms. Yang urges people to seek out the facts about Falun Dafa and not blindly follow the slanderous propaganda spread by the Chinese Communist Party (CCP).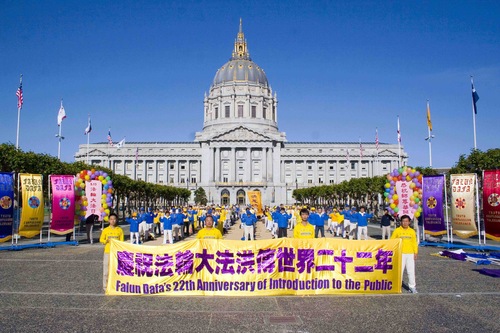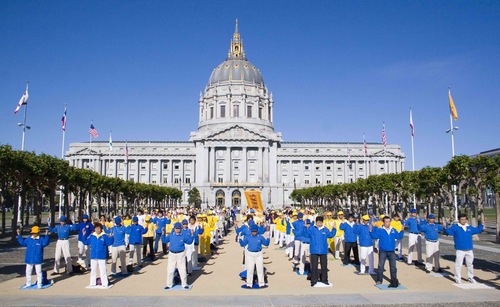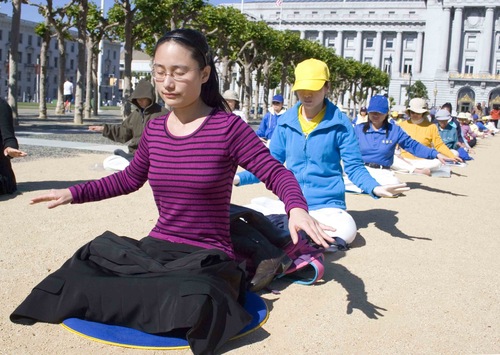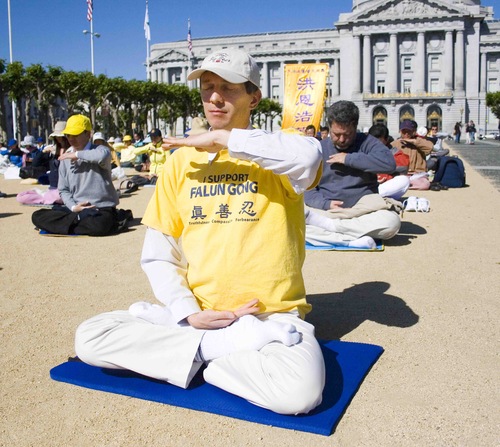 Group exercises at City Hall plaza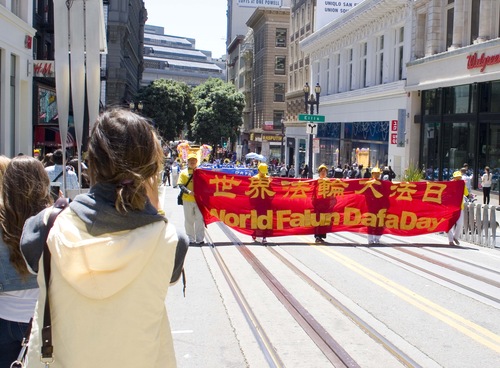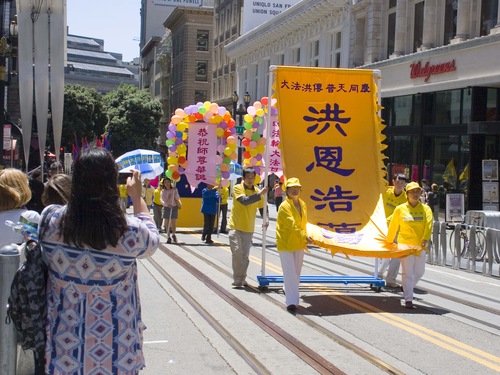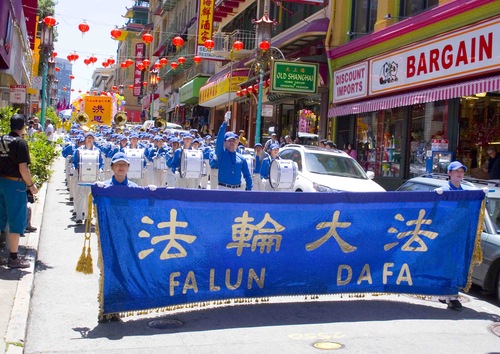 The parade proceeds through the main streets of San Francisco
Parade float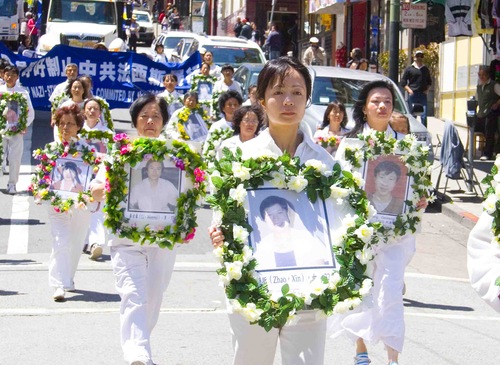 Falun Dafa practitioners hold pictures of death victims during the parade on May 10, 2014 in San Francisco.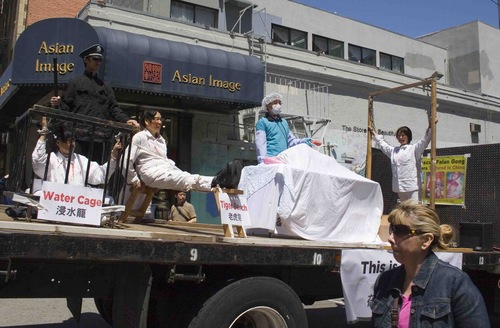 Torture re-enactment
Ms. Tang: I'm More Open and Outgoing
Ms. Tang came to the United States a little over a year ago, and has been practicing Falun Dafa for 17 years. She said that Falun Dafa was special for her, "I have been adhering to the teachings of Truthfulness-Compassion-Forbearance. I'm now more open and my personality more outgoing. I have a harmonious family and good relationships with my neighbors, thanks to my practice."
Achieving that has not been easy. Ms. Tang's son died in Liaoning Province in 2004. "My son was detained in four different labor camps before he was tortured to death. I would like to inform people that the CCP is evil. It's important that people quit their CCP organization memberships to avoid being held accountable along with the CCP when it meets its retribution for all the crimes it has committed to the Chinese people, including Falun Dafa practitioners."
Practitioners also celebrated World Falun Dafa Day with performances at Portsmouth Square in Chinatown. The Divine Land Marching Band played music including "Falun Dafa is Good." Young practitioners also provided Chinese dance, flute, violin, and zither performances. Spectators enjoyed the performances, and learned facts about the practice.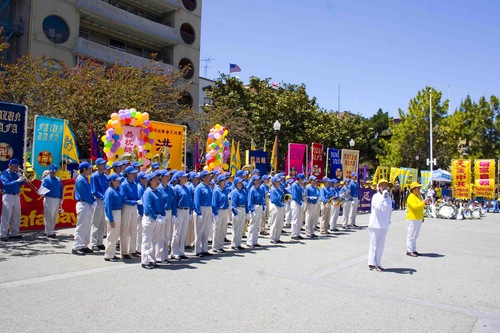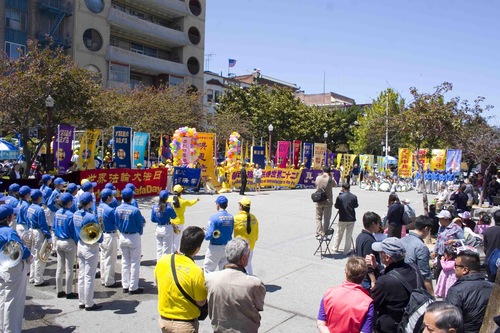 Falun Dafa practitioners perform at Portsmouth Square in San Francisco's Chinatown on May 10, 2014.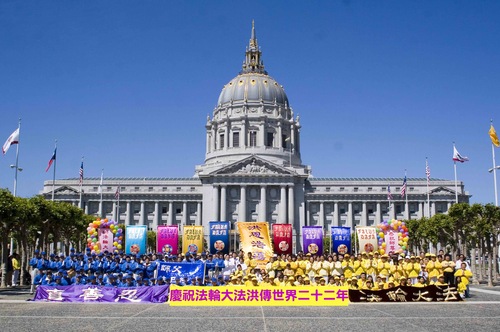 Falun Dafa practitioners wish Master Li a happy birthday.