Life and Faith Celebrated at Worldwide Falun Dafa Day Activities
May 12, 2014 | By Minghui correspondents Cai Ju in New York, Hua Qing and Mu Wenqing in Sydney
(Minghui.org) "Practicing Falun Dafa helps me be healthy, calm and peaceful. I will never go back to the old me. I like the new me!" said Judy Shakespear from Tauranga, New Zealand.
Ms. Shakespear, 63, joined her son five years ago to celebrate World Falun Dafa Day in New York City. She experienced the peacefulness and happiness of Falun Dafa cultivators and became a practitioner at the end of the journey.
She is one of the thousands of Falun Gong practitioners joining the global celebrations of Falun Dafa in Manhattan. May 13 marks the 15th anniversary of World Falun Dafa Day and the 22nd anniversary of Falun Dafa's introduction to the public. The celebrations started with a morning group exercise in Central Park on May 10.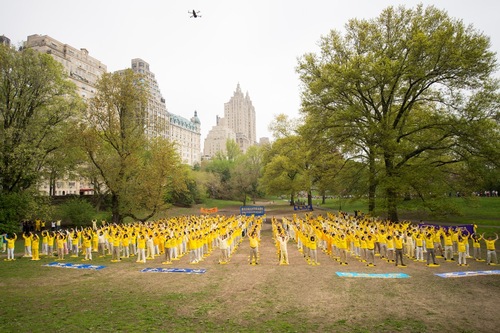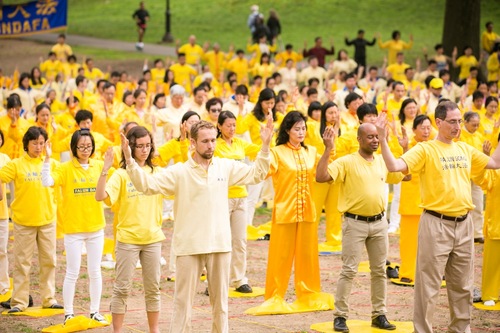 Morning group exercises in Central Park, New York City on Saturday, May 10
World Falun Dafa Day was celebrated in many cities across the world during the weekend.
In Australia, Falun Dafa practitioners held a parade in downtown Sydney on May 10. Jason Wyatt, a software engineer who started practicing in 2002, demonstrated the five exercises on the float.
"In addition to health, I have noticed that my wisdom and understanding of life have also grown. I'm more tolerant. It is very important for my profession because my job requires me to communicate with people performing many different business functions," said Mr. Wyatt, "Falun Dafa has been a tremendous help."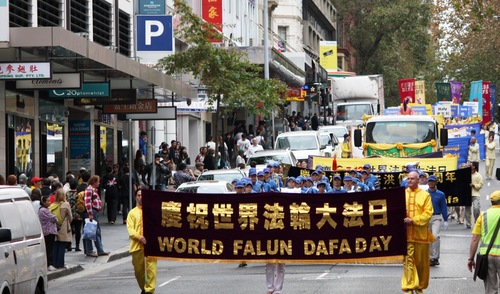 Celebration of World Falun Dafa Day in Sydney's Chinatown on May 10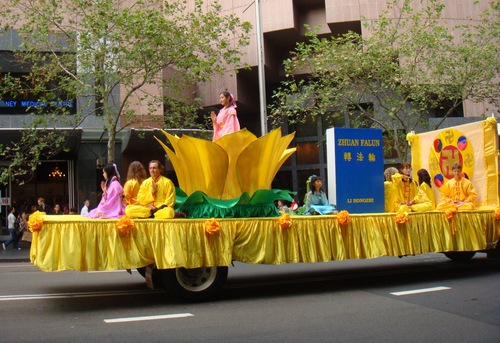 Australian and Chinese practitioners demonstrate Falun Dafa exercises on the float during the parade in Sydney on May 10.
Mr. He and his wife Ms. Zhang have practiced Falun Dafa for 18 years. They immigrated to New Zealand from Henan Province, China and was persecuted for their belief before they left China. Now all six members of the family across three generations practice Falun Dafa.
Mr. He used to work at the Department of Propaganda in Henan Province: "Falun Dafa enabled me to get rid of the atheism restraints set forth by the communist party. The pain and hopelessness of living in a materialistic society with much decayed morality left me. Falun Dafa cultivation has offered me mind and body well-being. I believe in what goes around comes around. I have not wavered in my faith."
On May 3, New Zealand practitioners celebrate the World Falun Dafa Day in One Tree Hill Park in Auckland, and wish Master Li, founder of Falun Dafa, a happy birthday. The banner reads "Respectfully Wish Master a Happy Birthday!"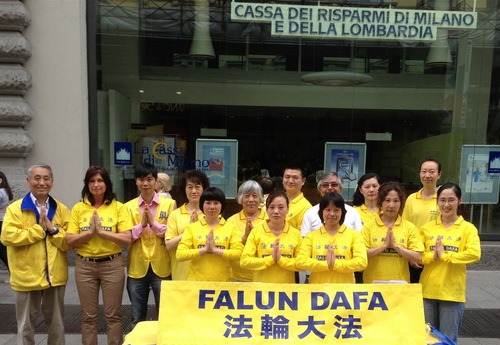 Practitioners in Italy gathered in Milan on May 10 to celebrate World Falun Dafa Day with truth-clarification activities.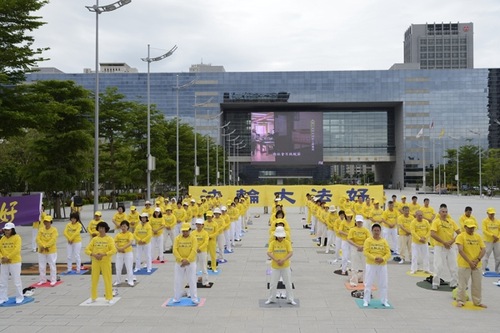 Practitioners in Taichung, Taiwan celebrated the World Falun Dafa Day at City Government Plaza on May 10 with group exercises.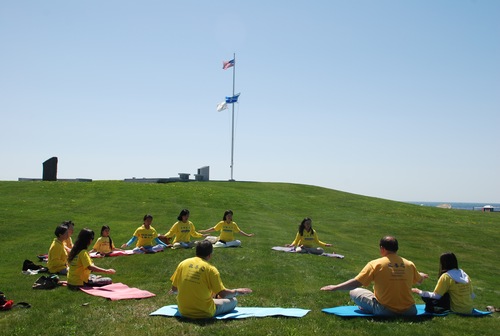 Practitioners in Rhode Island of the U.S. celebrated the 22 nd anniversary of Falun Dafa's introduction to the public on May 11, 2014 by doing group exercises at the Brenton Point State Park in Newport, Rhode Island.
Honoring Truthfulness-Compassion-Forbearance
Falun Dafa practitioners have received many proclamations from different levels of government and legislators in North America, honoring the values of Truthfulness-Compassion-Forbearance and its contribution to society .
"Falun Dafa practitioners can be very proud of the contributions they continue to make to our society. The guiding principles of truthfulness, compassion, and tolerance, which are the foundation of Falun Dafa, demonstrate your unwavering dedication to a free and fair society." stated Canadian Member of Parliament (MP) Lawrence Toet in his congratulatory letter for the Falun Dafa 22 nd anniversary celebration.
Wilwood, St. Charles, O'Fallon, Bridgeton, and state capital Jefferson City of the state of Missouri issued proclamations to practitioners and declared May 13 as "Falun Dafa Day Honoring Truthfulness-Compassion-Forbearance."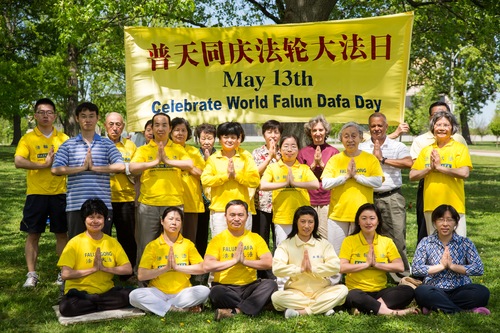 Practitioners did group exercises on May 10 at Forest Park in St. Louis, Missouri to celebrate World Falun Dafa Day.
Seven cities in Texas proclaimed "Falun Dafa Day": Town of Addison, City of Allen, Arlington, Bedford, Frisco, Plano and Southlake. The cities acknowledged that "Falun Dafa practitioners' determination and courage to stand up for Truthfulness-Compassion-Forbearance while facing severe persecution from the Chinese Communist Party has shown the world the value of life and the preciousness of human dignity."
Some local political leaders joined World Falun Dafa Day celebrations to support freedom of belief and recognize the practitioners' contributions to their communities.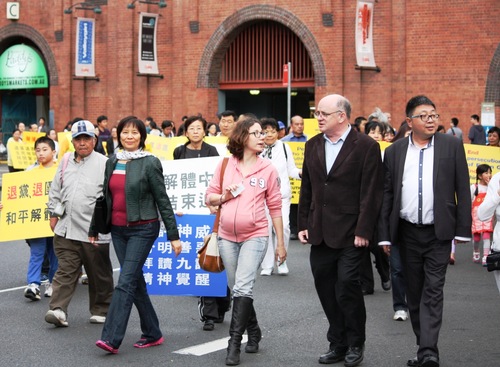 Parramatta city councillors Andrew Wilson (second right) and John Hugh (first right) joined the parade in Sydney, Australia on May 10.
Upon joining the parade in Sydney on May 10, Parramatta city councillors Andrew Wilson said: "I think that torture and persecution of Falun Dafa practitioner is wrong. I am more than happy to March with you. I think practice of organ harvesting what they are doing is so painful for the families. I am more than happy to support you in your position of that. Have a very happy Falun Dafa Day!!!"
Re-enactment of forced organ harvesting of living Falun Dafa practitioners during the parade in Sydney's Chinatown on May 10
The following facts are stated in many local proclamations: "Transcending culture and racial boundaries, Falun Dafa has touched the lives of more than 100 million people in over 80 countries, more men and women in the United States are learning the practice and purifying their hearts, energizing their bodies, and striving to create virtuous communities."
More activities will be held during the week of May 13 in Manhattan, New York to celebrate value of life and faith in Truthfulness-Compassion-Forbearance.
Related articles in Chinese language:
http://www.minghui.org/mh/articles/2014/5/11/悉尼欢庆法轮大法日-议员加入游行队伍-291749.html
http://www.minghui.org/mh/articles/2014/5/11/新西兰学员景点弘法-庆祝世界法轮大法日-291747.html
http://www.minghui.org/mh/articles/2014/5/11/意大利法轮功学员庆法轮大法弘传二十二周年-291748.html
http://www.minghui.org/mh/articles/2014/5/10/美国德州七城市市长宣布法轮大法日-291706.html
http://www.minghui.org/mh/articles/2014/5/11/喜迎法轮大法日-台中学员炼功弘法-291740.html
http://www.minghui.org/mh/articles/2014/5/11/庆祝法轮大法日-圣路易学员感谢师恩-291764.html