Boston Practitioners Celebrate World Falun Dafa Day (Photos)
(Minghui.org) On May 3, Falun Gong practitioners from Boston held activities on Boston Common to celebrate the 15 th World Falun Dafa Day.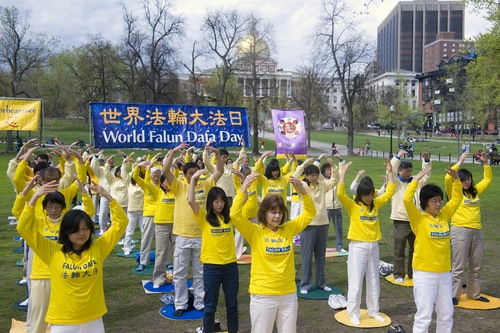 Doing the exercises together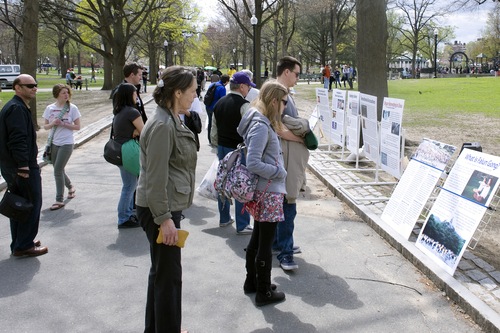 Passersby studying practitioners' display boards
Talking about Falun Gong
Practitioners wish Master Li Hongzhi a happy birthday.
Thomas McGee on behalf of all the State Senators and Bradley Jones on behalf of all the State Representatives sent congratulatory letters to the local Falun Gong Association, extending their best wishes for continued success.
Congratulatory letter from the State Senators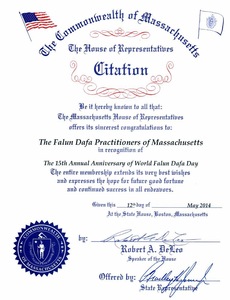 Congratulatory letter from the State Representatives
At the event, practitioners demonstrated the exercises and talked to tourists about Falun Gong. Many Chinese tourists stopped by. Some of them quit the Communist Party with practitioners' help.
Ms. Liang, a veteran practitioner, shared her experiences of cultivating Falun Gong. "My body was purified when I first read the book Zhuan Falun . I often experience what Master Li mentions in the book. Sometimes, I feel strong energy flowing in my body when I do the sitting meditation. Sometimes I can see multiple dimensions in the universe," she said.
"When I calmly read the book, I can feel that my body and mind are improving, and my understanding of life and universe are broadening. Many of my friends and family members cultivate Falun Gong, and many of them have had miraculous experiences, too.
"I feel sorry for those Chinese who have been deceived by the Party propaganda and hate Falun Gong. That is why I often go to tourist spots and why I make phone calls to China--to tell people about the beauty of Falun Gong."
A gentleman from Albania talked to practitioners for a long time. He'd often seen practitioners holding events on Boston Common, but he didn't understand what they were doing.
He didn't believe that a better social system could make life better for people. "The communist party in Albania crashed years ago, but the country is still governed by a bunch of crooks. People are still suffering," he said.
During the conversation, he learned that Falun Gong teaches Truthfulness-Compassion-Forbearance. He realized that this principle is a positive force, which may push society in a positive direction.
"Our lives will be happy if there are enough good people," he said. "In some European countries, people are nice and honest, so they are healthy and happy.
"The persecution of Falun Gong is ridiculous. Everybody has the right to be a good person, because it is the right thing to do and will make people happy."
At the end of the event, all the practitioners wished Master Li Hongzhi a happy birthday.