Detention Center Demands Daughter Sign Away Mother's Faith
May 10, 2014 | By a Minghui correspondent from Chongqing, China
(Minghui.org) Falun Gong practitioner Ms. Zhang Zhengying has been detained for over three months at the Zhoujiaba Detention Center. The guards were unable to force her to give up her belief of Falun Gong, so they demanded that her daughter sign a guarantee statement as a promise that Ms. Zhang would stop practicing.
On January 9, 2014, police officers stopped the bus Ms. Zhang was on. Several officers from the Wanzhou District Guanyinyan Police Station boarded the bus and started searching the passengers. Ms. Zhang stood up and explained to the driver: "Don't be afraid—they're looking for me."
She calmly turned to the police officers and said, "Don't bother the driver. You can tell me what you need." They took her away.
The driver later told the other passengers, "I know her. Her name is Zhang Zhengying. She is a farmer and often takes my bus. She's often told stories about how ancient people accumulated merit and virtue. My passengers always liked her and her stories."
Tortured to Critical Condition During Previous Labor Camp Detention
Ms. Zhang was harassed by the authorities for practicing Falun Gong as early as 2001, when she was sentenced to three years in a labor camp. She was released in 2002 because she was dying as a result of torture.
The guards often handcuffed her for days on end, and sores broke out all over her body. Her leg swelled so much that her pants had to be slit open to fit her. As her body deteriorated, foul-smelling pus began to seep out from her wounds. At that point, many guards and inmates simply chose to stay away from her.
She passed out for hours after one round of severe beating. When she came to her senses, she was partially stuck to the ground from her own dried blood, pus, and ripped flesh. She could hardly move. Several inmates scraped her up, and she could feel her wounds being torn open.
Another time, the guards ordered several inmates to beat her, but she resisted. The guards then hung her up on a metal door for seven days and nights.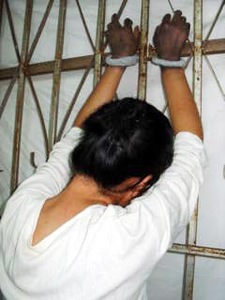 Torture re-enactment: Handcuffed to a metal door
When Ms. Zhang refused to wear the prison uniform and recite the prison rules and regulations, the guards hung her up again. This time, she was hung for three days and nights.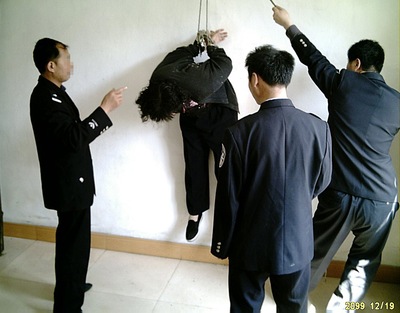 Torture re-enactment: Hanging up
The first day she was hung up, she recited the Fa out loud; the second day, she was so still and silent that a guard came up to see whether she was still alive; the third day, she had passed out completely. After the guards let her down, they had to take her to the hospital for emergency treatment.
The doctor said that she was in an coma and partially paralyzed. He also said that she would most likely remain in a vegetative state and that she would only live for two more months. So the labor camp released her in that condition, after she had served 10 months of her three-year sentence.
Not long after being released in 2002, and through steadily practicing Falun Gong, she recovered.
Ms. Zhang, 50, is from the Wanzhou District, Jiuchi Town, Huangmei Village. She began practicing Falun Gong in 1997.