St. Louis Practitioners Introduce Falun Gong at Community Events
May 01, 2014 | By Minghui correspondent in St. Louis, Missouri
(Minghui.org) "It feels very good - my entire body is surrounded by energy," said a visitor to the Falun Gong booth during a recent health expo in suburban St. Louis, Missouri.
The expo was held at the student center at St. Charles Community College on the morning of April 26. It was one of several activities practitioners attended over the weekend to introduce Falun Gong to the public on the 15 th anniversary of the peaceful demonstration at the dawn of the persecution in 1999.
Other events included two Earth Day festivals, one at a high school in Chesterfield on April 26 and the other at Forest Park on April 27.
Health Expo
The 22th annual long-distance race took place on April 26. Practitioners joined other vendors to provide health and related information to both the athletes and the general public.
Practitioners also demonstrated the exercises, which attracted lots of attention. Many people came up to ask for further information and some said they would go to local group exercise sites to follow up.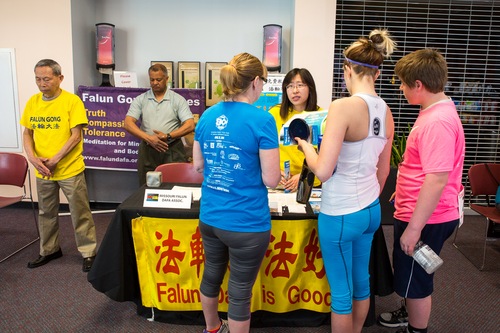 Practitioners introduce Falun Gong at the St. Charles Community College Health Expo.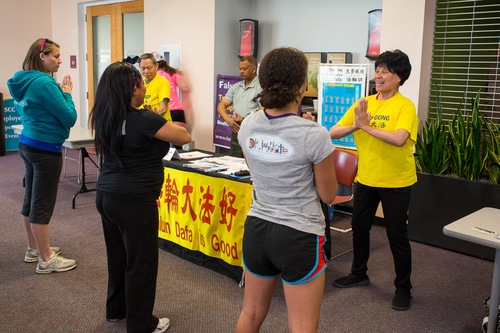 Students came up to the learn the exercises
A history teacher was interested in learning about Falun Gong. She had heard about the persecution as early as 1999. She had thought about doing meditation for a long time. She took some brochures and said she would go home and try the exercises.
A lady promoting fitness and yoga at her own booth expressed interest. After learning the first Falun Gong exercise and doing it three times, she said, "It feels very good - my entire body is surrounded by energy." When the event was about to conclude, she came back again and said to a practitioner, "I saw you doing the sitting meditation. It looks great. I will call you to learn more when I get home."
One vendor from another booth accepted a flyer about Falun Gong and said, "Thank you, thank you. I saw you last year." She asked for the contact information and said she would call back to learn the exercises.
After the event ended and everything was packed up, several people came by to ask for information. Practitioners opened their bags, gave them some flyers, and showed them how to do the exercises. Three of them, all young people who had just learned the first exercise, waved as they left, saying "Thank you so much!"
Earth Day Festivals
During the Earth Day Festival at a high school in Chesterfield on April 26, practitioners helped to celebrate this special day by sharing information about Falun Gong.
Some passersby had already heard about the practice and were eager to know more. They were pleased to learn that introductory sessions were held regularly at a nearby library.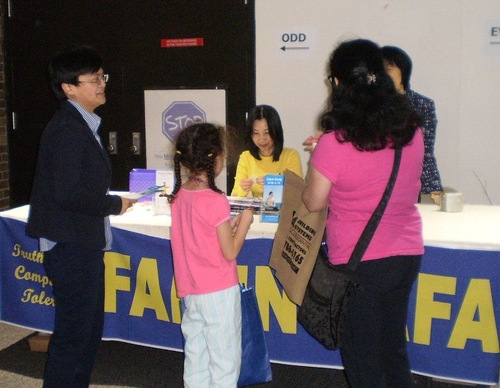 Practitioners joined the Earth Day Festival at a high school in Chesterfield
Another festival took place at Forest Park the following day. Event attendees were interested in nature and were keen on environmentally friendly lifestyles. They were glad to hear about Falun Gong's ability to help improve mind and body.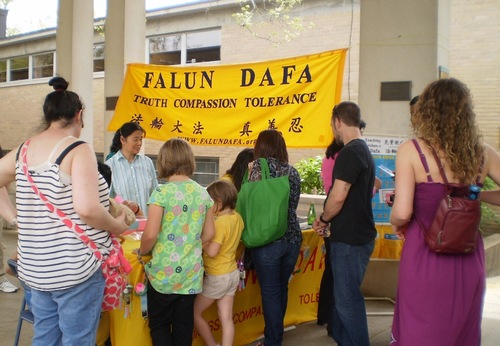 People interested in Falun Gong during the Earth Day Festival at Forest Park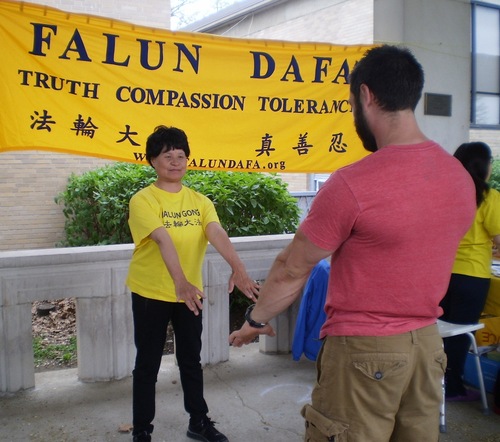 Event attendees stopped to learn the Falun Gong exercises
Many passersby were pleased to see the Falun Gong booth. "I've heard about this before. Thank you for being here," said several. They took flyers and said they would learn more about it.
A young Chinese man, who immigrated to the US at the age of 3, was doing research at a university on the immune system. He had read that meditation could improve health by enhancing the immune system. He learned the first exercise and liked it very much. He said he would try to join the group exercises.
One recent graduate from a nearby university said he had gotten similar brochures in the past. He was upset about the brutal persecution and thanked practitioners for telling him about it. Several of his former roommates who were Christian were also afraid of returning to China because of religious suppression there.
He said he had learned about the importance of freedom of belief from such incidents. "We here in the US enjoy freedom of belief," he said, "and we are obliged to help those who do not have that freedom."
Event attendees came by the booth throughout the event, either to get more information or to learn the exercises. Many said they liked the principles of Truthfulness-Compassion-Forbearance. They said, "Inner peace is always helpful. At least it is much easier than trying to change the outside world."