Ms. Zheng Suhua Arrested Five Times in Three Years
April 03, 2014 | By a Minghui correspondent from Sichuan Province, China
(Minghui.org) Falun Dafa practitioner Ms. Zheng Suhua has been held at the Langzhong Detention Center since her arrest on February 18, 2014, for distributing the Nine Commentaries and telling others the facts about Falun Dafa. The police plan to press charges against her because she has been arrested five times over four years.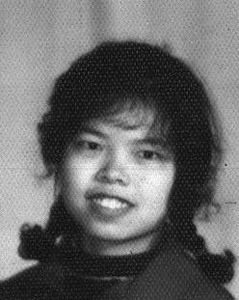 Ms. Zheng Suhua
The police confiscated her bicycle, handbag, and truth-clarification materials after her arrest. They took her, handcuffed, to her home, and ransacked it, confiscating her Falun Dafa books, truth-clarification materials, DVDs, and cell phone.
Ms. Zheng, 57, is retired from an organization affiliated with the Taifeng Silk Factory in Langzhong City, Sichuan Province.
Arrested Four Times in 2010
Ms. Zheng started practicing Falun Gong in 2007, and has been telling others about the persecution of the practice since 1999. She was arrested for the first time on February 6, 2010, when she was talking to people about Falun Dafa with practitioner Ms. He Xuelan, and distributing the Nine Commentaries . They were reported, and officers from the Qili Police Station arrested her. She was taken to the Qili Detention Center and held for several days.
Ms. Zheng was arrested the second time in mid-October 2010, when she was talking to some students about Falun Dafa, and students who did not know the facts about the practice reported her. She was arrested and held at the Development Zone Detention Center for eight days. On her way home, she spoke to some young people about Falun Dafa and was reported again and arrested, but released very quickly. However, after being home for two days, Chinese Communist Party (CCP) agents came to her home to harass her.
She was arrested a fourth time on October 1, 2010, and taken to a brainwashing center.
Parties Involved in Persecuting Ms. Zheng: Langzhong City, Sichuan Province, telephone code: 0817; zip code: 637400 Jiang Jianping, mayor of Langzhon City: +86-13989181888 (Cell) Wang Xiaojun, deputy secretary of the CCP: +86-13980315363 (Cell) Dongcheng Police Station, Langzhong City, Sichuan Province: 44 East Shangcheng Road, Langzhong City, Sichuan Province Dongcheng Police Station: +86-817-6262765 (Office) Yang Dayi, director: +86-13808274859 (Cell) Wang Xiaoxu, instructor: +86-13909075657 (Cell) Langzhong City State Security Division, Sichuan Province: 136 Badu Blvd, Langzhon City, Sichuan Province, zip code: 637400. Tel: +86-817-6231506 (Office) Zhang Ji, director: +86-13909075278 (Cell) Langzhong City Police Department, address: 136 Badu Blvd, Langzhong City, Sichuan Province, 637400 Langzhong City Detention Center: 8 North Luoxiahong Blvd, 637400