(Minghui.org) The Hailin City Domestic Security Division has arrested scores of Falun Gong practitioners, extorted their money, tortured them in detention, and broken up many families. The crimes committed by the Domestic Security Division described below are merely the tip of the iceberg.
Five Tortured to Death
Ms. An Fenghua, Ms. Wang Fang, and Ms. Guan Shujie were detained at Harbin Drug Rehabilitation Center, Wangjia Forced Labor Camp, and Harbin Women's Prison, respectively. They were subjected to inhuman torture while detained, and died at the ages of 46 to 48.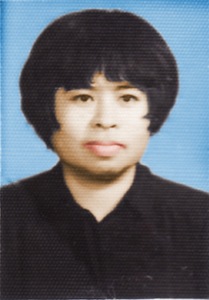 Ms. Wang Fang
Two other practitioners who were killed are Mr. Du Shiliang and Mr. Jin Zongshan.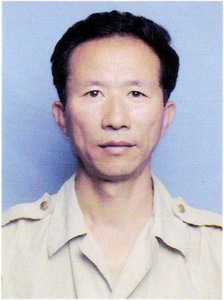 Mr. Du Shiliang
In late January 2002, Song Yumin, former head of the Domestic Security Division, led Jiang Yuntao and Jin Haizhu to break into Mr. Du Shiliang's home. Mr. Du was illegally arrested and later sentenced to six years in prison. He was killed in Mudanjiang Prison on January 20, 2006. His body was cremated without his family's consent by police officers Jiang Yuntao and Na Yongsheng.
Related report: Dafa Practitioner Mr. Du Shiliang Dies as a Result of Persecution in Mudanjiang Prison, Heilongjiang Province
Mr. Jin Zongshan and his wife Ms. Yan Fengmei were arrested on the evening of March 23, 2009, as they returned home from work, by a dozen officers stationed at their home, including Domestic Security Division head Ding Yuhua, and officers Guan Jingwei and Jin Haizhu, along with other officers from the No. 4 Police Station.
Both were taken to the police department for interrogation. Mr. Jin Zongshan was later taken to an unknown location. On the evening of May 14, 2009, he was left lying unconscious in front of his mother's home. He died on May 22, 2009, after unsuccessful emergency medical treatment, at the age of 45.
While Mr. Jin was dying, his detained wife Ms. Yan Fengmei requested to see him one last time. Ding Yuhua denied her request. Later that day when her husband passed away, Ding sent Ms. Yan Fengmei to the Harbin Drug Rehabilitation Center for further persecution.
Related report: Married Couple Forcibly Taken Away and Persecuted; Husband Passed Away, Family Left with No Financial Support
60-Year-Old Woman Force-Fed with Mustard Oil, Suffocated with Plastic Bag
Ms. Lin Chunzi was arrested on September 29, 2002, by a group of police officers, including Song Yumin, Jiang Yuntao, and Jin Haizhu. During interrogation she was handcuffed from behind to a chair. An officer grabbed her hair and forced mustard oil down her nostrils, then wrapped her head in a plastic bag. When she almost fainted, the officer removed the plastic bag and continued the force-feeding once again. The procedure was repeated until Ms. Lin had a heart attack. Ms. Lin was transferred to Harbin Women's Prison in August 2004, and released in September 2007.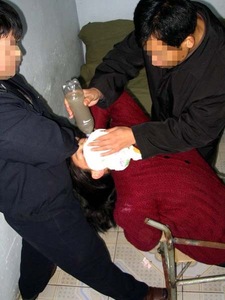 Torture re-enactment: Force-feeding
Ms. Lin disappeared on March 24, 2014, and her whereabouts are unknown to this day. The electric rice cooker at her home was still plugged in, and there was no indication that she planned to travel out of town.
Related report: Falun Gong Practitioner Ms. Lin Chunzi Arrested Again in Hailin City, Heilongjiang Province
Savagely Beaten for Exposing Media Propaganda
Ms. Liu Lihua was arrested by Hailin City Police on the night of June 9, 2002, for making DVDs that exposed the Chinese Communist Party's (CCP) propaganda.
At the police department, she was tied with ropes repeatedly, and deprived of sleep for seven days. The police savagely beat her head and face. Her disfigured face was beyond recognition, and recovery took over eighty days.
She was later sentenced to seven years in prison and transferred to Harbin Women's Prison.
Torture re-enactment: Tying with rope
Gym Owner Sentenced to Five Years in Prison
Ms. Zhou Huifang, owner of a gym in Hailin City, talked to two high school students about Falun Gong on August 17, 2009,and the students reported her to the local authorities. Ding Yuhua from the Domestic Security Division, and Yuan Ye from the No. 1 Police Station led a group of officers to arrest her and ransack her home. She was sentenced to five years in prison, and her family was not notified during the entire process.
Arrested for Showing Rarely Seen Udumbara Flower
Practitioner Ms. Wang Jinlin saw some rarely-seen udumbara flowers blossoming at her home. Many people came to see them, which prompted police officers Ding Yuhua, Wang Wei, and others to surround her home on the morning of August 26, 2009, and arrested her and others. She was released later only after the police extorted a large amount of money from her family.
Arrested for Distributing Falun Gong Materials
Ms. Liu Suhua was distributing Falun Gong materials in Hailin City on January 16, 2010, when a plainclothes officer stationed in front of Mingdu Restaurant followed and arrested her. Officer Jin Haizhu and others searched her home and took her to the No. 1 Police Station. Her family refused to go along with attempts by the authorities to extort money from them. Ms. Liu's daughter-in-law told the police, "I think it is a good thing that my mother-in-law practices Falun Gong. She enjoys good health. She is nice, and very considerate of everyone." Two hours later, Ms. Liu was released at her family's request.
Sentenced to Four-Year Prison Term, Property Confiscated
Officers from the No. 3 Police Station of Hailin City broke into Mr. Liu Yunxiang's home on the morning of May 21, 2010. Accompanied by Ding Yuhua, Wang Wei, and Jin Haizhu from the Domestic Security Division, who came to the scene later, the officers ransacked Mr. Liu's home, confiscated his personal computer, MP3 player, mobile phone, DVD player, and other personal belongings which filled a few police vehicles. The Hailin City Court sentenced him to four years in prison without notifying his family.
Miscellaneous Crimes
Practitioner Mr. Sun Changshun from the Huodaonan area of Hailin City was arrested on November 19, 2002, by Jiang Yuantao and Jin Haizhu, and was violently interrogated and tortured while detained. The officers forced mustard oil into his eyes, mouth, nostrils and ears, then put a plastic bag over his head. He was later sentenced to six years in prison and detained at Mudanjiang Prison.
In June 2008, four practitioners in Hailin City were arrested and taken to Harbin Forced Labor Camp. Ms. Geng Guizhi and Ms. Li Guimei's families were forced to pay 20,000 and 10,000 yuan, respectively.
On September 27, 2009, police officer Ding Aimin from the No. 4 Police Station, along with officers Jin Haizhu, Guan Jingwei, and Wang Wei from the Domestic Security Division ransacked practitioner Ms. Chen Mingying's home, arrested her and extorted 10,000 yuan.
In 2009, division head Ding Yuhua led others and arrested practitioner Chen Yu, who was later sentenced to two years of forced labor.
Division head Ding Yuhua and officers Wang Wei and Guan Jingwei arrested six practitioners in July and August 2010. He Shuling was sentenced to four years in prison, and Li Xiaoming was released only after being paralyzed, resulting from torture while detained. Du Fuqin, Li Yafang, Li Xiujun, and Wang Shukun were sentenced to forced labor terms. After the labor camp refused to take them, they were extorted of 10,000 yuan each and released.
In May 2011, Ding Yuhua, Jin Haizhu, and Guan Jingwei arrested practitioner Ms. Sun Yuzhen, who was in her 70's, and attempted to send her to a labor camp.
Practitioner Fu Pengchong was tortured by being bound with a rope for four days. Practitioner Meng Xianwei was tortured for six days in a row.
Head Ding Yuhua and officers Jin Haizhu and Wang Wei arrested practitioner Ms. Fu Pengchong on June 19, 2013, and ransacked her home. The same crew arrested practitioner Ms. Qu Lihua on July 29, 2013.
On March 17, 2014, practitioner Ms. Xu Ying was once again arrested by officers from the Domestic Security Division. She was arrested in 2012 by division head Ding Yuhua, officers Jing Haizhu, Wang Wei, and another female officer, and taken to Qianjin Forced Labor Camp, where she was subjected to a variety of inhuman tortures.
Perpetrators of Hailin City Domestic Security Division
Ding Yuhua, 44, head of the Domestic Security Division, has actively participated in the persecution of Falun Gong as a means of rising in rank. During her term as the police chief of Fuxing Town Police Station, she and officer Wei Yong were the main perpetrators responsible for the persecution of practitioner Mr. Zhao Boliang's family of four. She was rewarded by being promoted to head of the Domestic Security Division.
Former head Song Yuming of the Domestic Security Division had approved the arrest and detention of many practitioners and extorted money from practitioners.
Guan Jingwei, deputy head of the Domestic Security Division, participated in the arrest of practitioners Ms. Jia Shumin from Fangniu Village of Chaihe Town and Ms. Ba Lijiang from Hulin City. Both practitioners were sentenced to nine-year prison terms, and detained at the infamous Harbin Women's Prison. Guan Jingwei was also directly responsible for the arrests of six practitioners from Hailin Farm in March 2008. Two of them were eventually sentenced to forced labor, one was forced to become homeless to avoid further harassment, and four were extorted of large amounts of money.
Jin Haizhu is not a high ranking officer in the Domestic Security Division, but participated in the persecution of the majority of Hailin City practitioners.
Wen Cheng (温成), deputy police head: +86-13351139888 (Mobile)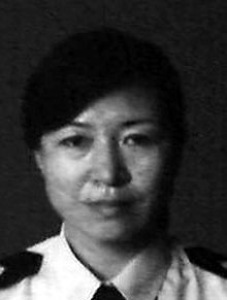 Ding Yuhua Ding Yuhua (丁玉华), Domestic Security Division head: +86-453-7336551 (Office), +86-13199335299 Wang Wei (王威): +86-13091819333 Guan Jingwei (关景伟): +86-453-7336520 (Office), +86-13091816866