Falun Gong Practitioner Ms. Lin Chunzi Arrested Again in Hailin City, Heilongjiang Province (Photo)
March 18, 2011 | By a Clearwisdom correspondent in Heilongjiang Province
Name: Lin Chunzi (林春子)
Gender: Female
Age: 68
Address: Hailin City, Heilongjiang Province
Occupation: Farmer
Date of Most Recent Arrest: February 28, 2011
Most Recent Place of Detention: Mudanjiang Railway Police Department (牡丹江铁路公安处)
City: Hailin
Province: Heilongjiang
Persecution Suffered: Illegal sentencing, imprisonment, torture, detention, physical abuse and mistreatment, extortion
(Clearwisdom.net) Ms. Lin Chunzi, of Korean ethnicity, lives in Hailin City, Heilongjiang Province. Soon after she began practicing Falun Gong, her diseases disappeared. Since the persecution started in 1999, however, she has been arrested and held in detention centers several times. In 2004, she was arrested and held in Harbin Women's Prison until September 2007. On February 28, 2011, she and Liu Xueqin were arrested by the Mudanjiang Railway Police Department when the two were handing out materials explaining the truth about Falun Gong.
Before Ms. Lin started to practice, she suffered from lymphadenitis, tracheitis, heart disease, kidney disease, and other health problems. After Falun Gong was introduced in Hailin City, she was immediately drawn to it and started to practice in August 1997. Because she was illiterate, she had to look up the words in the dictionary with her granddaughter's help in order to study the Fa. One month later, all her ailments disappeared before she realized it.
Ever since July 20, 1999, when the Chinese Communist Party started the persecution, Ms. Lin has been telling people the truth about Falun Gong. In August 1999, Wang, the head of Hailin City Forestry Police Station, and other officers arrested her and took her to the police station. They extorted 3000 yuan as "recognizance" and over 300 yuan from her older son, claiming it was for her "room and board," then they released her. Afterward she was often harassed by Hailin No. 3 Police Station officers, who arrested her and took her to to the station several times.
In late September 2002, Ms. Lin was picked up and taken to Hailin City Detention Center by Song Yumin, head of the Politics and Security Section of the Hailin City Police Department, and others. Ms. Lin was forced to sit on a chair with her hands cuffed behind her to the chair. Policemen standing behind the chair grabbed her hair, poured mustard oil into her nose, and covered her head with a plastic bag until she almost lost consciousness. They did this over and over again, until she finally had a heart attack.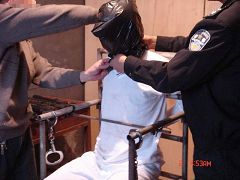 Torture demonstration: The police tie the victim to a chair and cover his/her head with a plastic bag until the victim looses consciousness.
At Hailin City Detention Center, Ms. Lin was only allowed to wear slippers and thin clothes in the freezing cold November weather. Dan Chengqiang, the deputy head of Hailing City Detention Center, forced her to stand outside for 30 minutes. They even handcuffed her for an hour to a pillar in the pavilion in the yard.
In March 2003, when the weather was still freezing cold in northern China, Dan Chengqiang took Ms. Lin to the yard and made her stand barefoot in the shade. She only had a thin sweater on. Dan Chengqiang ordered the prisoners to pour cold water over her. Because Ms. Lin kept doing the exercises, the police put a "Shou Peng Zi" (a "Hand-club," a torture instrument where the victim's hands are immobilized and a great deal of pressure applied to the hands and wrist, cutting off the circulation and inflicting terrible pain) on her.
Once while Ms. Lin was getting boiling water, Dan Chengqiang kicked her container over. Ms. Lin's hands were scalded and large blisters immediately erupted on her skin.
In August, 2004, Ms. Lin was transferred to Harbin Women's Prison. The practitioners were not allowed to talk to each other and were forced to watch videos slandering Falun Gong. Ms. Lin stopped the video and pointed out the lies on the video.
Five years later, in September 2007, Ms. Lin was released. When she came home, she was told that her younger son had been forced to leave and was living elsewhere. Her older son had been repeatedly extorted for money by the police and became so depressed and upset over his mother's being persecuted that he had a stroke and died in 2006. Her little granddaughter was living with her maternal grandmother. Due to the extreme pressure the family had been subjected to and after losing her husband, her daughter-in-law suffered a mental collapse and was hospitalized. Her once happy family torn apart, Ms. Lin became homeless.
Ms. Lin has now been arrested by Mudanjiang Railway Police Department because she told people the truth about the persecution of Falun Gong.
Mudanjiang Railway Police Department:
Deputy head Sun Haibin: 86-13303635000, 86-15846786699
Head of Railway Domestic Security Division Cheng Fei: 86-13351331199
Political head of Railway Domestic Security Division Liu Funing: 86-13304536248