CCP Official Chen Deming Faces Protests and Calls for Justice during His Visit to Taiwan
March 03, 2014 | By Zheng Yuyan, a Minghui correspondent
(Minghui.org) The 10 th SEF- ARATS summit between the Straits Exchange Foundation of Taiwan and the Association for Relations Across the Taiwan Straits of Mainland took place February 26 and 28, 2014 in Taipei. This was ARATS President Chen Deming's second visit to Taiwan since 2013.
At every stop – the airport, the Grand Hotel, and the National Palace Museum – Chen was met with Falun Gong practitioners protesting, calling for an end to the persecution of Falun Gong in China and for the main perpetrators to be brought to justice.
Based on an investigation by the World Organization to Investigate the Persecution of Falun Gong (WOIPFG), Chen was actively involved in persecuting Falun Gong when he was deputy governor and then governor of Shaanxi Province from May 2002 to July 2007. During his tenure, at least 36 practitioners were tortured to death in Shaanxi Province.
Stop the Persecution, Bring the Main Perpetrators to Justice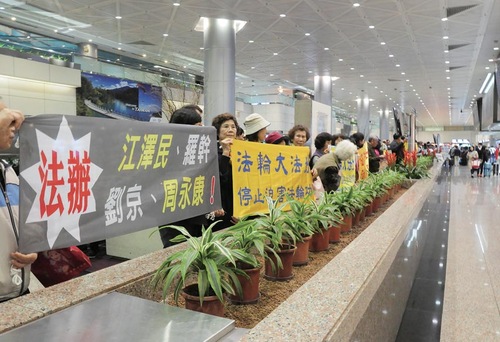 Falun Gong practitioners hold banners at the airport and call for an end to the persecution in China and for the main perpetrators to be brought to justice.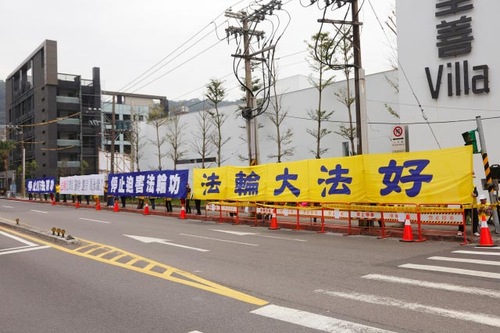 Practitioners hold banners in front of the Grand Hotel in Taipei, Taiwan.
Except for trips to the National Palace Museum and the Taipei Zoo, Chen stayed in the Grand Hotel most of the time. Practitioners maintained a daily presence on North Zhongshan Road outside of the hotel until Chen left Taiwan.