Canadian Member of Parliament Urges Passage of Bill to Curtail Organ Harvesting
March 03, 2014 | By Xin Zi, a Minghui correspondent in Ottawa, Canada
(Minghui.org) Irwin Cotler, a liberal Member of Parliament (MP) and former Minister of Justice of Canada, urged the Canadian Parliament to pass his private bill to help break the silence for prisoners of conscience.
The bill, introduced in the Canadian Parliament on December 6, 2013, proposes to sanction all persons knowingly involved in organ harvesting. Canadian citizens, as well as foreigners on Canadian territory, would be subject to the law. The legislation would establish a list of individuals believed to have engaged in organ harvesting, and require documentation of the source of the organs used in transplant operations.
Cotler cited the persecution of Falun Gong as an example of the criminalization of innocence, "Because Falun Gong is doing nothing other than spell the values of ancient Chinese values, the values of Compassion, Truthfulness and Forbearance. For them to be criminalized for giving expression to the traditional values, to me it is another example of what we referred to in the case of China, as human right criminalization of innocence."
"We know for Falun Gong there are organ transplants, which themselves are violations of international norms, and which I have a private members bill in that regard to put an end to it." He added.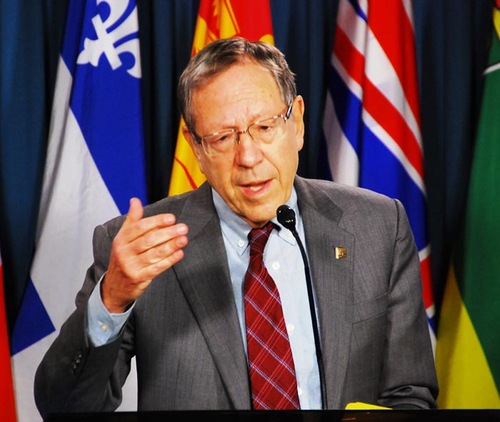 Mr. Irwin Cotler
Mr. Cotler proposed ten plans of action, which include removing the Chinese regime from the United Nations Human Rights Council.
"We are calling on China to not be a country awarded a seat at the UN Human Rights Council. In fact it should not sit on the UN Human Rights Council, given it is involved in wide spread and systematic violation of human rights." He stated.
Mr. Cotler had just returned from the Geneva Summit for Human Rights and Democracy, where he delivered the keynote address and met with dissidents from over 20 countries: "The Summit gave a voice to the courageous women and men suffering in the shadows of human rights violations. These heroes of humanity are truly gold medalists of moral courage."