Facts about Organ Harvesting from Living Falun Gong Practitioners Presented to National Council of Slovakia
(Minghui.org) Members of the National Council of Slovakia, including Vice President Erika Jurinová, Joseph Mikloško, Peter Osuský, and Stephen Kuffa, vowed to push forward a Slovak Parliament resolution to show solidarity with the persecuted Falun Gong practitioners in China, after meeting with international human rights attorney David Matas on March 20, 2014 about his findings on the issue of organ harvesting in China's prisons.
At the meeting in Bratislava, capital of Slovakia, representatives of the Taiwan Association for International Care of Organ Transplants (TAICOT) also shared their knowledge of Taiwanese patients who underwent transplantation in China and legal issues related to organ transplants in China.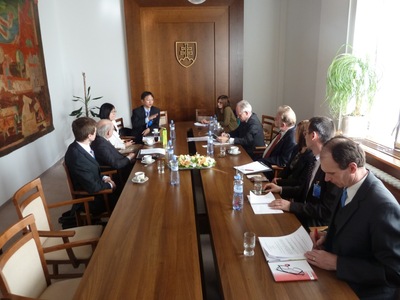 Members of Parliaments met with Mr. David Matas on the issue of organ harvesting in China in Bratislava, capital of Slovakia on March 20, 2014.
Another forum took place later on the same day at Palffy castle, Bratislava, during which David Matas, Lisa Huang, Ming-Hui Chou, Chian-Feng Huang and Radoslav Herda discussed organ harvesting as a crime against humanity.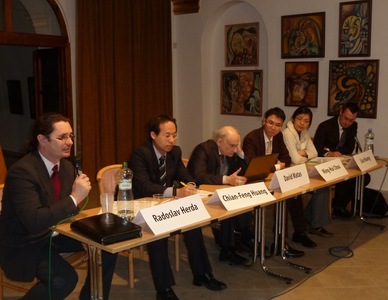 The forum at Palffy castle, Bratislava, Slovakia on March 20, 2014
Dr. Chou shared the experience of patients who underwent organ transplantation in China. Realizing that the organs might have been obtained through killing prisoners of conscience has been a shock and mental burden for many such patients.
Slovakian newspapers and other media interviewed Mr. Matas and ran articles on the issue of organ harvesting in China.
Origin of Organ Transplants in China
China has the second highest number of transplants in the world. Unlike other countries, however, the majority of the source organs come from prisoners of conscience. Hearts, kidneys, corneas, and/or livers are taken from the victims while they are still alive.
This crime against humanity was first revealed in 2006 by two Chinese, Peter and Annie. Annie is the wife of a doctor who participated in harvesting corneas from Falun Gong practitioners.
After the news broke, David Kilgour, former Canadian diplomat and crown prosecutor, and David Matas made independent investigations and published their findings, confirming the existence of organ harvesting in their book "Bloody Harvest: Organ Harvesting of Falun Gong Practitioners in China," for which Mr. Matas was nominated for the Nobel Peace Prize in 2010.
Responses from Around the World
Many governments have taken a stand against organ harvesting in China.
Most recently, the Canadian government raised the issue of state-sanctioned organ harvesting in China on March 12, 2014, during the 25th regular session of the United Nations Human Rights Council.
The Italian Senate's Human Rights Commission unanimously passed a resolution on March 5, 2014, urging the Italian government to launch a thorough investigation into organ harvesting in China through diplomatic and other channels. The resolution also urges the Chinese Communist Party (CCP) to immediately release prisoners of conscience, including Falun Gong practitioners.
The Illinois House of Representatives passed a resolution on February 26, 2014, urging, "the United States government and the U.S. President to investigate organ transplants in China and take all reasonable steps to bring an end to the revolting practice of harvesting organs from living Falun Gong practitioners for transplants."
The European Union Parliament passed a resolution "expressing deep concern" over "credible reports of systematic, state-sanctioned organ harvesting from non-consenting prisoners of conscience" on December 12, 2013. It was jointly proposed by 56 members from four political parties in the EU Parliament.
The resolution calls on the EU and its member states to publicly condemn organ transplant abuses in the People's Republic of China (PRC), and to raise awareness about the issue among citizens traveling to the PRC. It also calls upon the EU to conduct a full and transparent investigation into organ transplant practices in the PRC.
The parliament made a point of stating that China's plan to phase out harvesting organs from prisoners "only by 2015" is not acceptable, and calls upon China "to immediately end the practice of organ harvesting from prisoners of conscience and members of religious and ethnic minority groups."
Irwin Cotler, a liberal Member of Parliament (MP) and former Minister of Justice of Canada, on February 28, 2014 called for excluding China from the UN Human Rights Council due to the Chinese regime's involvement in widespread and systematic violations of human rights, including harvesting organs from living Falun Gong practitioners.
There is also a pending resolution in the US Congress, condemning the large-scale organ harvesting of non-consenting prisoners of conscience, mainly Falun Gong practitioners.