Outside the Law: How the Criminal Police Division of China Persecutes Falun Gong (Graphic Photos)
March 02, 2014 | By a Minghui correspondent in China
(Minghui.org) Law enforcement in China consists of a multi-level assembly of ministries, divisions and departments, which includes the courts and Procuratorate, as well as the judicial and public security agencies. Over the past nearly 15 years of brutal persecution of Falun Gong, all agencies within China's extensive law enforcement system have participated in the persecution.
In addition to the domestic security divisions and local police stations, the Criminal Police Division also plays a key role.
The main duty of China's criminal police is to identify criminal cases, collect evidence, execute arrests and criminal detentions, and hunt down criminals at large. Even though there are no Chinese laws that specifically define practicing Falun Gong as illegal, the Chinese Communist Party (CCP) uses the criminal police force, in collaboration with the local 610 Offices and domestic security divisions, to illegally arrest and detain practitioners.
The Domestic Security Division usually submits evidence to the Criminal Police Division, which then reviews the case and submits it to the prosecution department of the Procuratorate. Upon approval, the case comes to trial and subsequent sentencing.
In its zeal to bring Falun Gong cases to trial, the Criminal Police Division has routinely acted outside the law – repeatedly submitting the same case to the Procuratorate with additional "evidence," often obtained through torture. Many persecution cases are a direct result of the Criminal Police Division's illegal arrests, interrogation using torture to coerce "confessions," and fabrication of evidence.
Arrest and Torture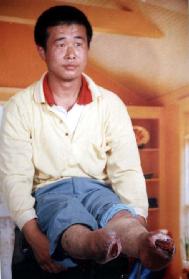 Mr. Wang Xinchun, who lost both lower legs as a result of severe persecution
Mr. Wang Xinchun, a Falun Gong practitioner from Jinshantun District, Yichun City, Heilongjiang Province, lost his lower legs in 2002 as a result of severe persecution. ( Wang Xinchun from Heilongjiang Province, Who Lost Both Legs from Persecution, Is Arrested Again (Graphic Photo) )
Mr. Wang was arrested most recently on September 9, 2013 by the Jinshantun District police. The cited reason was that Mr. Wang had allegedly helped hire lawyers to defend two Falun Gong practitioners scheduled for trial the next day. Therefore, the police said that he would be detained until the trial was over.
Mr. Wang was put in a steel cage at night at the Tuanjie Police Station in Jinshantun District. He was handcuffed to the cage's bars in a painful position, in which he could not stretch out. Personnel from the 610 Office ransacked Mr. Wang's home and confiscated his laptop and Falun Gong books.
Wounds on Mr. Wang Xinchun's arms and wrists after torture during his last arrest and detention
On the afternoon of September 10, Liu Xiyao from the Patrol Police Division and Tao Xuwei from the Criminal Police Division tortured Mr. Wang in order to extract a confession from him. Tao punched and kicked Mr. Wang and stabbed his back and abdomen with needles. He also grabbed Mr. Wang by the hair and slammed his head against the bars of the cage.

Torture re-enactment: Steel cage
Tao and Liu then hung Mr. Wang with handcuffs from a beam, such that his disabled legs couldn't touch the floor. When Mr. Wang wasn't moving anymore after a round of beating, Tao burned his nose, eyelids, and mouth with a cigarette lighter, and also burned his body with cigarettes. Upon seeing that Mr. Wang still had no reaction, Tao asked Liu to release him from the hanging position. Mr. Wang was handcuffed in the steel cage again at night.
A similar round of torture was repeated around midnight on September 10 before Mr. Wang was put back in the cage.
Mr. Wang was sent to the Jinshantun Hospital due to his severe injuries. He managed to escape on October 12. The Criminal Police Division staged a manhunt and harassed many other local practitioners in an attempt to find out his whereabouts.
Wang Xinchun was arrested again on October 16. Upon extorting 5,000 yuan from his family, the police released him on November 26, 2013 and warned him not to leave home within the next year. Officers from the criminal police division still harass Mr. Wang daily at home.
A Sham Trial
Ms. Chen Guilan, 61, from Chaoyang City, Liaoning Province, was arrested on March 3, 2013 at a plaza in the city center when she distributed DVDs containing information about the persecution of Falun Gong.
Officers from the Criminal Police Division at the Qianjin Police Department interrogated Ms. Chen. Department chief Zhang Zhiqiang put her under criminal detention, citing her "bad attitude." The Criminal Police Division submitted Ms. Chen's case to the Shuangta Procuratorate. The two agencies then worked together to get the case approved, citing the DVD's as evidence.
During the trial on August 9, 2013 at the Intermediate People's Court of Chaoyang City, the prosecutor called for a five to seven-year prison sentence. Ms. Chen's lawyer asked to play a DVD in court to see how the contents constituted criminal activity, but the judge refused. The judge called for a recess as soon as the lawyer requested the immediate release of his client.
The final sentence was seven years of imprisonment.