"Get Me Out of This Hell" - Mr. Zhang Weijie's Urgent Plea
February 07, 2014 | By a Minghui correspondent in Hubei Province, China
(Minghui.org) Having been severely brutalized for his peaceful belief, Falun Gong practitioner Mr. Zhang Weijie has written an open letter, calling on the good people of the world to help get him out of Fanjiatai Prison, which he could only describe as "hell."
"I have been trying to meet with my attorney and expose the mistreatment I've suffered in the prison. However, the prison has blocked such meetings because the guards are afraid of their crimes being exposed," wrote Mr. Zhang.
He continues to be subjected to horrendous torture, including brutal beatings, cigarette burns and electric shock, on a daily basis. After severe beatings, the guards often gush freezing water from rubber hoses on him to induce additional pain. They also force him to take large doses of Triazolam, which impairs his coordination and cognitive function.
Mr. Zhang is over 40 years old. Before starting his own business, he used to work in the Securities Department of the Hainan Huayin International Trust & Investment Corporation in Wuhan City. He was illegally arrested at his place of business on the morning of May 5, 2011.
After being taken to the Taibei Street Police Station, Mr. Zhang was transferred to the Hubei Province Brainwashing Center (officially called the "Provincial Legislative Education Center"). He was sentenced to five years in prison on May 25, 2012.
Below is his open letter to the people of the world.
Mr. Zhang's Open Letter: A Desperate Plea for Help
Ladies and Gentlemen:
I'm writing to seek help and relief of my current situation. I am a Falun Gong practitioner in China, currently detained in prison. I have written letters to the Chinese authorities, but haven't heard anything back. Therefore, I can only write to the kind people outside of China and hope to obtain some assistance.
I was arrested by the Wuhan City police in Hubei Province on May 5, 2011, at my workplace. The plainclothes policemen covered my head with a black plastic bag and detained me at the Provincial Legislative Education Center (a brainwashing center targeting Falun Gong practitioners).
I was subjected to multiple severe tortures at the brainwashing center. They beat me as if I was a sand bag. For 15 consecutive days, I was not allowed to sleep or eat. I was forced to keep standing and was subjected to force-feedings twice a day.
During the force-feedings, they tied me up and repeatedly inserted the feeding pipe into my nose and stirred it, while simultaneously beating me. The evildoers seemed to be excited when seeing me suffer in pain. My whole body was swollen due to long-term standing and lack of sleep. My feet were so bloated that I could not fit into my shoes. My genitals were swollen as wekk.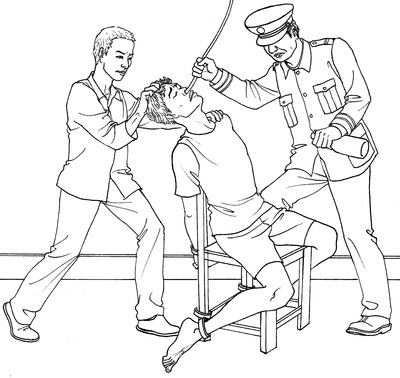 Torture illustration: destructive force-feeding
I suffered such torture because I refused to give up my belief in Falun Gong. Since July 20, 1999, bad people have not had to fear any consequences for persecuting Falun Gong practitioners. During its many political campaigns, the Chinese Communist Party (CCP) has labeled targeted groups as the "public enemy." This mere label can justify all means of extinction. It is the so-called "Dictatorship of the Proletariat." Laws are just a formality.
After a five-month illegal detention at the Provincial Legislative Education Center (the brainwashing center), I was transferred to the No. 2 Detention Center in Wuhan. I was held at several other detention centers as well until April 2012, when I learned from my attorney that I was accused by the Wuchang District Procuratorate—based on fabricated evidence—of violating Article 300 of the criminal law.
I don't see how I could have violated Article 300 of the criminal law. I researched the Criminal Law , Judicial Interpretation of Supreme People's Court and Supreme People's Procuratorate and Decisions of the Standing Committee of the National People's Congress . None of them mentioned that Falun Gong was illegal.
How can the court convict me based on Article 300? This is simply using the law as a stick to beat innocent people.
I was sentenced to five years in prison at the show trial by the Wuchang District Court. My family wasn't present. The trial was closely monitored by the police. I had heard the length of the term while being detained at the brainwashing center (months earlier). It was a predetermined conclusion—the court trial was only held to go through the formality.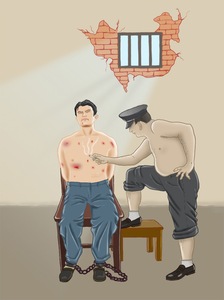 Torture illustration: cigarette burns
I was sent to the Fanjiatai Prison in Shayang County, Hubei Province, in August 2012. The prison assigned three inmates to "watch" me. What they do is actually torture me every day, in an attempt to force me to "transform."
The so-called "transformation" is to coerce me to abandon my belief and then force me to do the same to other practitioners.
They put pictures of Mr. Li, the founder of Falun Gong, on stools and tables. Then they forced me to step on the pictures and scold at the pictures. If I didn't do as instructed, I was beaten up.
I could only sleep for 1-2 hours each day, in addition to being forced to do slave labor for about 20 hours daily.
Severe beatings have become a daily routine. Different tortures include brutal beatings, stabbing with needles, cigarette burns, mustache burning, pulling out body hair, twisting my hand with pliers, beatings with metal bars, whippings with a belt, mental torture, electric shock, drug administration, sleep deprivation, long-term standing, denial of restroom use, and forced labor.
After severe beatings in the winter, they gush freezing cold water on me with rubber hoses. I am not allowed to wear a warm jacket. I can only go to the restroom once and take one bite of food each day.
My personal items are taken by the inmates who "watch" me. I am also forced to do labor for them as their "slave." As long as they are not sleeping, they are thinking of different ways to torture me.
Once the guards found out that I had hinted about the tortures to my family members, they told the inmates to torture me even more. The Fanjiatai Prison is not just a prison. It is hell.
The actions of the inmates assigned to monitor and torture me violate the Prison Law, as well as the Criminal Law of China: Articles 234 (intentional injury), 246 (violent insult), 248 (subject prisoners to battery or corporal punishment), 293 (beating another person at will), 294 (organization of criminal activities), 295 (passing means of crimes), and 315 (undermining the supervising and administering order in custody).
However, these people were rewarded with recognition, reduction of terms, and early release. Prison guards connive with the inmates and encourage such illegal activities.
I have been trying to meet with my attorney and expose the mistreatment I've suffered in the prison. However, the prison has blocked such meetings because the guards are afraid of their crimes being exposed.
Hereby I plead for your assistance to call on the Chinese authorities to restore my freedom and bring the evildoers to justice.
Falun Gong practitioner: Zhang Weijie
To seek justice for Mr. Zhang Weijie, contact:
1) Wuhan City 610 Office: 42 Jiefang Road, Hankou District, Wuhan City, Hubei Province, China Zip Code: 430010 Phone: +86-27-82402907 Fax: +86-27-82402840
Chen Shiguo (陈仕国), director of the Wuhan 610 Office: +86-27-82402903 (Work), +86-27-87403060 (Home)
2) Wuhan City Political and Legal Affairs Committee: 42 Jiefang Road, Hankou District, Wuhan City, Hubei Province, China Zip Code: 430010 Phone: +86-27-82402413 Fax: +86-27-82402437
Zhao Fei (赵飞), Communist Party secretary of the Wuhan Political and Legal Affairs Committee, director of the Wuhan Public Security Bureau: +86-27-85876666 (Work)
3) National Security Division, Wuhan Public Security Bureau: 188 Fazhan Avenue, Hankou District, Wuhan City, Hubei Province, China Zip Code: 430023 Phone: +86-27-85393500, +86-27-85393600
Liu Nanhua (刘南华), director of the National Security Division, Wuhan Public Security Bureau (directly responsible for Mr. Zhang's case)
Related article: Zhang Weijie Tortured in Fanjiatai Prison in Hubei Province