Finland: Candlelight Vigil Calls Attention to the Persecution of Falun Gong in China
February 05, 2014 | By a Falun Gong practitioner in Finland
(Minghui.org) Falun Gong practitioners held a candlelight vigil at the square outside the Helsinki Train Station on January 27, 2014, 27, the annual International Day of Commemoration in memory of the victims of the Holocaust. As the phrase "never again" was born after the Holocaust, the practitioners hope their actions will serve as a reminder for the public not to keep silent and to help stop the persecution of Falun Gong in China. The practitioners at the event mourned the over 3,700 confirmed deaths of practitioners as a result of torture and persecution in China.
Despite sub-zero temperatures, the peaceful scene attracted many passerby to stop and learn about the persecution and sign a petition in support of Falun Gong.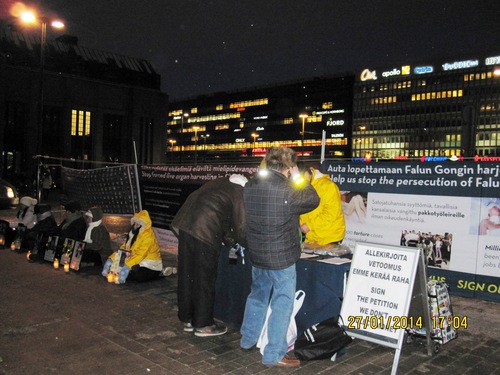 Falun Gong practitioners held a candlelight vigil at the square outside the Helsinki Train Station on January 27, 2014
Finnish People Lend Support
Upon learning about forced organ harvesting in China one passerby, Ms. Tuovinen, said, "I believe this is true. I have many Christian friends in China who have experienced the crackdown from the Chinese regime. They don't have any safety guarantee. I hope more work will be done for human rights in China."
Mr. Lopes, a young writer, stopped at the vigil to learn more. He was shocked by the brutality of the persecution. "It's too horrible that a country suppresses its people's beliefs. I will look for and read more information regarding Falun Gong," he said.
A Falun Gong Practitioner Shares His Story
Falun Gong practitioner Mr. Wu Zhiping spoke at the candlelight vigil and shared his family's experience in China. Mr. Wu's mother was a former vice president of a hospital in southern China and an award-winning medical professional. Soon after she began practicing Falun Gong in 1996, her illnesses disappeared and she became very healthy.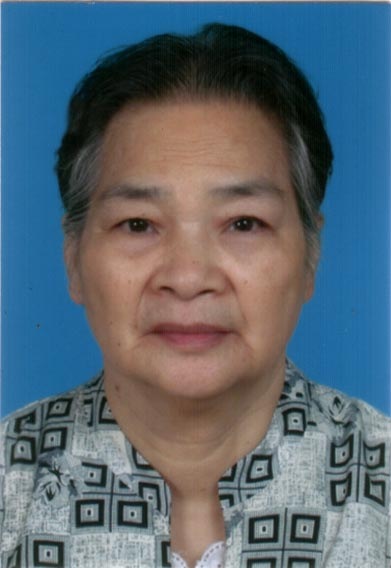 Ms. Wu Yuxian, Wu Zhiping's mother
Mr. Wu said, "My 70-year-old mother was tortured for two days and three nights by the 610 Office personnel in Zhengzhou, Henan Province. She suffered severe bleeding in her breasts and was abandoned at the Zhengzhou Train Station on July 13, 2005. Bearing tremendous pain, my mother managed to get home to Guangzhou. She suffered many months of pain and died on February 9, 2006."
Mr. Wu was detained in a labor camp for two years. He was hung up on an iron pole for 16 to 17 hours each day for 4 months. He was exposed to the sun, while the policemen were drinking tea in the shade. He was also forced to stay outdoors in the freezing cold in the winter. Mr. Yao Zhuoyuan, a practitioner who suffered the same torture, was hospitalized and died a month later.