Israeli Parliament Supports Efforts to End Organ Harvesting of Falun Gong Practitioners in China (Photo)
(Minghui.org) As part of the series "Israel Identifies with the Victims of Falun Gong," the Israeli Parliament (Knesset) held a hearing on February 17 condemning state-sanctioned forced organ harvesting from Falun Gong practitioners in China.
According to a report by San Diego Jewish World on February 20, during a special session of the Liberal Lobby, Deputy Speaker of the Knesset and Chair of the Liberal Lobby, MK Moshe Feiglin (Likud), said: "It is the moral duty of the Jewish people to oppose the crimes against humanity occurring in China."
Feiglin said that the Chinese regime jails Falun Gong practitioners in labor camps, tortures them, and harvests their organs for profit.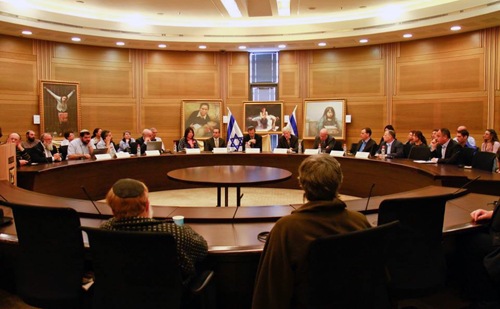 The hearing in the Israeli Parliament on February 17
Prof. Jacob (Jay) Lavee, head of the heart transplant unit in Sheba Medical Center, urged Israel to take leadership in ending forced organ harvesting: "The Israeli transplant laws stopped the flow of Israeli patients to China, and the funding for the illegal transplants there, but the Israeli Knesset must call upon other parliaments around the world to join the fight to stop this crime against humanity happening in China, which is sponsored by the regime."
David Kilgour, the former Canadian Secretary of State, praised Israel for being a leader in its legislative fight to stop the organ harvesting. He called the Israeli Parliament to broaden the scope of laws that help the victim, and allow Falun Gong practitioners to gain refuge in Israel.
Ethan Gutmann, a journalist, has been investigating the persecution against Falun Gong. He also called on Israel and other countries to take action against pharmaceutical companies that conduct clinical transplantation trials and finance illegal organ transplants in China.
The "Truth-Compassion-Forbearance" art exhibition was presented in the Liberal Lobby on the same day. The artwork told stories of Falun Gong practitioners being persecuted in China, and how they benefit from practicing Falun Gong. In the last few years, the art exhibition has been held in more than 800 places in 50 countries, including the Australian parliament, the Czech parliament, the UK parliament, the US House of Representatives, and in cultural centers and galleries around the world.